Martin Van Buren Had a Really Nice Toilet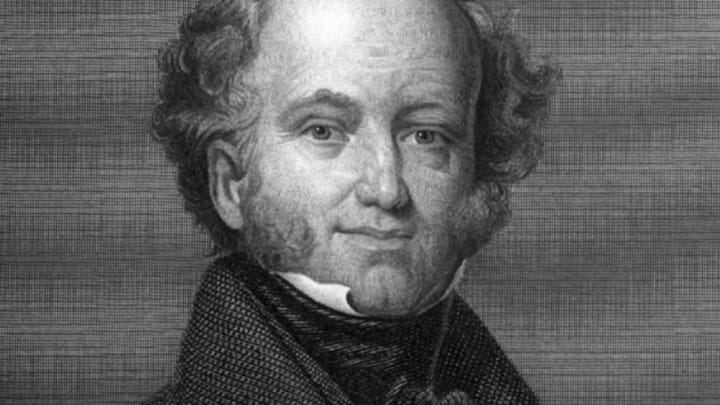 Getty Images / Getty Images
It's December 5th, and we all know what that means: The time has come, once again, to celebrate Martin Van Buren's birthday.
In commemoration of the eighth U.S. president, who would have turned a ripe 230 years old today, his upstate New York hometown of Kinderhook is carrying out its annual wreath-laying ceremony at his gravesite. Which is right down the road from his retirement home, now a beautifully battered historic landmark preserved and cared for by the U.S. National Park Service.
Despite his administration's successful push in outlawing bigamy and legalizing divorce, the one-term president (whose nickname was "Little Magician") is hardly remembered for his policies. If anything, the five-foot, six-inch Van Buren is best known as the punchline in this week's adorable Google ad. But you wanna know the coolest thing about the pair of furry muttonchops that ran the nation from 1837 to 1841?
The man had one awesome toilet.
From Outhouse to In-House
During the birthday boy's reign as commander-in-chief, Van Buren purchased the country home, which he named Lindenwald, located just a couple hours away from Albany. His sons encouraged him to finish it out as a luxury spot where he could fish and go horseback riding after his hellish term in Washington. (The house would also become a social hub for political operatives from the state capital, and a pit stop on the way to and from New York City.)
When he lost his 1840 reelection bid in a landslide to war hero William Henry Harrison—Van Buren picked up only six states in the electoral college, and not even his home state, New York—the lame duck could then turn his attention to the Lindenwald estate, which was eventually expanded into 36 rooms including a wine cellar, six family bedrooms, one formal guest room, servants' quarters and one toilet.
Martin Van Buren's indoor toilet. Flush is the gold-colored circle with a knob on the left, fancy china toilet bowl in the middle, wooden cover for the bowl on the right. (Photo courtesy of the National Park Service)
As you might have guessed, this wasn't just any old toilet. Restored to what is believed to be its original appearance, Van Buren's throne is tucked away on the first floor in a closet-size room, part of a larger bathroom that accommodates the president's original six-foot long bathtub. The toilet bowl itself is made from fine china, set inside a giant frame made of wood. A 100-gallon water tank, connected to a pump in the basement kitchen, is installed above that frame. (It's worth noting that the servants quarters had their own indoor outhouse, and two gate houses on the property probably had outhouses.)
A killer innovation for its time, Van Buren introduced the whole town to the concept of the indoor toilet (most were accustomed to bearing the cold in an outhouse) and, according to Dawn Olson of the National Park Service, to the "novel idea to have running water and indoor plumbing in the 1850s."
"Kitchens were generally separate from the house, but times were beginning to change," Olson says. "There were other fairly wealthy people in the area. As a rule indoor plumbing was very rare unless you were in an urban area, New York City or Philadelphia. We hesitate to say [Lindenwald's] was the first indoor plumbing, because there's no proof of that."
Estate Living
Lindenwald, the 220-acre farm where Van Buren resided the last 21 years of his life, 1841-62. (Photo courtesy of the National Park Service)
The preferred annex for the Albany elite, Van Buren's residence would often host dinner and cocktail parties on Lindenwald's master's tab. In addition to the aforementioned wine cellar, the property maintained two fish ponds, a pear orchard, and an apple orchard. (Olson: "Most of those were picked to turn into something else.") Its staff consistently harvested potatoes and kept sheep, cows, and chickens on their working farm. The mansion even had a vegetable garden replete with lettuce, carrots, onions, and cabbage. Lots of cabbage.
But none of this was a bother. Because, despite those four long years at the White House, Van Buren committed himself to two more presidential campaigns, both managed (and failed) at his estate. So political and social hobnobbing became an integral part of Lindenwald in helping to maintain his post-presidential career. And, from the sound of it, that treasured toilet maybe wasn't so much an innovation as it was a necessity.