London Underground Map Gets a Redesign to Help Riders With Anxiety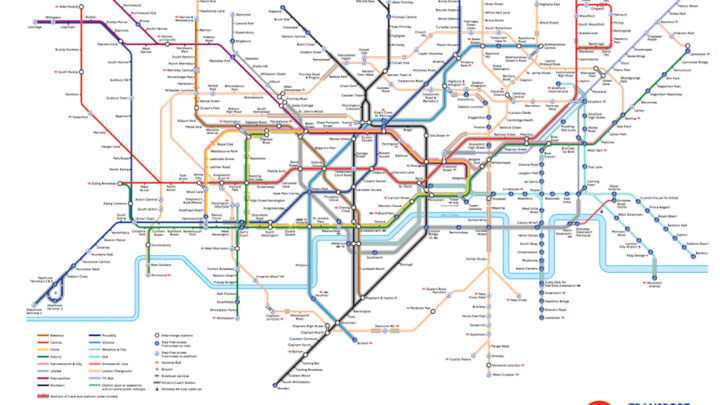 Transport for London / Transport for London
For some London commuters, riding the Underground is a tedious part of the daily grind. For riders with claustrophobia or anxiety disorders, it can be a source of dread. In an effort to make travel accessible to more passengers, Transport for London, the city transportation authority, has published a Tube map identifying routes that bypass long stretches of tunnels, The Independent reports.
Though London's subway system is called the Underground, most stops are located above street level. It is possible to ride the transit network across London without venturing beneath the city for uninterrupted periods. Even so, some residents prone to anxiety or panic attacks in tight spaces avoid the Tube altogether.
The new design aims to make commuting a more tolerable experience for nervous riders. In the updated map, sections of lines located underground are highlighted in gray, making them easier to navigate around. Nicky Lidbetter, chief executive of the advocacy group Anxiety UK, said in a statement:
"This new map is an excellent resource for those wishing to avoid journeys where there are tunnels, serving as a great pre-journey planning aid and increasing access to public transport. I sincerely hope that the map will encourage those with claustrophobia and/or panic attacks who have previously avoided this form of public transport out of fear to re-consider their use of the Tube."
Transport for London
Transport for London
Opening up its services to more customers has become a top priority for Transport for London. In April, it made "please offer me a seat" badges available to riders with physical ailments that often go unnoticed. Riders who tested the program said it made 72 percent of their journeys easier.
[h/t Independent]