10 Sweet Facts About Napoleon Dynamite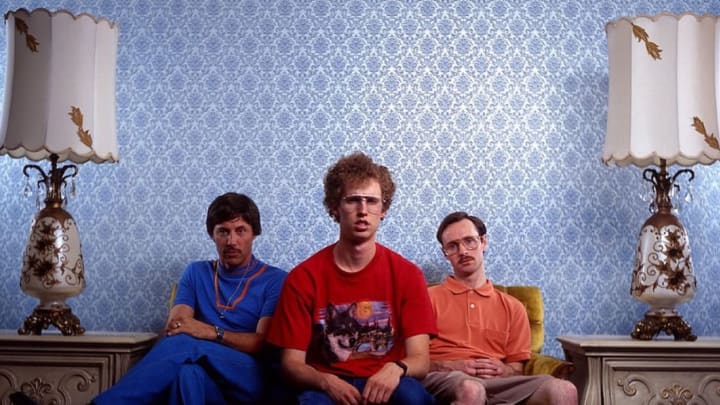 © 2004 Twentieth Century Fox / © 2004 Twentieth Century Fox
ChapStick, llamas, and tater tots are just a few things that appear in Napoleon Dynamite, a cult film shot for a mere $400,000 that went on to gross $44.5 million. In 2002, Brigham Young University film student Jared Hess filmed a black-and-white short, Peluca, with his classmate Jon Heder. The film got accepted into the Slamdance Film Festival, which gave Hess the courage to adapt it into a feature. Hess used his real-life upbringing in Preston, Idaho—he had six brothers and his mom owned llamas—to form the basis of the movie, about a nerdy teenager named Napoleon (Heder) who encourages his friend Pedro (Efren Ramirez) to run for class president.
In 2004, the indie film screened at Sundance, and was quickly purchased by Fox Searchlight and Paramount, then released less than six months later. Today, the film remains so popular that in 2016 Pedro and Napoleon reunited for a cheesy tots Burger King commercial. To celebrated the film's 15th anniversary, here are some facts about the ever-quotable comedy.
1. Deb is based on Jerusha Hess.
Jared Hess's wife Jerusha co-wrote the film and based Deb on her own life. "Her mom made her a dress when she was going to a middle school dance and she said, 'I hadn't really developed yet, so my mom overcompensated and made some very large, fluffy shoulders,'" Jared told Rolling Stone. "Some guy dancing with her patted the sleeves and actually said, 'I like your sleeves … they're real big.'"
Tina Majorino, who played the fictional Deb, hadn't done a comedy before, because people thought of her as a dramatic actress. "The fact that Jared would even let me come in and read really appealed to me," she told Rolling Stone. "Even if I didn't get the role, I just wanted to see what it was like to audition for a comedy, as I'd never done it before."
2. Napoleon's famous dance scene was the result of having extra film stock.
At the end of shooting Peluca, Hess had a minute of film stock left and knew Heder liked to dance. Heder had on moon boots—something Hess used to wear—so they traveled to the end of a dirt road. They turned on the car radio and Jamiroquai's "Canned Heat" was playing. "I just told him to start dancing and realized: This is how we've got to end the film," Hess told Rolling Stone. "You don't anticipate those kinds of things. They're just part of the creative process."
Heder told HuffPost he found inspiration in Michael Jackson and dancing in front of a mirror, for the end-of-the-movie skit. But when it came time to film the dance for the feature, Heder felt "pressure" to deliver. "I was like, 'Oh, crap!' This isn't just a silly little scene," he told PDX Monthly. "This is the moment where everything comes, and he's making the sacrifice for his friend. That's the whole theme of the movie. Everything leads up to this. Napoleon's been this loser. This has to be the moment where he lands a victory." Instead of hiring a choreographer, the filmmakers told him to "just figure it out." They filmed the scene three times with three different songs, including Jamiroquai's "Little L" and "Canned Heat."
3. Napoleon Dynamitefans still flock to Preston, Idaho to tour the movie's locations.
In a 2016 interview with The Salt Lake Tribune, The Preston Citizen's circulation manager, Rhonda Gregerson, said "every summer at least 50 groups of fans walk into the office wanting to know more about the film." She said people come from all over the world to see Preston High School, Pedro's house, and other filming locations as a layover before heading to Yellowstone National Park. "If you talk to a lot of people in Preston, you'll find a lot of people who have become a bit sick of it," Gregerson said. "I still think it's great that there's still so much interest in the town this long after the movie."
Besides the filming locations, the town used to host a Napoleon Dynamite festival. In 2005, the fest drew about 6000 people and featured a tater tot eating contest, a moon boot dancing contest, boondoggle keychains for sale, and a tetherball tournament. The fest was last held in 2008.
4. Idaho adopted a resolution commending the filmmakers.
Jerusha and Jared Hess / Frederick M. Brown, Getty Images
In 2005, the Idaho legislature wrote a resolution praising Jared and Jerusha Hess and the city of Preston. HCR029 appreciates the use of tater tots for "promoting Idaho's most famous export." It extols bicycling and skateboarding to promote "better air quality," and it says Kip and LaFawnduh's relationship "is a tribute to e-commerce and Idaho's technology-driven industry." The resolution goes on to say those who "vote Nay on this concurrent resolution are Freakin' Idiots." Napoleon would be proud.
5. Napoleon was a different kind of nerd.
Sure, he was awkward, but Napoleon wasn't as intelligent as other film nerds. "He's not a genius," Heder told HuffPost. "Maybe he's getting good grades, but he's not excelling; he's just socially awkward. He doesn't know how much of an outcast he is, and that's what gives him that confidence. He's trying to be cool sometimes, but mostly he just goes for it and does it."
6. The title sequence featured several different sets of hands..
Eight months before the theatrical release, Fox Searchlight had Hess film a title sequence that made it clear that the film took place in 2004, not in the '80s or '90s. Napoleon's student ID reveals the events occur during the 2004-2005 school year. Heder's hands move the objects in and out of the frame, but Fox didn't like his hangnails. "They flew out a hand model a couple weeks later, who had great hands, but was five or six shades darker than Jon Heder," Hess told Art of the Title. "If you look, there are like three different dudes' hands—our producer's are in there, too."
7. Napoleon Dynamite messed up Netflix's algorithms.
Beginning in 2006, Cinematch—Netflix's recommendation algorithm software—held a contest called The Netflix Prize. Anyone who could make Cinematch's predictions at least 10 percent more accurate would win $1 million. Computer scientist Len Bertoni had trouble predicting whether people would like Napoleon Dynamite. Bertoni told The New York Times the film is "polarizing," and the Netflix ratings are either one or five stars. If he could accurately predict whether people liked the movie, Bertoni said, then he'd come much closer to winning the prize. That didn't happen for him.
The contest finally ended in 2009 when Netflix awarded the grand prize to BellKor's Pragmatic Chaos, who developed a 10.06 percent improvement over Cinematch's score.
8. Napoleon accidentally got a bad perm.
© 2004 Twentieth Century Fox
Heder got his hair permed the night before shooting began—but something went wrong. Heder called Jared and said, "'Yeah, I got the perm but it's a little bit different than it was before,'" Hess told Rolling Stone. "He showed up the night before shooting and he looked like Shirley Temple! The curls were huge!" They didn't have much time to fix the goof, so Hess enlisted Jerusha and her cousin to re-perm it. It worked, but Jon wasn't allowed to wash his hair for the next three weeks. "So he had this stinky 'do in the Idaho heat for three weeks," Jared said. "We were shooting near dairy farms and there were tons of flies; they were all flying in and out of his hair."
9. LaFawnduh's real-life family starred in the film.
Shondrella Avery played LaFawnduh, the African American girlfriend of Kip, Napoleon's older brother (played by Aaron Ruell). Before filming, Hess phoned Avery and said, "'You remember that there were no black people in Preston, Idaho, right? Do you think your family might want to be in the movie?' And that's how it happened," Avery told Los Angeles Weekly. Her actual family shows up at the end when LaFawnduh and Kip get married.
10. A short-lived animated series acted as a sequel.
In 2012, Fox aired six episodes of Napoleon Dynamite the animated series before they canceled it. All of the original actors returned to supply voices to their characters. The only difference between the film and the series is Kip is not married. Heder told Rolling Stone the episodes are as close to a sequel as fans will get. "If you sit down and watch those back to back, you've got yourself a sequel," he said. "Because you've got all the same characters and all the same actors."
This story has been updated for 2019.