This Vacation Rental Site Will Let You Stay in a Frank Lloyd Wright House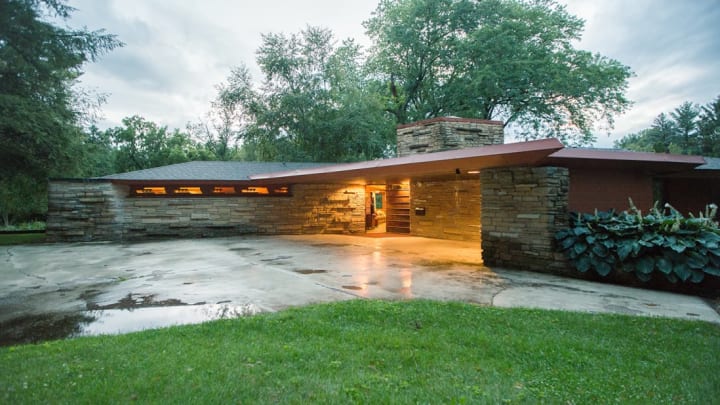 Courtesy PlansMatter / Courtesy PlansMatter
Architecture nerds need never stay in a poorly designed vacation rental again. Co.Design tipped us off to Plans Matter, an Airbnb-like rental service that's specifically geared toward helping you stay in architecturally notable homes.
The list of vacation rentals available reads like an architecture nerd's fever dream. Want to spend a few nights in a Frank Lloyd Wright home? You've got seven to choose from, including the Kinney House pictured above. What about a building designed by the famous light artist James Turrell? Or maybe you'd prefer a penthouse apartment designed by Rudolf M. Schindler, a pioneer of Southern California Modernism?
The listings are all sourced by the site's creators, architects Connie Lindor and Scott Muellner, and approved by the company's advisors, architect Julie Snow (who designed the cabin below) and the designer and museum director Andrew Blauvelt. So you can be sure that you're actually choosing from residences with a top-notch architectural pedigree, not just a fancy McMansion that looks good in pictures.
Courtesy PlansMatter
For the most part, non-millionaires will never be able to live in a home designed by a world-renowned architect. A Frank Gehry house can go for as much as $24.15 million. A penthouse designed by the legendary I.M. Pei is selling for $9.6 million. The Vanna Venturi House, by the postmodern icon Robert Venturi, sold for $1.35 million in 2016, and that was after a dramatic price drop.
While staying in a Frank Lloyd Wright isn't your average bargain Airbnb, it's no more expensive than a nice hotel (or a cheap one in a high-priced area like New York City). One of Olson Kundig's pretty Rolling Huts cabins in Washington can be yours for as little as $135 a night.
For an architecture buff, these places are worth planning an entire vacation around.
[h/t Plans Matter]