A $25 Train Ride is the Best Way to See the East Coast's Fall Foliage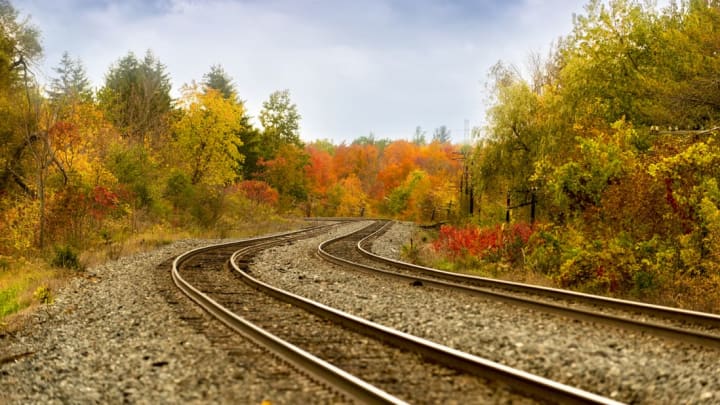 iStock / iStock
If you want to catch a peek at the best fall foliage that New England and New York state have to offer this year, now is the time. And you can ditch your car keys. Continuing its annual fall tradition, Amtrak is running vintage train cars that offer panoramic views on certain East Coast lines, as Thrillist reports.
The double-decker Great Dome Car debuted in 1955, and was originally run on the Great Northern Railway's Chicago-Seattle route. The only remaining Great Dome Car in service was retired from daily use in 1994, but still makes an appearance for special services like these. Its upper level features a glass dome top, giving you a 180° view of the areas on each side and above you.
The service is starting out along Amtrak's Downeaster line, which runs from Maine to Massachusetts. Downeaster riders can experience the leaf-changing magic until September 24. Later in the month, the Great Dome Car will be transferred to the Adirondack line from Albany to Montreal. (Those dates haven't been released yet, but in 2016, they ran from September 29 to November 1).
Amtrak
It might be the cheapest way to do a fall foliage trip, with tickets from Brunswick, Maine to Boston priced at as little as $25. It doesn't cost extra money to sit in the vintage observatory car, but it's only available on certain trains throughout the day, so don't buy tickets without checking to make sure you'll be on a train with the Great Dome Car attached. Amtrak encourages passengers to move through the car during the journey, allowing as many people as possible to get a glimpse of the great views.
Not sure when to head out? Check out this fall foliage prediction map to get a better idea of when the changing of the leaves will peak. And if you can't make it to the East Coast, fear not: There are plenty of scenic drives you can take to see fall colors elsewhere.
[h/t Thrillist]