5 Frank Lloyd Wright Homes You Can Buy Right Now
It can be hard for homeowners to sell Frank Lloyd Wright houses, even if they are live-in works of art. Some prospective owners don't want to deal with pilgrims or rubberneckers, while others simply aren't fans of Wright's style, or his penchant for building in far-flung locations. The upside? The architect's mega-fans have a better chance of scoring a genuine Wright original, occasionally at a relatively bargain price. From suburban Minnesota to rural New York, here are five drool-worthy Wright residences that you can purchase right now.
1. THE PAUL OLFELT HOUSE IN ST. LOUIS PARK, MINNESOTA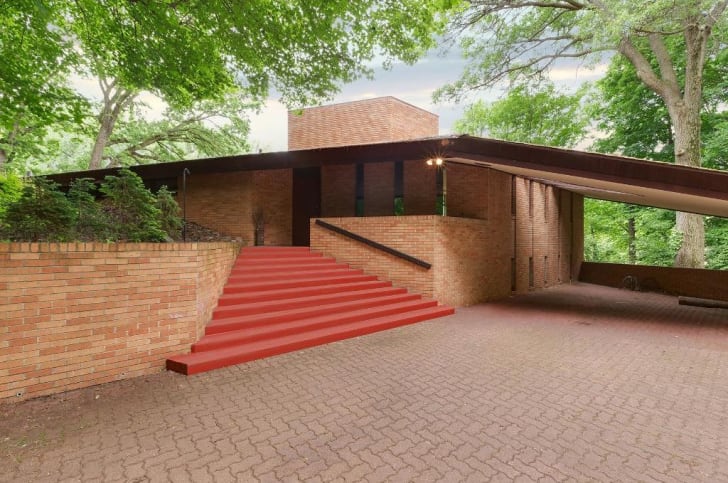 Address: 2206 Parklands Lane, St. Louis Park, Minnesota 55416
Asking Price: $1.3 million
History: In the 1950s, Wright designed one of his moderately priced Usonian homes for clients Paul and Helen Olfelt, who lived with their young children in St. Louis Park, Minnesota. A fan of Wright's work, the couple had written the architect a letter requesting that he design their family one of his stylish single-family residences.
"We hoped for a refuge from the world for part of our day, a place where we could enjoy nature and the beauty of man's creativeness in harmony with nature," Olfelt, a radiologist, wrote in 1969 in the journal Northwest Architect. "We wanted a home that by virtue of its character would help us and our children be dissatisfied with the ordinary."
Wright accepted the commission and briefly met with the Olfelts to discuss his vision, although he never visited the actual site—a tree-filled cul-de-sac—in person. The three-bedroom home's design was completed shortly before the architect's death in 1959, and the Olfelts officially moved into the home in September 1960, and listed it for sale for the very first time in 2016. It's still on the market, just waiting for a lucky Twin Cities area buyer to snap it up.
Bona Fides: The Paul Olfelt House comes equipped with a wood-burning fireplace; a fully equipped kitchen; and a master suite with both a dressing room/closet and an en suite three-quarter bath. It also includes many furniture pieces—including chairs, ottomans, desks, lamps, and tables—that Wright custom-designed for the home. Many, if not all, of these items are included the home's sale price.
Fun Facts: The home has a basement, which is "rare for Wright homes," a representative from Berg Larsen Group of Coldwell Banker Burnet tells Mental Floss. "He drew the line at the request for a bathroom; therefore, there's an odd little commode in the unfinished storage area that we refer to as 'plumbed for additional bathroom.'"
The basement also includes an office, which was designed for Olfelt; a play area for children (complete with swing); and a bar with banquette seating.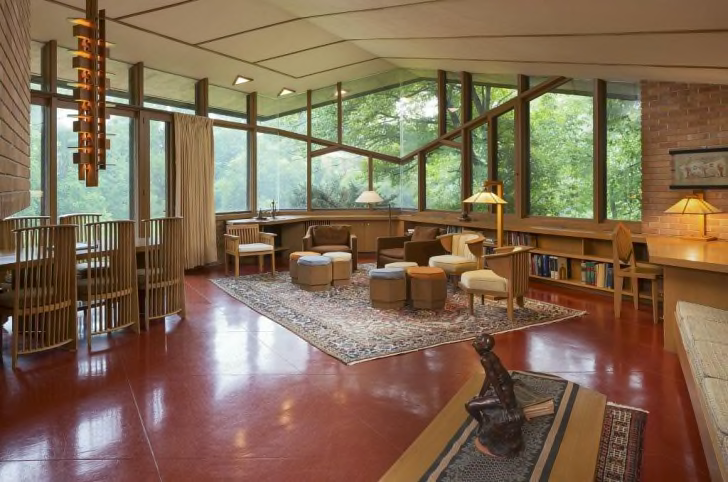 2. TIRRANNA IN NEW CANAAN, CONNECTICUT
Address: 432 Frogtown Road, New Canaan, Connecticut 06840
Asking Price: $7.2 million
History: "Tirranna" is an Australian aboriginal word meaning "running waters"—a fitting choice, considering that the U-shaped residence sits next to a pond fed by a nearby river and overlooks a tiny cascade. The home was built in the 1950s, and was one of Wright's very last houses built before his death.
Bona Fides: "Tirranna is one of the two or three biggest homes Wright ever built or designed, just from a size perspective," Houlihan Lawrence broker Doug Milne tells Mental Floss. "As you enter the main room, it goes from very low ceilings to soaring ceilings and glass, with Brazilian mahogany walls and ceilings that are just in miraculous condition."
Tirranna has seven bedrooms, and is surrounded by 15 acres of forest. Also on the grounds are a barn and stable, a greenhouse, a guest house, a swimming pool, a tennis court, a workshop, and gardens designed by Frank Okamura, the landscape architect for the Brooklyn Botanic Garden.
Fun Fact: If Tirranna achieves its $7.2 million asking price, it will set a record for the highest price ever paid for a Wright house. This money will go toward an important cause: mental health research.
Tirranna's last owner was the late businessman Ted Stanley, who died in early 2016 at the age of 84. But while Stanley became rich selling collectibles, his true passion ended up being medical philanthropy. It all started when Stanley's teenage son, Jonathan Stanley, was diagnosed with bipolar disorder in the late 1980s. His eventual recovery was largely due to being treated successfully with the right medicine. The experience turned Stanley into a staunch advocate for mental health research, and he spent the remainder of his life donating vast portions of his fortune to research institutions like the Broad Institute, a biomedical and genomic research center in Cambridge, Massachusetts.
The Broad Institute employs some of the world's top scientists, who research both the genetic and molecular causes of psychiatric disorders and potential treatments. "My son's life was saved," Stanley told The New York Times in 2014. "I would like to purchase that happy ending for other people."
When Stanley died in 2016, he left the Broad Institute much of his fortune. Tirranna's proceeds will also be directed toward the research center.
3. THE LOUIS PENFIELD HOUSE IN WILLOUGHBY HILLS, OHIO
Address: 2215 River Road, Willoughby Hills, Ohio 44094
Asking Price: $1.3 million
History: Designed by Wright and built in the mid 1950s, the Louis Penfield House is a nature lover's dream. The restored Usonian home sits atop a knoll overlooking the nearby Chagrin River, and across the street from protected forest, creeks, and hiking trails. The home was commissioned by high school art teacher Louis Penfield and his wife, Pauline, but has operated as a vacation rental house since 2003. New owners can opt to keep renting it or to use the home as a private residence.
Bona Fides: The three-bedroom, two-story home comes complete with Wright-designed furniture, which is included in the cost of sale. Owners can also say bye-bye to heating bills, as the home has a radiant-floor heating system fueled by one of two natural gas wells on the property. And just in case you were looking for even more bragging rights, the home is listed on the National Register of Historic Places.
Plus, prospective buyers have the chance to score two Wright homes for the price of one (well, kind of): "The last original Wright building site in the world is located adjacent to the Penfield House," and is included in the sale, listing agent Karen Eagle of Howard Hanna tells Mental Floss. "The building plans for Wright's last residential commission, called Riverrock, are owned by the Penfields. The house is historically significant. It is design number 5909, and was on Wright's drawing board when he died. The Penfields received the plans shortly after his death in April 1959."
Fun Fact: "Louis Penfield was nearly 7 feet tall," Eagle says. "The home was designed to accommodate his tall stature. Frank Lloyd Wright's ceilings are typically low. The staircase is pretty interesting too, since it accommodates for height."
According to legend, Penfield visited Wright's Wisconsin studio and challenged the architect to build a custom home for his towering frame. Wright accepted the dare, and mailed his new client a preliminary drawing six months later. The rest, as they say, is history.
4. THE F.B. HENDERSON HOUSE IN ELMHURST, ILLINOIS
Address: 301 South Kenilworth Avenue, Elmhurst, Illinois 60126
Asking Price: $1 million
History: Built in the early 1900s, the F.B. Henderson House is an early example of Wright's signature brand of Prairie style architecture. The architect built the home in conjunction with Chicago architect Webster Tomlinson, who briefly served as Wright's business partner. The two are both listed as the home's architects, although Tomlinson was reportedly more like the project's office manager and business agent.
Originally commissioned by client Frank Bignell Henderson in 1901, the home has been on and off the market for the past decade. That said, real estate agents tell Mental Floss that they've seen prospective buyers sniffing around as of late.
Bona Fides: Both the interior and exterior of the F.B. Henderson House have been recently restored, but the property still has plenty of original mid-century charm to spare. And if charm alone won't do, there's also three fireplaces, a wine cellar, and an expansive terrace overlooking the lawn.
"There is a real open feel on the first floor," agent Marilyn Fisher of LW Reedy Real Estate tells Mental Floss. "It's a massive space. It has a huge foyer as you walk in, and then when you come into the main part of the house, you have a really big living room. On either side of the living room are mirror-image rooms. One side is half of an octagon, and the other side is the other half, making for a wide expanse. It's a very dramatic look."
Fun Fact: The F.B. Henderson House has more than 80 art glass, or stained glass, windows. Wright often referred to these mini works of art as "light screens," as they evoked the look of sliding Japanese shoji screens.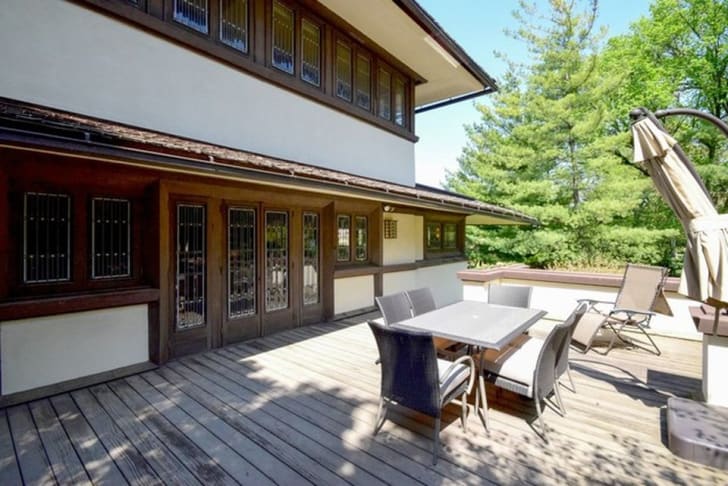 5. THE MASSARO HOUSE IN PUTNAM COUNTY, NEW YORK
Address: Petra Island, Lake Mahopac, Carmel, New York
Asking Price: $14.92 million
History: Some Wright purists turn up their noses at the Massaro House, in spite of its spectacular location (on a 10-acre private island), its spectacular design (a 5000-square-foot home with a cantilevered deck that practically puts Fallingwater to shame), and its spectacular scenery (did we mention it's on a lake?). They say it's just "inspired" by the architect, instead of truly being his original work.
Around 1950, engineer A.K. Chahroudi commissioned Wright to design him a dream home on the island, but the client wound up not being able to afford the planned project. Instead, Wright created a small guest cottage for his client. In 1996, sheet metal contractor Joe Massaro purchased Petra Island, and he also acquired Wright's original plans for the site, intending to fulfill the famous architect's ultimate vision.
With the help of architects and scholars, the Massaro House was completed around 2007. However, the Frank Lloyd Wright Foundation refuses to recognize it as an authentic Wright design, as they're not happy about some controversial design tweaks Massaro made to the plans.
Bona Fides: The home has geometric windows, a wraparound patio, and boulders integrated into the walls, giving it a natural feel. Other structures on the island include the aforementioned guest house and a tea house.
Fun Facts: If you own your own chopper, look no further than the Massaro House. "It has a helipad," Chadwick Ciocci, the CEO and founder of global real estate concierge Chilton & Chadwick, tells Mental Floss. "I don't know of any other Frank Lloyd Wright homes that have that."
"Also very important is that the home is on a private heart-shaped island," Ciocci adds. (Really? We hadn't noticed.)