18 Radically Successful People Who Lived With Their Parents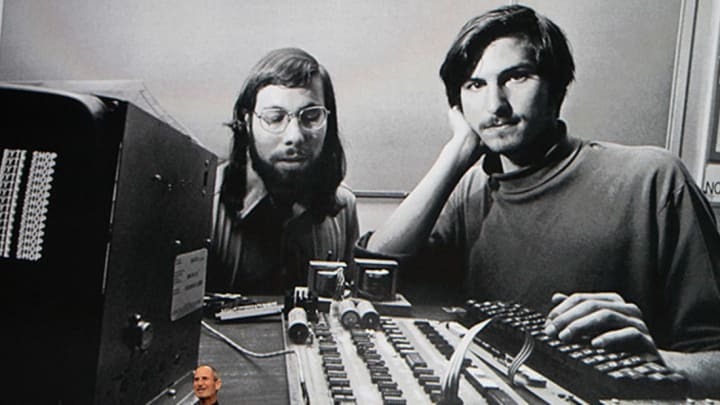 Getty Images / Getty Images
Bloomberg Businessweek is taking some heat for an ad campaign mocking lazy millennials who still live with their parents. Parents can send their kids BBW e-cards with messages like, "You were supposed to make us rich, but we'll settle for just not making us poor" and "We can't wait for your terrible 20s to be over." But these debt-ridden graduates can look to history for more hopeful advice. Here are some notable people who launched successful careers, products, and companies while living with mom and dad.
1. Steve Jobs, Apple Computer Co-Founder
Steve Jobs co-founded Apple Computer and manufactured the original Apple I computer in his parents' garage. Jobs was living with his folks in 1975 after a brief stint at Reed College and a trip to India the year prior. Jobs ran his computer business out of that garage for more than a year; in 1977 he moved to a ranch house in Cupertino which he dubbed "Rancho Suburbia" and got a proper office space.
Trivia note: Jobs was adopted. His adoptive father taught him woodworking in that garage, and instilled values of craftsmanship. In the Steve Jobs biography, this passage illustrates Jobs's pride in the craftsmanship of a well-built fence:
Fifty years later the fence still surrounds the back and side yards of the house in Mountain View. As Jobs showed it off to me, he caressed the stockade panels and recalled a lesson that his father implanted deeply in him. It was important, his father said, to craft the backs of cabinets and fences properly, even though they were hidden. ... In an interview a few years later, after the Macintosh came out, Jobs again reiterated that lesson from his father: "When you're a carpenter making a beautiful chest of drawers, you're not going to use a piece of plywood on the back, even though it faces the wall and nobody will ever see it. You'll know it's there, so you're going to use a beautiful piece of wood in the back. For you to sleep well at night, the aesthetic, the quality, has to be carried all the way through."
2. Alexander Graham Bell
Yep, the father of the telephone lived with his parents until just before his most famous invention. His mother home-schooled him early on, and his first invention was a wheat dehusking machine, assembled at the age of 12. Around that time, Bell's mother began going deaf, leading him to study early forms of sign language and the principles of acoustics. Bell lived with his parents in various parts of Scotland and England, though he left home several times to study and other times to teach. At age 23, he and his parents moved from London to Canada. Bell finally "moved out" in 1872, at the age of 25, when he headed to Boston to work in a school for the deaf. He promptly fell in love with one of his students, Mabel Hubbard (who was just 15 years old at the time), and proceeded to patent the telephone in 1875, at the age of 28. Two years later, Bell and Hubbard were married, and Bell's wedding present to her was a massive stock grant in the brand new Bell Telephone Company.
3. Rafael Nadal, Tennis Champion
Getty Images
Rafael "Rafa" Nadal is a Spanish tennis player who has won eleven Grand Slam singles titles and is currently ranked No. 4 in the world. Nadal's uncle Toni trained Rafa from an early age, and to this day Rafa lives in Manacor, Mallorca with his family. In his autobiography, he wrote, "My family had always been the holy, untouchable core of my life, my center of stability and a living album of my wonderful childhood memories."
4. Kathy Griffin, Comedian
Getty Images
Kathy Griffin's comedic brand relies largely on her jokingly self-declared place on the Hollywood "D-List," a spot she earned by having a really hard time breaking into the business and getting decent roles. Griffin is the youngest of five kids, and lived with her parents until she was 28. USA Today reported: "After high school, Griffin moved from the Chicago suburbs to Los Angeles with her parents. For the next decade, the three shared a two-bedroom apartment; Griffin worked as a temp and at mostly dead-end jobs while hustling for auditions." Her first credited speaking role was as a guest star on The Fresh Prince of Bel-Air, the premise of which involved Will Smith living with his aunt and uncle rather than his parents.
5. Orin Seybert, Founder of Peninsula Airways
Alaskan readers will recognize PenAir as Alaska's largest regional air carrier, including charter service in Alaska, Canada, and the Lower 48. But its founder, Orin Seybert, learned to fly in high school while living with his grandparents. He earned his commercial pilot's license at 18 and started the airline at 19 while living with his parents. Today a dozen family members work for PenAir, including several of Seybert's grandchildren. When asked about his inspiration for becoming a pilot, Seybert said, "Part of my reasoning for having my own airplane was that in my village there were no girls my age. I knew I needed to get out and see who else was out there, so I went all over the central Peninsula and discovered all kinds of great adventures."
6. Grigori Perelman, Mathematician
Wikimedia Commons / George M. Bergman
Grigori Yakovlevich Perelman is a Russian mathematician best known for solving the Poincaré Conjecture in 2003 (the problem had remained unsolved for 99 years before Perelman came along). Perelman was awarded the Fields Medal for his work, but he declined the award (including the million dollars it came with) and refused to appear in public. From the door of the St. Petersburg apartment he shares with his mother Lubov (also a mathematician), Perelman told a reporter, "I don't want to be on display like an animal in a zoo." By all accounts, he's still crashing with his mom at age 46.
7. Yvon Chouinard, Patagonia Founder
(With Tom Brokaw) Getty Images
In 1953, Yvon Chouinard became a climber at the age of 14. He was a member of the Southern California Falconry Club, which involved climbing up and rappelling down cliff faces to reach falcon aeries. At the time, the typical practice was to place soft iron pitons (spikes) into the cliff face and then leave them there — but Chouinard had a better idea. By the age of 18, he had bought a coal-fired forge and an anvil, and taught himself the art of blacksmithing. He set up shop in his parents' Burbank backyard, making reusable chrome-molybdenum pitons, which he sold for $1.50 each. As the years wore on (and he moved the operation out of his parents' place), Chouinard expanded into more gear and clothing for climbers, and thus Patagonia was born.
8, 9, 10. The Brontë Sisters, Authors
Wikimedia Commons / Painting By Branwell Brontë
Anne, Emily, and Charlotte Brontë were successful women writers in an era when writing literature was perceived as an unseemly pursuit for ladies — but one that was loosely encouraged by their father Patrick, who was an Anglican priest and an author himself. Of the six children born in the family, two girls died in childhood, the remaining three went on to literary success, and the sole boy, Patrick Branwell, went on to become a painter and writer. The three sisters initially published work under the male pseudonyms Currer, Ellis, and Acton Bell. After Charlotte's novel Jane Eyre became popular (written by "Currer Bell"), she revealed her true identity; Emily went on to write Wuthering Heights and Anne wrote Agnes Grey, among other works. All of the Brontë children died tragically young: Anne died at age 29, Emily at 30, Patrick at 31, and Charlotte at 38.
11. Michael Kittredge, Yankee Candle Company Founder
Michael Kittredge was just 17 years old when he started making candles in his parents' garage. His first candle was a Christmas present for his mother, and he made it by melting down his old crayons. When a neighbor offered to buy that candle, Kittredge spotted a business opportunity and began making more candles, founding the Yankee Candle Company just before Christmas, 1969. By 1972 he moved the operation into a former paper mill in Holyoke, Massachusetts — and the rest is scented candle history.
12. Jennifer Lawrence, Academy Award Winning Actress
Getty Images
Jennifer Lawrence hails from Louisville, Kentucky. At age 14, Lawrence convinced her parents to bring her to New York to audition for acting roles. The reaction from talent agents was positive, but Lawrence's mother offered this deal: Jennifer could get into acting only after she graduated from high school. So Lawrence blasted through high school, graduating two years early with a 3.9 GPA.
Lawrence went on to act in commercials, TV shows, and eventually films including Winter's Bone, The Hunger Games, and Silver Linings Playbook (that last one garnered her an Oscar). Lawrence's family moved with her to Los Angeles in 2007, though her official website still lists a Louisville PO Box for fan mail.
13. Miles Davis, Jazz Trumpeter
Wikimedia Commons / Photo By Tom Palumbo
Miles Davis owes a lot to his father, Miles Henry Davis. The elder Davis gave his son a trumpet when Davis was just 13, and arranged for lessons with a local musician. The choice of the trumpet was against his wife's wishes — Davis's mother was a blues pianist and wanted her son to study the piano. But Davis took to his trumpet quickly, becoming a professional performer at the age of 16. When Davis was just 18, he played with Dizzy Gillespie and Charlie Parker for several weeks while the Billy Eckstine band was performing in the area. Davis went to Juilliard briefly, but (with his father's permission) dropped out and played professionally instead. During Davis's "Blue Period" in 1954, he returned to his father's house in St. Louis and locked himself in his room in order to kick his heroin habit. Now that's a supportive dad. The next year Davis formed his "first great quintet" featuring John Coltrane, Red Garland, Paul Chambers, and Philly Joe Jones.
14. Lou Gehrig, Baseball Legend
Wikimedia Commons / University Archives — Columbiana Library
Lou Gehrig is perhaps best known today for his career-ending "Lou Gehrig's Disease," technically called amyotrophic lateral sclerosis or ALS (the same disease now afflicts Stephen Hawking, among others). But in the 15 seasons between 1925 and 1939, Gehrig played in 2130 consecutive baseball games — a record that stood until Cal Ripken, Jr. broke it in 1995. But aside from his baseball career, Gehrig lived at home with his mother until the age of 30. He only moved out after marrying Eleanor Twitchell in 1933, just eight years before his death. (The New York Times has a whole story about Gehrig's mom and how she kept vetoing his prospective romantic partners....)
15. Reggie Aggarwal, CEO of Cvent
Reggie Aggarwal founded Cvent in 1999 to help schedule events. But in 2000, the dot-com bubble burst, leaving him in a desperate financial position. To avoid bankruptcy, at age 33, Aggarwal swallowed his pride and moved in with his parents, drew no salary for two years, and saved the business. In 2011, Cvent received $136 million in venture capital. Although he moved out of his parents' house after the business turned around, Aggarwal lives in a modest two-bedroom condo with his wife and child. "We still remember the bad times, and we're always going to think like a startup, which is don't get arrogant, treasure your customers, treasure your employees, and be frugal," he told Business Insider.
16. Justin Halpern, Author of Sh*t My Dad Says
Getty Images
At age 28, Justin Halpern was dumped by his girlfriend and moved in with his dad, who was then 73. Halpern had long noted his father's colorful way with words, but the close quarters provided even more material, leading Halpern to start the "Sh*t My Dad Says" Twitter account. That Twitter account led to a book and even a TV show starring William Shatner. A sample Dad-ism:
"The worst thing you can be is a liar. ...Okay, fine, yes, the worst thing you can be is a Nazi, but then number two is liar. Nazi one, liar two."
Halpern's Amazon biography says he now "Splits his time between Los Angeles and his parents' home in San Diego." His Twitter account is still going strong, with over 3 million followers.
17. Andrew Gower, Creator of RuneScape
British game developer Andrew Gower made his biggest hit, RuneScape, in his childhood bedroom at his parents' house in Nottingham. Gower was an undergraduate student at Cambridge, still living at home, when he created the massively successful MMORPG (Massively Multiplayer Online Role-Playing Game). He later sold his stake in RuneScape and in 2009 his wealth was estimated at £99 million; he turned 31 that year.
18. Mangesh Hattikudur, mental_floss Co-Founder and Editor-in-Chief
Mangesh Hattikudur lived with his parents while establishing mental_floss. He wrote, "After working two part-time jobs (waiting tables and working as a video store clerk) then coming home at 10 or 11 to work on mental_floss, I needed to focus more on the floss. In 2001 and 2002, people weren't that eager to invest in a magazine from two college grads who had no idea what they were doing. Being able to crash with my parents helped. If they hadn't taken me in (again) I'd have become a mediocre lawyer instead of a mediocre editor!" Things worked out OK for Mangesh. And without his generous parents, you wouldn't be reading this article right now.