15 Facts About Tennessee Williams's The Glass Menagerie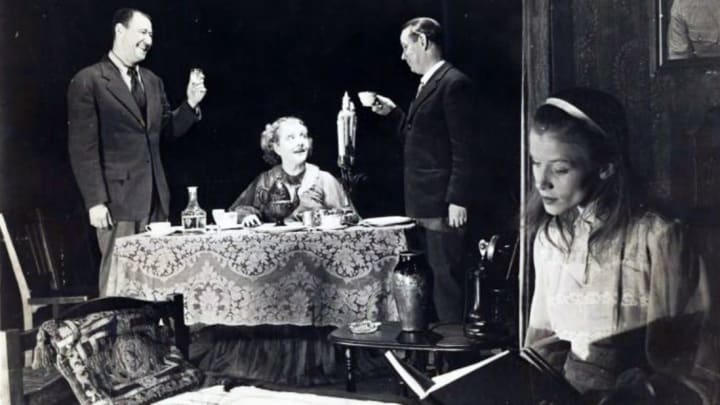 New York Public Library, Billy Rose Theater Collection // Public Domain / New York Public Library, Billy Rose Theater Collection // Public Domain
The Glass Menagerie is an American classic that tells a tragic family tale of love, bitterness, and abandonment. But beyond its delicate glass unicorn and heartbreaking drama, this Tennessee Williams play proved to be a defining moment for the author—and for theater history.
1. THE GLASS MENAGERIE IS A MEMORY PLAY.
The play's story is narrated by a central character looking back on the events presented. The format gives the playwright more creative freedom in the narrative, as memories are affected by emotion and temporal distance. Williams says as much in The Glass Menagerie's notes on set design, which read, "The scene is memory and is therefore non-realistic. Memory takes a lot of poetic license. It omits some details; others are exaggerated, according to the emotional value of the articles it touches, for memory is seated predominantly in the heart."
2. THE NARRATOR WARNS HE IS AN UNRELIABLE NARRATOR.
The story focuses on the impoverished Wingfield family at a time when their matriarch Amanda is pressuring her grown son Tom to find a suitor for his fragile sister Laura. Tom is the narrator of the tale. But in his first monologue, he warns, "The play is memory. Being a memory play, it is dimly lighted, it is sentimental, it is not realistic."
3. THE GLASS MENAGERIE WAS THE FIRST MEMORY PLAY.
Williams coined the phrase to explain this groundbreaking new style. In its production notes, Williams wrote, "Being a 'memory play', The Glass Menagerie can be presented with unusual freedom of convention. Because of its considerably delicate or tenuous material, atmospheric touches and subtleties of direction play a particularly important part." He goes on to encourage those staging the show to be "unconventional" in their productions, noting such exploration was essential to preserving the vitality of theater. Other examples of memory plays are Harold Pinter's Old Times and Brian Friel's Dancing at Lughnasa.
4. THE GLASS MENAGERIE BEGAN AS A SHORT STORY IN 1941.
At 30, Williams wrote "Portrait of a Girl in Glass," which centered on the glass figure-loving Laura, rather than her brother Tom. She was presented as a desperately shy young woman with a fearsome mother, who went unnamed in this early incarnation. By 1943, Williams was in Hollywood, and so transformed the short story into a spec script called The Gentleman Caller. After MGM Studios passed on the script, Williams reconceived it as a stage play in 1944.
5. THE TITLE REFERS TO LAURA AND HER GLASS ANIMAL COLLECTION.
The Glass Menagerie's young female lead fawns over her titular collection, polishing them obsessively. Lovely but fragile, these prized figures are regarded as a metaphor for their owner. Notably, Laura's favorite is the glass unicorn, an unusual creature that her could-be suitor Jim says is "extinct in the modern world." A popular reading of this exchange is that Laura is like this unicorn, out of place in the world around her.
6. THE GLASS MENAGERIE IS CONSIDERED WILLIAMS'S MOST AUTOBIOGRAPHICAL WORK.
The frustrated protagonist Tom is named after the author, who was born Thomas Lanier Williams III. (Tennessee was a nickname earned in college.) The unhappy family life at the center of the play mirrored his own. Like the Wingfields, the Williams family included a dominating matriarch, Tennessee's mother Edwina, who raised the family largely without the help of her husband, a traveling shoe salesman. Like Amanda, Edwina was a faded Southern belle. Laura—nicknamed Blue Roses—was based on his older sister Rose, who struggled with mental illness and retreated to a world of isolation, surrounded by her beloved glass ornaments. Even the description of the Wingfield's St. Louis apartment mirrored a home the playwright once shared with his family.
7. IT MADE WILLIAMS AN OVERNIGHT SUCCESS (EIGHT YEARS IN THE MAKING).
He'd written a slew of plays ahead of The Glass Menagerie's debut in Chicago in December 1944. But this was the first to earn widespread notice. In the Chicago Tribune, theater critic Claudia Cassidy declared that the play was "vividly written," "superbly acted," and, "paradoxically, it is a dream in the dust and a tough little play that knows people and how they tick." Rave reviews sparked such intense interest in Williams's very personal play that by March 31, 1945, the production had been transferred to Broadway, where it won a New York Drama Critics' Circle Award just two weeks after re-opening. It went on to run for 563 performances, and made Williams a rising star in American theater.
8. LAURETTE TAYLOR'S BROADWAY PERFORMANCE IS LEGENDARY.
The New York City-born actress performed on stage and in silent film, but she is best known for originating the role of Amanda Wingfield on Broadway. Once The Glass Menagerie opened, Taylor was nearly universally praised by critics and colleagues.
"I have never been that affected by a stage action in my whole life. It made me weep," lyricist Fred Ebb said. Actress Patricia Neal deemed Taylor's Amanda "the greatest performance I have ever seen in all my life." And writer Robert Gottlieb, who witnessed this portrayal as a teenager, said, "When I saw her, I knew it was the finest acting I had ever seen, and, more than 65 years later, I still feel that way."
9. WILLIAMS WAS ONE OF TAYLOR'S BIGGEST FANS.
Taylor's celebrated performance helped cement The Glass Menagerie's rarefied reputation. Looking back on her work in the production, Williams said, "There was a radiance about her art which I can compare only to the greatest lines of poetry, and which gave me the same shock of revelation, as if the air about us had been momentarily broken through by light from some clear space around us."
10. SOME SAY THE SHOW HAS A UNIQUE CURSE.
The theatre is ripe with superstitions and lore. One story around The Glass Menagerie centers on the seemingly impossible standard set by Taylor. Even decades later, her performance is the one by which all other Amanda Wingfields are judged. And while there have been seven revivals of the show since its initial bow, none of her successors has won the Tony Award. The curse suggests that because Taylor didn't win the honor for that role—the Tonys were not established until a year after Taylor's run—no one will.
Since then, Maureen Stapleton (1965, 1975), Jessica Tandy (1983), Julie Harris (1994), and Jessica Lange (2005) performed the role with nary a nod. Cherry Jones scored a nomination in 2013, and Sally Field did the same in 2017. But neither took home the Tony.
11. THE PLAY GAVE WILLIAMS A SECOND SHOT IN HOLLYWOOD.
He left Los Angeles smarting from the failure of The Gentleman Caller, but came back with a heralded Broadway hit. In 1950, The Glass Menagerie became his first produced screenplay. But though Williams imagined the great American actress Ethel Barrymore as Amanda, director Irving Rapper cast English comedienne Gertrude Lawrence in the Southern belle role. The perturbed playwright later declared this a "dismal error." The resulting film was ruthlessly panned. "[The film] comes perilously close to sheer buffoonery in some of its most fragile scenes. And this makes for painful diffusion of the play's obvious poignancy," The New York Times's critic Bosley Crowther wrote.
12. THIS FILM ADAPTATION HAD ONE MAJOR, DAMNING CHANGE FROM THE PLAY.
In the play, the plot to woo a suitor fails. Tom decides to move out, and his sister is left without hope of finding a husband. But Warner Bros. wanted Williams to create a happy ending for the movie version. "In my heart," Williams replied, "the ending as it exists in the play was the artistically inevitable ending." Yet Williams agreed to a compromise. He wrote to Rapper, "I think it is all right to suggest the possibility of someone else coming. And that 'someone else,' remaining as insubstantial as an approaching shadow in the alley which appears in conjunction with the narrative line, 'The long delayed but always expected something that we live for'—it strikes me as constituting a sufficiently hopeful possibility for the future, symbolically and even literally, which is as much as the essential character of the story will admit without violation."
But that wasn't enough for Warner Bros. Against Williams's wishes and behind his back, the studio reached out to screenwriter Peter Berneis to give them the happy ending they wanted. Berneis created a second suitor named Richard, reasoning that Laura's tale could go from one of woe to inspiration. When Williams saw the final film, he was shocked and furious. He dubbed the film a "travesty."
13. THE GLASS MENAGERIE WOULD RETURN TO THE SCREEN.
The play was adapted for television four times between 1964 and 1977, including a version that starred screen legend Katharine Hepburn as the tenacious Amanda. Then in 1987, Paul Newman directed a big-screen adaptation with his wife Joanne Woodward in that coveted role. A young John Malkovich co-starred as Tom, while Raiders of the Lost Ark's Karen Allen played Laura. All of the above earned acclaim. Woodward and Allen achieved Independent Spirit award nominations, Malkovich scored an acting award at the Sant Jordi film festival, and Newman's efforts were nominated for the Cannes Film Festival's prestigious Palme d'Or prize.
14. IN REAL LIFE, "LAURA" DID NOT GET A HAPPY ENDING.
As a child, Tennessee's older sister Rose Williams was an extroverted girl of "good spirits," but as she grew older, she became withdrawn and "nervous." She would eventually be diagnosed with schizophrenia. To cure Rose, her mother turned to a trendy medical procedure believed to work wonders, a prefrontal lobotomy. Sadly, the operation made matters worse. Rose spent the rest of her life in hospitals.
15. WILLIAMS MADE SURE HIS SISTER WAS CARED FOR AND REMEMBERED.
He wove elements of her tragic tale into a string of works beyond The Glass Menagerie and its earlier versions. Their shared childhood inspired the short story "The Resemblance Between a Violin Case and a Coffin." The strain Williams believed his sister felt between Edwina's Victorian standards and her own sexuality is explored in Summer and Smoke. In Suddenly Last Summer, a cruel mother plots to have a young woman lobotomized for her own ends. And in A Streetcar Named Desire, the much-abused Blanche DuBois finally finds a bittersweet end, when she relies on the "kindness of strangers" to lead her away to an asylum.
When he passed away in 1983, Williams left the majority of his estate to his sister, to ensure she would be cared for until her death. And when she died in 1996, at the age of 86, people around the world mourned for the fragile and big-hearted sister we all felt we knew.