The Final Resting Places of 11 Childhood Icons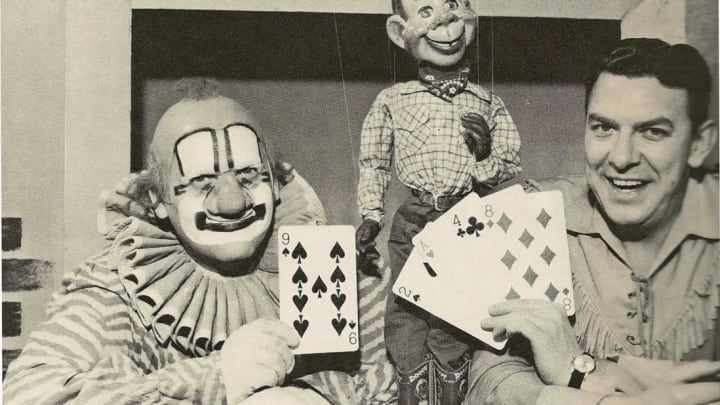 Sodahead / Sodahead
The news of Detroit's bankruptcy filing probably didn't come as a surprise to many this week, especially not creditors who are owed a total of $18 billion. What does come as a surprise is that the city may sell off some of its art collection to try to stop some of the bleeding—including Howdy Doody. Wait, what? How did Howdy Doody end up in Detroit? We have the answer, in addition to what happened to 10 other props you'll remember from childhood.
1. Howdy Doody
So if you weren't already aware, you now know that Howdy Doody (above), the beloved cowboy puppet from the 1950s-era children's show of the same name, has called the Detroit Institute of Arts home for the last several years. But why? Howdy Doody host Buffalo Bob Smith was from Buffalo, New York (go figure). When he died in 1998, fights erupted between various groups of people who believed they had a claim to the marionette. The Detroit Institute of Arts—which has one of the largest collections of significant puppets in the world—eventually prevailed.
2. Hoggle
Woe is Hoggle, the curmudgeonly dwarf from Labyrinth. Far from being carefully and lovingly preserved as our friend Howdy Doody was, Hoggle was just someone's unwanted baggage. Literally. The foam puppet turned up in a crate at the Unclaimed Baggage Center in Scottsboro, Alabama. The folks there had the puppet restored to its former glory, so Hoggle now presides over the Unclaimed Baggage Museum as its rightful king. Take that, Jareth.
3. Rudolph and Santa
In 2005, a man cleaning out the family attic stumbled upon a couple of little puppets and recognized them from his childhood. And your childhood. And the childhood of anyone who has ever watched television. His aunt, a Rankin-Bass employee at the time Rudolph the Red-Nosed Reindeer was made in the early 1960s, took the wood, wool, and wire models home for her kids to play with. By the time the nephew discovered them and took them to Antiques Roadshow in 2005, Rudolph's iconic nose was gone and Santa appeared to have waxed off both eyebrows and half of his mustache.
The toys have since been purchased by a private buyer and restored; they occasionally make appearances at Comic-Cons and museums across the country.
4. Kermit
You can gaze upon the original Kermit the Frog—complete with ping pong ball eyeballs—at the Smithsonian National Museum of American History in D.C. The original puppet was made using an old green coat and was part of a show called Sam & Friends starting in 1955. The show, appropriately, was a local Washington D.C. news program.
5. Charlie McCarthy
If Toy Story is an accurate representation of what happens when toy owners aren't looking, perhaps Kermit hops out of his case to go chat with Edgar Bergen's sidekick Charlie McCarthy, who also calls the Smithsonian home these days. And if the image of a nearly 60-year-old Muppet coming to life to get up to some shenanigans in an empty museum with a wooden ventriloquist's dummy gives you nightmares tonight, well, I guess we'll both have something to discuss with our therapists.
6. Effie Klinker and Mortimer Snerd
Along with another version of Mr. McCarthy, a couple of Edgar Bergen's other famous dummies live behind glass at the National Radio Hall of Fame in Chicago.
7. Shotgun Red
Back when I was but a little shaver, I watched a lot of TNN (The Nashville Network) when my grandma babysat. I didn't care for the Grand Ole Opry, so much, but I was a big fan of Shotgun Red on Nashville Now. I'm slightly elated to know that Shotgun Red is still "alive" and well, touring with his own variety show and making appearances on TV. 
Here he is back in the day:
8. Mr. Rogers' Neighborhood Trolley
Getty Images
If this model train enthusiast is to be believed, all of the puppets and props, including the trolley that whisked us all to Mr. Rogers' Neighborhood of Make Believe, are just sitting in a box somewhere at PBS. Curious as to where the old trolley had ended up, Chris from Duluth emailed PBS several years ago. Their reply:
Chris, We received the email message you sent through our PBS Neighborhood web site. The Trolley from the Neighborhood program, along with all of the props and set pieces have been careful placed in storage. We have kept everything from the Neighborhood series in case we need it for future projects. We are continuing the work at the nonprofit company that Fred Rogers founded (Family Communications, Inc.) If you'd like to know more about the work of FCI, you can visit our web site at www.fci.org. We appreciate your interest (and that of the fellow members of your model RR forum) in the Neighborhood Trolley.
9. Lost in Space robot
If you've ever hoped to hear "Danger Will Robinson! Danger!" in person, you'll need to take it up with NASA. After Lost in Space creator Irwin Allen died, his widow donated at least one version of the robot to the Kennedy Space Center Visitors Center. There's another one in the Seattle Science Fiction Museum, and a private collector owns a costume version of the robot that was worn by an actor for shots that required a lot of movement.
10. ALF
We don't know the exact location of everyone's favorite cat-eating Melmackian, but as of a few years ago, Paul Fusco, the puppeteer and voice of ALF, assured People magazine that he was safe. "That would be a terrible thing, to tell the fans that he's in a box somewhere!" Fusco said. Better a box than the Unclaimed Baggage Center, I always say.
11. E.T.
Now, take this with an Elephant Man-sized grain of salt, but it's said that Michael Jackson purchased one of the original E.T. puppets. It wouldn't really be a surprising purchase—Jackson very much identified with the adorable little alien, telling Ebony magazine, "Well, look at his story. He's in a strange place and wants to be accepted—which is a situation that I've found myself in many times when traveling from city to city all over the world. He's most comfortable with children, and I have a great love for kids. He gives love and wants love in return, which is me. And he has that super power which lets him lift off and fly whenever he wants to get away from things on Earth, and I can identify with that."
Jackson won a Grammy for narrating the E.T. audio book, because of course he did.
Primary image courtesy of Sodahead.