25 Unexpected, Brilliant Uses For Bubble Wrap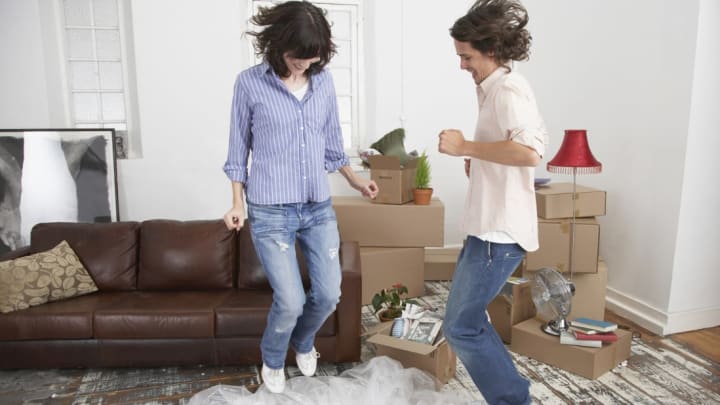 iStock / iStock
Bubble Wrap is known for being a go-to shipping material, but it's useful for more than just protecting packages. In honor of Bubble Wrap Appreciation Day, celebrated on the last Monday of each January, consider these oddball but proven ways to reuse leftover wrap long after a package has arrived.
1. KEEP YOUR FRIDGE CLEAN (AND EFFICIENT).
eggs on bubble wrap / iStock
Tired of tossing bruised fruit, or cleaning out bulky refrigerator drawers? Bubble Wrap can help. Cut pieces to the size of produce drawers, using them as liners to keep drawers clean. The puffy pieces will also protect fruit and vegetables from bruising, and can provide extra insulation to keep contents chilled. If the Bubble Wrap gets dirty, just peel it out and replace it with another layer—no drawer cleaning necessary.
2. MAINTAIN SHOE AND HANDBAG SHAPES.
woman with box, shoes, and bubble wrap / iStock
Purses and shoes often come with foam or paper padding that gets tossed out with the box. But Bubble Wrap can be rolled, stuffed, and molded into almost any form that helps these accessory investments maintain their superb shape. Larger pieces of wrap can be used to help knee-high or riding boots stand tall in the back of your closet, and wrapping bags both inside and out with Bubble Wrap can help them keep their form while protecting them from moisture and dust.
3. KEEP FROZEN FOODS FROSTY.
woman laughing and throwing bubble wrap / iStock
Simple cloth grocery bags get an easy upgrade with Bubble Wrap, turning them into insulating bags that keep takeout hot or groceries cold. Simply cut the plastic and slip it inside.
4. UPGRADE YOUR TOILET TANK.
a sheet of bubble wrap / iStock
Toilet tanks can get pretty sweaty when house temperatures fluctuate, but Bubble Wrap can save the day. Cancel out condensation by adding Bubble Wrap to the inside of the emptied tank and gluing with a silicone sealant. Then, refill the tank for an insulated commode that is no longer mysteriously moist.
5. SAFEGUARD PLANTS FROM FROST.
plants in bubble wrap / iStock
Anxious gardeners can protect plants from unexpected frosts and harsh weather with spare wrap. Cut and mold Bubble Wrap around taller plants, or blanket groundcover and small seedlings in the plastic to protect against snow, frost, or extreme winds. Bubble Wrap also can be used as a mini greenhouse to keep plants and soil warm until average temperatures increase.
6. MAKE CAMPING ADVENTURES MORE COMFORTABLE.
Bubble wrap on black background / iStock
Make camping more comfortable with Bubble Wrap—just place a larger sheet under your sleeping bag for comfortable insulation that keeps you dry and slightly warmer.
7. PREVENT DISHWARE SCRATCHES.
Set of blue dishes with bubble wrap / iStock
Nesting pots, pans, and dishware can lead to scrapes and scratches that impact their lifespan and performance. Cut squares of Bubble Wrap to create lightweight pads that sit between each dish, and in less than five minutes, you'll have a happier kitchen.
8. BANISH WINDOW DRAFTS.
Bubble wrap used for insulation in winter / iStock
Bubble Wrap makes a great stand-in for plastic window covering kits, and can help save on your home winterizing budget. Cut the air-pocket plastic to the size of the window and adhere with double-sided tape for a quick hack that saves on your heating bill.
9. PUT A STOP TO BLISTERS.
bubble wrap / iStock
Using wooden or plastic hand tools, such as rakes and brooms, can lead to blisters. To take the pain out of yard work, wrap tool handles with Bubble Wrap and secure with tape or a rubber band for extra cushioning that makes cleaning a bit more comfy.
10. KEEP PIPES FROM FREEZING
bubble wrap / iStock
Bubble Wrap is good at protecting breakables and not-so-fragile piping from winter cold. Swath large, thicker sheets of the plastic around vulnerable pipes to protect from freezing weather that could lead to a burst.
11. UPGRADE YOUR WINDOW LINENS.
bubble wrap / iStock
Bubble Wrap's original purpose was interior decorating, and while that didn't work out, don't be discouraged if you like the aesthetic. Bubble Wrap curtains make for lightweight sheers that let in light while insulating windows from outside heat. Plus, the sheer plastic also can be used in place of a shower curtain.
12. HEAT YOUR GREENHOUSE
bubble wrap / iStock
While Bubble Wrap is a great tool for keeping cold winds out, it can also help to keep warm temps in. Lining greenhouse walls with Bubble Wrap allows incoming light to be trapped and retained, creating a warmer greenhouse for seedlings without the need for expensive plastic construction materials or a supplemental heater.
13. ADD SOME CHAIR SUPPORT.
Chair covered in bubble wrap / iStock
Need some additional lumbar support for long drives or days at the office? Remove worn-thin padding from cushions and replace with multiple layers of Bubble Wrap for an easy (and cheap) fix that'll have you sitting on air.
14. COUNT DOWN THE DAYS.
Hourglass / iStock
If you're one of those people who crosses out each passing day on a calendar, consider this use an upgrade. For a little more office fun, turn excess Bubble Wrap into a wall calendar that lets you pop each day gone by—and maybe relieve just a little workplace stress until those vacation days roll around.
15. PROTECT FURNITURE FROM DUST.
Woman relaxing on bubble-wrapped couch / iStock
Heading out on vacation, or perhaps preparing a retreat to your winter estate? You'll want to cover furniture to protect it from dust, and you can do it with Bubble Wrap. Simply swap out sheets or large pieces of fabric for the bubbly plastic to wrap and protect upholstery from dust. The Bubble Wrap can be shaken out or hosed off whenever you return, you fancy pants you.
16. MAKE A TO-DO LIST.
A person cutting Bubble Wrap with scissors. / iStock
Checking a completed item off a to-do list and popping Bubble Wrap are two of life's most satisfying activities. What if you combined them? All you need is a picture frame, dry erase self-adhesive sheets, a hole punch, and, of course Bubble Wrap. You can find instructions here.
17. CONSTRUCT COMFY PET BEDS.
dog wrapped in bubble wrap / iStock
Bubble Wrap can help insulate pet bedding for both indoor and outdoor pets in cooler months, and provide extra comfort year-round. Placing layers of the air-filled plastic underneath bedding (where it's not easily accessible to dogs and cats with chewing obsessions) can help retain heat while adding some extra padding that your pet pal will thank you for.
18. CREATE PERFECT CIRCLE STAMPS.
kids playing with bubble wrap / iStock
Upgrade home linens or painting projects by turning spare Bubble Wrap into a stamp. Wrapping plastic bubbles around a paper towel roll creates a painting rolling pin that's easy for kids to use. For a more adult approach, apply bubbles facedown onto a thin surface of paint (best created with a brayer or paint roller) before using the stencil on your medium of choice.
19. CURL YOUR HAIR.
woman with curly hair / iStock
Speed up your morning routine with curled hair that's ready for the day, all thanks to Bubble Wrap. To create these puffy rollers, cut and roll small pieces of Bubble Wrap into tubes, then wind hair around them. Pro tip: Begin setting hair after putting on pajamas since the air-filled plastic will be hard to pull a shirt over.
20. SCARE OFF GARDEN PESTS.
woman popping bubble wrap / iStock
If deer keep invading your garden, it's time to roll out the wrap. Instead of using deer netting, which is often a hazard for insects and birds, lay Bubble Wrap at garden entry points (stapling it to plywood can prevent flyaway situations). When covered with grass, hay, or leaves, this camouflaged deterrent will spook deer that attempt to cross it.
21. DECORATE YOUR DESSERT.
chocolate pie / iStock
You don't have to be an expert cake decorator if you have a roll of Bubble Wrap. Instead of filling messy piping bags (that are a pain to clean), use Bubble Wrap as a stencil to make decorative imprints on a cake or as a mold for chocolate decorations. You can do the same with pies, creating a honeycomb look that works well on chiffon-style or mousse pies.
22. ADD TO YOUR JEWELRY COLLECTION.
bubble wrap / iStock
Let Bubble Wrap make its way into your jewelry box with a pseudo-shell necklace made from melted plastic. Layers of plastic can be fused together with an iron, then cut into discs that are strung together. This DIY has a finished mother-of-pearl look without the cost, and no one will know it was made from leftovers that came with your mail.
23. CREATE GARDEN AND HABITAT STRUCTURES.
kid playing with lizard pet in bedroom / iStock
Whether you're raising radishes or reptiles, Bubble Wrap can be used to create sculpted pieces that add extra oomph to your indoor or outdoor habitat. Since it's easily moldable, Bubble Wrap can act as a mold for concrete, clay, and other materials that harden into yard art. Plus, the clean-up is easy—just peel the wrap away and toss.
24. SEND PERSONALIZED MAIL.
bubble wrap envelope / iStock
Picking up padded envelopes at the post office comes with a price, especially for extra large or oddball sizes. Create your own padded mailers using cardstock and spare Bubble Wrap to help save money while adding your own flair to special packages.
25. SAVE ON DEFROSTING TIME.
ice on windshield / iStock
No one likes scraping a windshield on a cold winter morning. Luckily, Bubble Wrap is the ultimate defrosting tool. Each night, place a sheet of Bubble Wrap on your car's windshield to collect overnight snow and ice. Then, simply pull or roll away each morning for an instantly clean windshield. This hack is an ode to Bubble Wrap's ingenuity—saving both your valuable packages and time.