This Beatles Poster Breaks Down the Instruments Played in Every Fab Four Song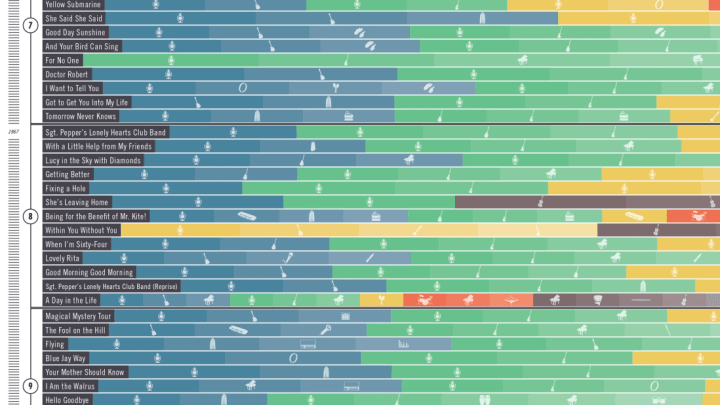 Courtesy of Pop Chart Lab / Courtesy of Pop Chart Lab
If you're a Beatles fan who has memorized every second of every one of the legendary band's songs, from instruments to vocals, Pop Chart Lab has got a poster for you.
"Come Together," the pop culture-loving design company's latest poster, breaks down the instruments featured in every single one of The Beatles's songs, from 1963's "I Saw Her Standing There" to 1970's "Get Back." The chart is broken down into five colors—one for each member of the Fab Four, plus one hue to represent various non-band members—and the icons show you which instrument each member plays in each tune, from the conventional (guitar) to the unique (tape loops and mellotrons). Grab your headphones and follow along as you listen: soon you'll be able to impress your friends by rattling off who's singing when. Who knows—it might even inspire you to pick up the guitar and learn "Blackbird."
The poster measures 24 by 36 inches and pricing starts at $37. It's available for preorder now, and shipping begins April 20.
Music fans will also love Pop Chart Lab's other music posters, like this spread of famous guitars or this brilliant taxonomy of rap names.
Check out the art below. To purchase the poster and also enjoy Pop Chart Lab's many Beatles puns, click here.
Pop Chart Lab