Want to Boost Your Home's Value By More Than $6000? Paint Your Front Door Black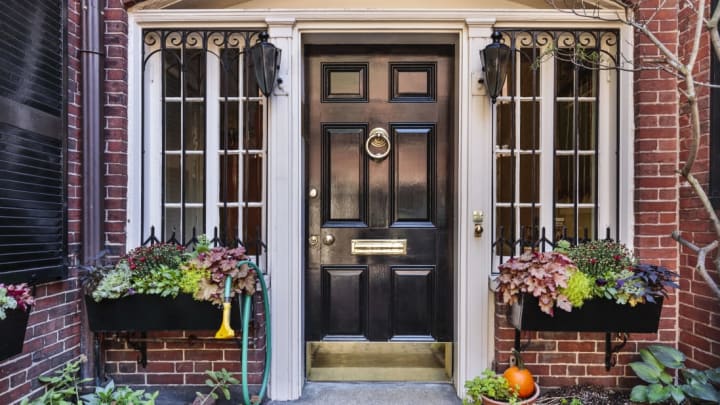 iStock / iStock
If you're looking to sell your home, you may want to take some advice from the Rolling Stones and paint it black. Just the front door, that is. That's because front doors in shades of black or charcoal tend to raise a home's value by $6271, according to a new analysis by real estate website Zillow.
"For a seller, painting a front door is one of the least expensive home prep projects, but also one that can have a powerful impact on a home's sale price," Kerrie Kelly, a home design expert for Zillow, said in a statement.
However, this may have more to do with the contrast than the colors themselves. Kelly said more subdued hues like beige and light blue are still popular, but real estate experts have seen a trend toward "pops of color, particularly in darker hues" like dark blue, gray, and black. "Contrasting colors, especially in kitchens and home exteriors, add interest and dimension to a room that plays very well in listing photos and videos," Kelly says.
Also popular are "tuxedo kitchens," in which the countertop and upper cabinets are either black or white, and the lower cabinets are painted in contrast. That design scheme can raise a home's value about $1550, Zillow reports.
For its 2018 Paint Color Analysis, Zillow looked at more than 135,000 photos of homes sold across the country between 2010 and 2018 and compared their closing prices to those of similar homes with white walls. In doing so, they were able to conclude which color schemes are considered most valuable.
Other paint jobs that can hurt a home's value include yellow exteriors, brown dining rooms, and red kitchens (red in general is said to be an anxiety-inducing hue, so it's best to use it sparingly in homes). On the other hand, light blue bathrooms and light taupe living rooms are an asset.
If you're hoping to sell your home but don't plan to do so for another few years, it's best to hold off on repainting, if possible. Tastes in color schemes are constantly changing with the times—just two years ago, Zillow recommended yellow kitchens and purple dining rooms.