37 Things to Look for the Next Time You Watch Back to the Future
Fans of pop culture have undoubtedly watched the adventures of Marty McFly and Doc Brown countless times before. They've pored over each time Michael J. Fox's quintessential 1980s teen travels back in time to 1955 in a souped-up DeLorean created by Christopher Lloyd's bumbling mad scientist. They've memorized all the lines in director Robert Zemeckis and co-screenwriter Bob Gale's indelible (and Academy Award-nominated) script. But they might not have noticed these tiny details, which you should look out for next time you watch Back to the Future. 
1. DOC BROWN'S CLOCKS ARE ALL PERFECTLY SYNCHRONIZED.
Look at the clocks in Doc Brown's garage in the opening scene and you'll notice that they're all set 25 minutes behind. One of the clocks features a man hanging from its hands, an allusion to silent comedy star Harold Lloyd's famous scene from the 1923 film Safety Last. It also foreshadows the later scene where Doc hangs from the Hill Valley clock tower in the same way. Unfortunately the similarities stop there: Christopher and Harold aren't related.
2. STATLER TOYOTA IS A RUNNING GAG.
A radio ad in the opening scene mentions Statler Toyota, the car dealership with the Toyota 4x4 seen in 1985 Hill Valley's main square (in the improved 1985, Marty later owns the truck).
There's also a Statler dealership in every iteration of Hill Valley throughout the Back to the Future trilogy: Honest Joe Statler's Fine Horses in 1885, Statler Studebaker in 1955, and Statler Pontiac in 2015.
3. STANLEY KUBRICK GETS A NOD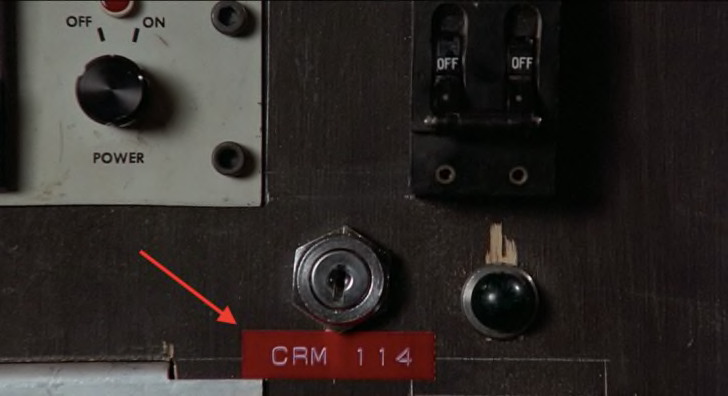 The sticker on the amp Marty plugs into in Doc's garage says "CRM 114," which is a nod to director Stanley Kubrick. In Kubrick's films, the CRM-114 Discriminator is a fictional radio device in Dr. Strangelove. It's also the homophone "Serum 114," the experimental drug given to Alex (Malcolm McDowell) in A Clockwork Orange; and it's the serial number of the Jupiter explorer in 2001: A Space Odyssey.
4. MARTY'S INTO SOVIET ART.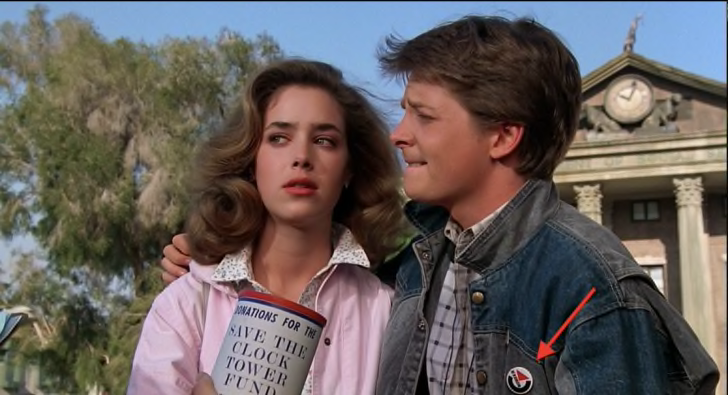 The black and red badge Marty wears on his denim jacket says "Art in Revolution," which was a Soviet art and design exhibition that was held at London's Hayward Gallery from February to April in 1971.
5. ROBERT ZEMECKIS GAVE A NOD TO ONE OF HIS OTHER MOVIES.
As Marty skitches on the fender of a Jeep in the town square, a sign reads "Used Cars," which is the name of a 1980 movie directed by Zemeckis and written by Zemeckis and Gale.
The newscaster seen on the TV in the opening sequence is actress Deborah Harmon, who appeared in Used Cars.
6. MAYOR RED THOMAS FELL ON HARD TIMES.
When Marty sees the tramp on the bench in 1985 he shouts out the name "Red," which could indicate this character is Red Thomas, the mayor of Hill Valley in 1955.
The photo of Thomas on his 1955 reelection campaign is actually Back to the Future's set decorator, Hal Gausman.
7. THE GUY WHO THINKS MARTY IS "TOO DARN LOUD" PROBABLY LOOKS FAMILIAR.
The school administrator with the megaphone who chides Marty's band, The Pinheads, for being too loud is singer Huey Lewis in his first acting role. The scene had an added irony as Lewis made The Pinheads stop playing his own song, "Power of Love," which appeared on the Back to the Future soundtrack.
Marty also has a poster for the Huey Lewis & the News album "Sports" in his bedroom, and when Marty wakes up after getting back to the future in the improved 1985, Lewis's soundtrack song "Back in Time" plays on his alarm clock radio.
8. SOME CREW MEMBERS GOT BACKGROUND SHOUT-OUTS.
When Marty and Jennifer walk across the town square parking lot after his failed audition, a license plate on a green car in the background reads 'FOR MARY,' which is a nod to Mary Radford, the PA to the film's second unit director Frank Marshall.
Another reference to one of the crew can be seen on a poster on the wall of the high school in 1955, which reads 'Ron Woodward for Senior Class President.' Ronald T. Woodward was the film's key grip, and had previously worked with Zemeckis on Romancing the Stone.
9. HILL VALLEY'S DIRTY MOVIES STARRED A REAL LIFE BACK TO THE FUTURE ACTOR.
Hill Valley's Essex movie theater is playing the movie, Orgy American Style in 1985, and that isn't just some set decoration. It's a real 1973 pornographic film starring George 'Buck' Flower, the actor who plays Red in Back to the Future.
The Town Theatre, Hill Valley's other cinema (which is turned into a church in 1985) is showing a 1954 Mickey Rooney film called The Atomic Kid in 1955—just before Marty goes back to the future.
10. UNCLE 'JAILBIRD' JOEY IS USED TO BEING BEHIND BARS.
Lorraine serves the family a cake for Marty's unseen uncle Joey in 1985, which was supposed to celebrate his freedom from prison before he didn't make parole.
Joey's penchant for the slammer is brought up again when Marty sees baby Joey in 1955 when his mother says, "Joey just loves being in his playpen. He cries whenever we take him out so we just leave him in there all the time."
11. THE MCFLYS LOVE MEATLOAF.
Marty's dinner when he arrives home in 1985 is the same dish Lorraine and her family eat when he meets them in 1955. Marty technically eats the same dinner two nights in a row in two different years. In early drafts of the script, Marty hated meatloaf.
12. LORRAINE LAYS OUT THE PLOT.
During the 1985 dinner, Lorraine essentially lays out the plot of the entire movie. Linda asks, "How am I supposed to ever meet anybody?" and Lorraine responds, "Well, it will just happen. Like the way I met your father." Then Linda responds, "That was so stupid, Grandpa hit him with the car," to which Lorraine says, "It was meant to be. Anyway, if Grandpa hadn't hit him, then none of you would have been born."
Based on Marty's time traveling, with his brother and sister disappearing from a photo he keeps in his pocket, this is exactly what he's trying to fix.
13. THE MCFLYS ARE BIG FANS OF THE HONEYMOONERS.
The 1985 McFlys watch the same episode of The Honeymooners as the 1955 McFlys. The episode, entitled "The Man From Space," foreshadows the moment when Marty dresses up to scare George into taking Lorraine out on a date. The episode actually aired on December 31, 1955, which is over a month after Marty travels to the past on November 5, 1955. Oops!
14. MARTY LOVES PEPSI FREE.
The caffeine-free soft drink, which was phased out in real life in 1987, can be seen on Marty's headboard when he wakes up late for Doc's experiment, and he then tries to order one from the bewildered owner of Lou's Cafe in 1955.
He also has trouble opening an old-fashioned capped bottle of Pepsi at the Hill Valley gas station, but George helps him. It was likely that Marty would even have trouble opening a bottle in 1985—twist-off caps weren't invented until 1988.
15. WHAT'S THE NAME OF THE MALL?
Marty shows up to witness Doc's science experiment at the Twin Pines Mall, but when he returns later after going back to the future, it's the Lone Pine Mall. That's because Marty destroyed one of Old Man Peabody's dual pine trees on the 1955 farmland where the mall is located in 1985. In real life it's actually Puente Hills Mall in City of Industry, California.
16. ZEMECKIS AND GALE MUST LOVE THE NUMBERS ONE AND 21.
When Einstein the dog is sent a minute into the future, his stopwatch indicates that one minute and 20 seconds has elapsed. Einstein also reappears at 1:21a.m. using the 1.21 gigawatts of energy from the Flux Capacitor.
17. DOC'S BUMPER STICKER IS PROPHETIC.
It reads: "One Nuclear Bomb Can Ruin Your Whole Day," which is appropriate since the plot of the movie hinges on stolen plutonium that results in Doc's death. The nuclear reaction needed to generate 1.21 gigawatts really did ruin his day.
18. DOC DROPS A HINT FOR BACK TO THE FUTURE PART II.
During the experiment, Doc tells Marty, "I've always dreamed of seeing the future, looking beyond my years, seeing the progress of mankind. I'll also be able to see who wins the next 25 World Series."
This ends up being a plot point in the sequel when 1955 Biff strikes it rich with knowledge gained from the Grays Sports Almanac stolen from 2015.
19. DOC'S GUN LOOKS FAMILIAR.
The pearl-handled handgun Doc uses to try to shoot the Libyans in the mall parking lot is the same pistol he uses at the drive-in theater to time Marty's trip to the old west in Back to the Future Part III. Maybe it jams because it's a 30-year-old gun?
20. THERE'S A ROCKY AND BULLWINKLE HOMAGE.
His name isn't said out loud, but Old Man Peabody's son is credited as "Sherman," a direct reference to Mr. Peabody and Sherman, the time-traveling cartoon duo from The Adventures of Rocky and Bullwinkle, which first aired in 1959.
21. SHERMAN IS A FAN OF SOME CLASSIC COMIC BOOKS.
The fictional Tales from Space comic book Sherman uses to explain the time machine to his father sports the logo of legendary Tales from the Crypt publisher EC Comics.
22. ROY'S RECORDS DID SOME TIME TRAVELING, TOO.
When Marty drops in on 1955 Hill Valley he first sees Cattle Queen of Montana on the Essex theater marquee, a 1954 film starring Barbara Stanwyck and Ronald Reagan—a great set-up to Doc's befuddled reaction to the future president a few scenes later. Marty also spots Roy's Records with four album advertisements in the window.
One is the 1954 reissue of Nat King Cole's "Unforgettable," but the other three are anachronisms: The Chordettes's self-titled compilation wasn't released until 1959, "Eydie in Dixieland" by Eydie Gorme wasn't released until 1959, and "In the Land of Hi-Fi" by Patti Page wasn't released until 1956.
23. HILL VALLEY'S PHONE BOOK NEEDS A COPY EDITOR.
The 1955 phone book spells Doc's name wrong—it should be Emmett, not "Emmet." At least they get his occupation right!
24. DOC BROWN LIVES IN AN ARTS AND CRAFTS MASTERPIECE.
Doc's original house at 1640 Riverside Drive (or John F. Kennedy Drive if it's 1985) is actually a historic landmark in Pasadena, California called the Gamble House. Designed by architects Charles and Henry Greene for James Gamble of Procter and Gamble fame, it's a prime example of the Arts and Crafts architectural movement made famous in the late 19th century.
25. DOC'S GARAGE IS OF HISTORICAL IMPORTANCE.
A newspaper clipping in the opening scene says Doc's mansion somehow mysteriously burned down and the surrounding land was sold off, which is why he's resorted to living in the property's old garage at 1646 John F. Kennedy Drive in 1985.
Later, Doc tells Marty, "It's taken me almost 30 years and my entire family fortune to realize the [time machine]," so we can infer that Doc, along with the proceeds from selling off the surrounding land, burned down his mansion to collect the insurance money to fund the creation of time machine.
26. DOC KEEPS HIS MENTORS CLOSE.
The same framed photos of Albert Einstein, Isaac Newton, Ben Franklin, and Thomas Edison above Doc Brown's mantel in 1955 can be seen above his bed in the retrofitted garage bungalow in 1985.
27. THAT FANTASTIC STORY IS REAL.
The issue of Fantastic Story Magazine we see next to a sleeping George when Marty wakes him up as Darth Vader from the Planet Vulcan is genuine: It's the Fall 1954 issue. It cost 25 cents. Marty's yellow alien getup will eventually inspire the cover art character for George's 1985 book, "A Match Made in Space."
28. (EDWARD) VAN HALEN IS ACTUALLY PLAYING THE GUITAR.
The tape Marty uses to scare George is an actual uncredited solo by guitarist Eddie Van Halen. The band Van Halen wouldn't allow their name or music to be used in the film (thus the added "Edward" on the label), but the guitarist allegedly gave Zemeckis an outtake to use from a song called "Donut City" he created for the score for the 1984 film The Wild Life.
29. BIFF AND HIS ANCESTORS ARE USED TO MANURE THROUGH THE AGES.
The Statlers aren't the only multi-generational small  business owners in Hill Valley. Biff has run-ins with D. Jones Manure Hauling trucks in 1955 in the original movie and Part II, while Mad Dog Tannen falls into an A. Jones Manure Hauling truck in 1885 in Part III.
30. DOC NEVER BUILDS HIS MODELS TO SCALE.
When Doc runs Marty through his time machine plan with models in the garage in his 1955 garage laboratory, he says, "I didn't have time to build it to scale." When Doc says the same line in Part III (with the same car toy model), Marty finishes his sentence by saying, "Yeah, I know, Doc. It's not to scale."
31. DOC'S INJURIES ARE IMPORTANT TO TIME TRAVEL.
The bandage on Doc's forehead when Marty shows up to his house in 1955 is from his eureka moment of his idea of the Flux Capacitor when he fell and hit his head in the bathroom while hanging a clock. The toilet is later seen in Part II when Marty returns to 1955 for the second time.
32. DOC SPENT A LOT OF TIME ON HIS OTHER INVENTION THAT DIDN'T WORK.
The time machine wasn't Doc's only invention. Schematics for Doc's faulty brainwave machine can be seen strewn across his house and garage. Marty later wears Doc's brainwave machine in Part III.
33. THAT MAN ON THE BIKE MIGHT LOOK FAMILIAR.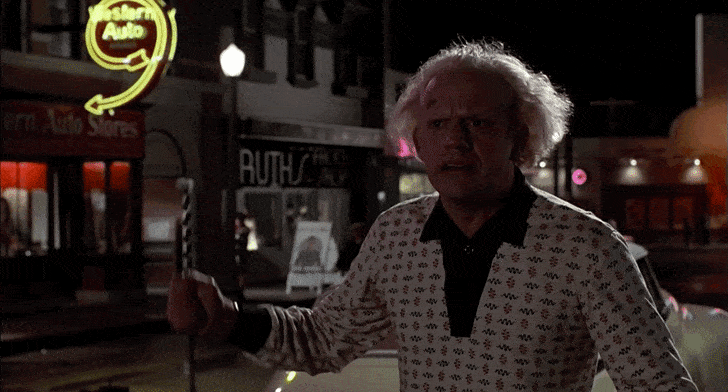 The guy riding by Doc and Marty in 1955 as the former tells him not to tell him what happens in the future just before the lightning storm looks kind of like Doc...because he is Doc. This is 1985 Doc Brown who meets his younger self in Part II.
34. MARTY MIMICS MORE THAN JUST CHUCK BERRY AT THE ENCHANTMENT UNDER THE SEA DANCE.
Marty essentially invents rock 'n roll music by mimicking Chuck Berry to his fictional cousin, Marvin Berry. But he also shocks the teeny boppers of 1955 Hill Valley by kicking over the speakers as a homage to The Who's Pete Townshend, and he also plays his guitar lying down like Angus Young of AC/DC.
35. SOMEONE REALLY NEEDS TO FIX THE DELOREAN'S STARTER.
When he gets to 1955, Marty has to get rid of the DeLorean because, as he tells Doc, "Something [was] wrong with the starter, so I hid it." This explains why the DeLorean suddenly stops working just as he's about to go back to the future in the climax of the movie.
36. MARTY REMEMBERS DOC'S BULLETPROOF VEST TRICK.
Doc reads Marty's ripped-up note in 1955, knowing he'll die in 1985 unless he wears a bulletproof vest against the Libyans. Doc's life-saving vest maneuver foreshadows Marty's own makeshift bulletproof vest (made out of an iron stove cover) in Part III.
37. THE CLOCKTOWER LEDGE IS A LITTLE WORSE FOR WEAR.
Doc does permanent damage to the clocktower ledge during the lightning storm in 1955, which wasn't there in the initial 1985 timeline, but can be seen still damaged in the improved 1985 at the end of the movie.