10 Fun Facts About Better Call Saul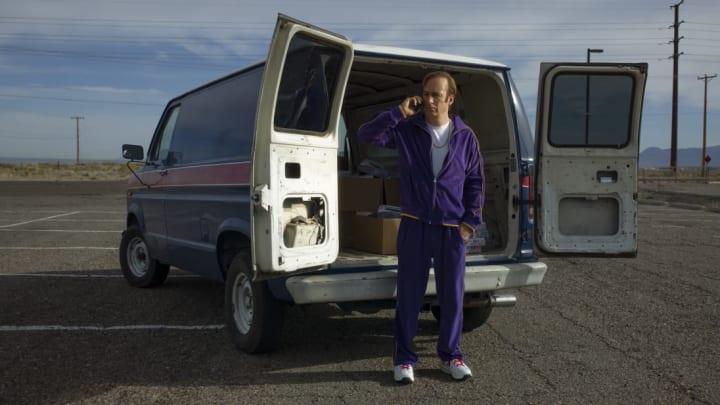 Matthias Clamer, AMC / Matthias Clamer, AMC
If making Breaking Bad was a high-wire act of maintaining perfection, Vince Gilligan stepped onto an even thinner wire when he decided to spin off the beloved series into Better Call Saul, a compendium of the legal misadventures of Saul Goodman (a.k.a. Jimmy McGill, a.k.a. Gene).
Played with exhausted enthusiasm by Bob Odenkirk, Jimmy's journey to strip mall success is as harrowing and taut as watching Walter White navigate the meth business, but it's (thankfully) a whole other animal.
Just ahead of its fourth season premiere, grab a Jell-O cup and eat up these 10 facts about Better Call Saul.
1. THE BREAKING BAD WRITERS USED TO JOKE ABOUT MAKING A SAUL GOODMAN SERIES.
Nicole Wilder, AMC/Sony Pictures Television
While whittling a huge pile of ideas into the winners that became Breaking Bad's scripts, Vince Gilligan and the other writers had a lot of lines for Saul that got scrapped. "We love writing for the character," Gilligan told Uproxx. "We love putting words in his mouth, and we had so much fun, indeed, doing that, that it started as a lark. We'd come up with some great term or phrase, and we'd laugh about it in the writer's room, and then we'd say, "You know, when we're doing the Saul Goodman show we'll be able to blah, blah, blah." Be careful what you joke about.
2. JIMMY PICKED HIS ALIAS BECAUSE IT SOUNDS LIKE SOMETHING ELSE.
Gilligan initially wanted to call the character Saul Good (like, "It's all good") as a hyper-memorable name for clients to remember when faced with their one phone call. Another writer suggested "Goodman," and they all loved it. They were just lucky the first name rhymed with "Call."
3. THE TITLES HAVE HIDDEN MEANINGS.
Nicole Wilder, AMC/Sony Pictures Television
You can take nothing for granted in the Better Call Saul universe, including the episode titles. In the first season, every episode (from "Uno" to "Marco") ended in the letter O, except "Alpine Shepherd Boy," which was supposed to be called "Jell-O" before the producers waved it off to avoid being sued by the gelatin makers. Even crazier, the first letters of season two's episodes (S-C-A-G-R-B-I-F-N-K) unscramble to spell "Fring's Back"—a clear message for Breaking Bad fans.
4. IT WAS ALMOST A COMEDY.
Sony and AMC were eager to buy the show even before Gilligan knew what it would be about. He toyed with the idea of exploring the events after Breaking Bad but thought it would rob the show's finale of its mystique. Gilligan also considered a comedy where a famous comedian would cameo every week, bringing a funny legal problem to Saul to fix. Not all good, man.
5. IT (SORT OF) USES THE BREAKING BAD THEME SONG.

Dave Porter's title theme for Breaking Bad utilized a dobro guitar stretching the sound over a moody, percussive vibe. For Better Call Saul's outro titles, he's remixed it into something a bit more surf rock—just on the edge of familiarity. Listen close, and you'll hear the Breaking Bad theme in the mix.
6. CHUCK WASN'T INTENDED TO BE A BAD GUY.
Everyone who watches the show hates Chuck McGill, Jimmy's brother played by Michael McKean, but it wasn't until writing the seventh episode that Gilligan and the writers realized Chuck was a villain. "Believe it or not, the idea of Chuck being the 'bad guy' was a late addition to Season 1," Gilligan explained during a 2015 Reddit AMA. "This points out one of the things I love most about writing for TV. There are enough episodes and enough lead time (if you're lucky) for writers to change the direction of a story midstream."
7. THE SHOW USES A FAMILIAR TEQUILA.

Obviously Better Call Saul regularly pays homage to its predecessor. Yet one of the subtlest nods is the use of a rare brand of spirit. On Breaking Bad, Gus Fring (Giancarlo Esposito) poisons an entire drug cartel with Zafiro Añejo tequila, the same fictional brand Jimmy and Kim (Rhea Seehorn) down while trying to bilk an investor in the first episode of season 2.
8. YOU SHOULD PAY ATTENTION TO WHAT COLOR PEOPLE ARE WEARING.
Gilligan's fanatical dedication to detail includes the colors that get associated with each character. It was a major element in Breaking Bad. It's also a big part of Better Call Saul in the form of the "Fire and Ice Theory," partially confirmed by writer Peter Gould, who confessed that hotter colors like red were associated with criminals. That tacitly means cooler colors are meant for the innocent, so it's curious that Jimmy's car is yellow with one red door …
9. THE SHOW WAS INFLUENCED BY STANLEY KUBRICK.
Breaking Bad was shot on 35mm, which gave it a grainy texture that fit with the cinematic tone of the show. Better Call Saul is shot in 4K digital, offering a crispness and enormity to the proceedings that echo Stanley Kubrick's photographic style. That connection is intentional, as Gilligan tries to craft the show according to Kubrick's rule of making the first image the most intriguing thing the audience has seen that day. Doing everything possible to stand out goes for the music cues, too. "Our needle drops come straight from Kubrick," Gilligan said. "And then we'll go for these one-point perspective shots as specific Kubrick tributes, or deliberate slow zoom-outs that we take from Barry Lyndon."
10. JIMMY ENDS UP LIVING HIS "BEST CASE SCENARIO."

In the penultimate episode of Breaking Bad, Saul erases his identity, prepares to move away from Albuquerque, and claims his best case scenario is managing a Cinnabon in Omaha, Nebraska. That's exactly what he's doing as "Gene" in the very opening of Better Call Saul. Congrats, Jimmy. You're living the dream.