Finally! Jeff Goldblum Jigsaw Puzzles Have Arrived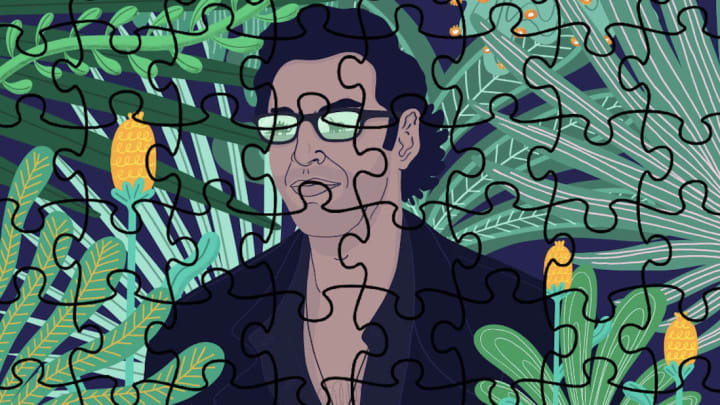 George Morton, Champion Productions / George Morton, Champion Productions
Finally, the perfect gift for the Jeff Goldblum fan in your life. Champion Productions, a new gift-making company, has gotten off to a brilliant start with the launch of its very first products: a series of Goldblum-inspired jigsaw puzzles.
Each of the 100-piece puzzles is designed by a different illustrator and depicts the actor in scenes from his most memorable roles. One shows the ever-suave "Jurassic Jeff" (in the role of Ian Malcolm) standing in the jungle with reflections of dinosaurs in his sunglasses. Another version shows Seth Brundle's transformation into Brundlefly—from The Fly (1986), of course—while a third depicts Goldblum's iconic shirtless scene from Jurassic Park (1993). (Fun fact: Goldblum went off script and unbuttoned his shirt for that scene, and directors just rolled with it.)
George Morton, Champion Productions
Champion Products said there is also a Thor: Ragnarok-themed puzzle, but that one isn't currently featured online. The puzzles are priced at £9 (about $11.50), and each one comes with a free print of the featured image.
Maria Solbas Castello, Champion Productions
Since the puzzles are only 100 pieces, they shouldn't be too challenging to complete. But if you do get stuck, just take a page from Ian Malcolm and remind yourself that life finds a way. To place an order, head to Champion Products's website.