Italy Gets Its First Starbucks—Serving Pizza, Ice Cream, and Cocktails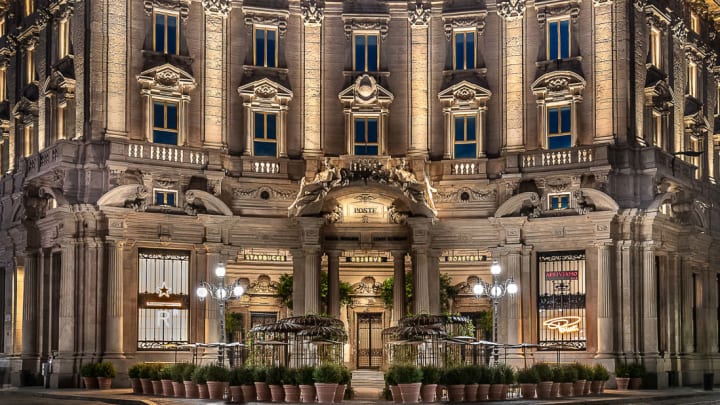 Starbucks / Starbucks
Italy is a coffee country, and a discerning one at that. While Starbucks might carry Italian-style roasts, that doesn't mean the U.S. chain is necessarily suited to an Italian audience. For the brand's first store in Italy, Starbucks is debuting something a little different. The company's new location in Milan will ditch the Frappuccinos for new menu items like cocktails, wood-fired pizza, and ice cream, according to Forbes.
Starbucks
The Starbucks Reserve Roastery is located in the Palazzo delle Poste, a historic former post office. It has a bar that boasts a 100-cocktail menu inspired by aperitivo, the Italian concept of a happy hour with bitter drinks and light snacks. It offers food by renowned local baker Rocco Princi, baked on-site in a wood-fired oven, including the Italian breakfast favorite eggs in purgatory, pastries, and pizzas. Customers can also take their coffee in the form of an affogato—a scoop of ice cream topped with hot espresso.
The palatial space includes a 22-foot-tall rotating roasting cask, bars topped with Tuscan marble, a handcrafted mosaic marble floor, and an outdoor terrace.
Starbucks
It's Starbucks's third Reserve Roastery, the company's more upscale, experiential locations where customers can watch their beans being roasted, learn about the coffee-making process, and enjoy food and drinks that aren't available in other locations. There are also Reserve Roasteries in Seattle and Shanghai, the latter of which is currently the largest Starbucks in the world.
The lavish experience doesn't come cheap, at least compared to other cafes in the area. Reuters reports that a consumer group in Italy has already filed a complaint over the fact that Starbucks charges far more than its neighbors—a Starbucks cappuccino in Milan goes for €4.50 ($5.21) compared to the €1.30 ($1.50) average.
[h/t Forbes]