The Shadow of the Castle That Inspired Dracula Will Be the Site of an Epic Halloween Party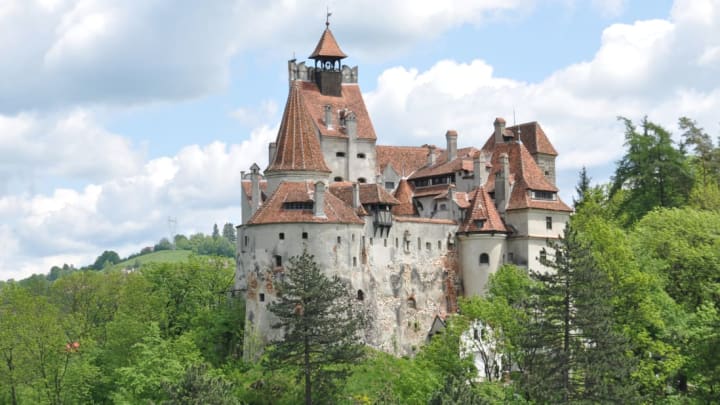 iStock / iStock
You may not be able to party with Count Dracula himself this Halloween, but a tour company is offering the next best thing. As Lonely Planet reports, G Adventures is giving 1000 travelers the chance to dance the night away beneath Bran Castle in Transylvania, Romania at the end of October.
Bran Castle is one of a handful of locations that Bram Stoker is believed to have drawn from when writing his Gothic horror novel (though Stoker never actually visited Transylvania). In the book, Dracula's home is described as sitting "on the very edge of a terrible precipice." The real-life Bran Castle—which dates back to 1212 and once hosted Vlad the Impaler, another major inspiration for Dracula—fits that image.
Guests attending Dracula's Halloween Party will begin their trip in Bucharest on October 31. From there, they will drive to Bran Castle in Transylvania and explore the site's eerie interior. The night concludes with a costume party beneath a tent set up in the shadow of the castle, complete with drinks and food trucks.
The next day of the tour will be slightly calmer, with opportunities to explore local museums, churches, and national parks around Brasoc. On day three tourists will be shuttled back to Bucharest for the end of their trip.
Dracula's Halloween Party in Transylvania is currently sold out, though you can always check back to see if any spots have opened up. And that's not the only spooky experience the tour company offers. For $1500, G Adventures will take you on a seven-day tour this October of even more Transylvanian sites connected to Dracula.
[h/t Lonely Planet]