New Podcast Opens Up the Cold Case of the Isabella Stewart Gardner Art Heist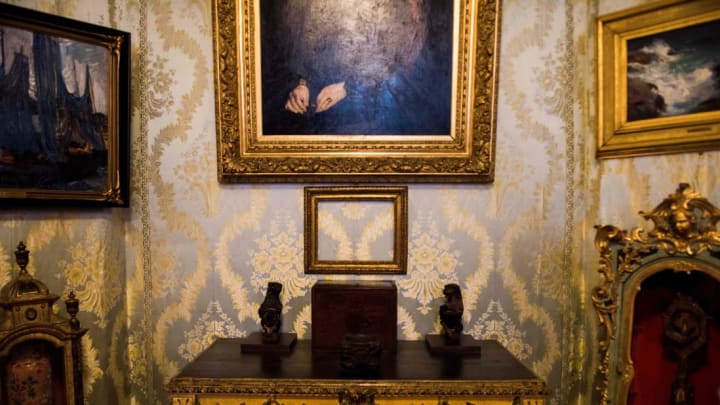 Ryan McBride, AFP/Getty Images / Ryan McBride, AFP/Getty Images
One of the newest true crime podcasts gathering buzz doesn't involve a murder or kidnapping—instead, it investigates one of the most infamous art heists in history. Last Seen, a collaboration between WBUR and The Boston Globe, looks at the Isabella Stewart Gardner Museum theft, a case that has gone unsolved for 28 years.
The story begins on March 18, 1990, when two thieves posing as policemen infiltrated the Boston art museum and stole 13 paintings off the walls. The works are from such master artists as Rembrandt, Vermeer, and Manet, and are estimated to have a cumulative value exceeding $600 million.
The scope of the heist alone would have made it historically significant, but the story became even more interesting after the crime was committed. The case never moved forward, despite a drawn-out investigation and a $10 million reward for the return of the stolen pieces. That didn't mean there weren't suspects: Two unnamed men were identified, but they were killed shortly after the theft, and according to the popular theory, information regarding the location of the stolen artworks died with them.
The Isabella Stewart Gardner Museum case is still filled with mysteries, but the new podcast aims to make the story a little clearer. Hosted by WBUR producers and reporters Kelly Horan and Jack Rodolico, and with contributions from Stephen Kurkjian, who spent years covering the heist for The Boston Globe, Last Seen follows the saga from the night the crime was committed to today. It features interviews with investigators who worked on the case and people who were employed by the museum in the early 1990s, some of whom have never before agreed to speak publicly on the subject.
The first episode of Last Seen debuted on WBUR September 17, and the series will include 10 episodes in total.