7 Weird and Wonderful Octopuses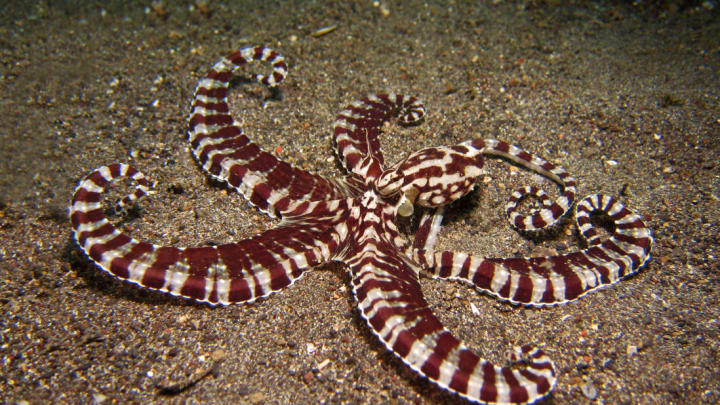 iStock/Trueog / iStock/Trueog
There's a lot to admire about octopuses: They can squeeze through holes many times smaller than their body size, change their appearance in milliseconds, and are considered the most intelligent invertebrates on earth. But even within the impressive order octopoda, there are several sub-groups that stand out. Whether they're cute or terrifying, these octopuses are definitely all noteworthy.
1. BLANKET OCTOPUS
Blanket octopuses are the fashion queens of the undersea world. Females sport transparent webs connecting some of their arms, and when they swim the flesh flows like a gauzy gown beneath them. The "blanket" comes in handy when scaring off predators; to make themselves appear bigger, the octopuses will spread their arms and the webbing along with it, kind of like Dracula opening his cape. Their dramatic look isn't the only thing that makes blanket octopuses notable. They can detach their arms in desperate situations, and on the offensive side, they can break the stinging tentacles off Portuguese Man O' Wars and use them as weapons. The males of the species aren't quite as impressive: At less than an inch long, they weigh 10,000 to 40,000 times less than the 6-foot-long female.
2. GHOST OCTOPUS
The so-called "ghost octopus" is the most recently discovered species on this list. Known for its pale, translucent skin, it was first identified by NOAA researchers near Hawaii in 2016 and is so new to science it doesn't have an official name yet. We do know that the cephalopod likes to hang out deep beneath the sea surface and that it makes some extreme parenting choices. After attaching its egg clutch to a dead sponge and wrapping its body around it, the creature stays that way for several years without feeding, ultimately sacrificing itself to safely bring its young into the world.
3. MIMIC OCTOPUS
Several octopus species are masters of disguise, but none can top the mimic octopus in terms of shape-shifting prowess. Along with changing the texture of its skin, it can contort its body to resemble a specific marine creature. To copy a sea snake, it hides six of its arms and stretches the remaining two out; when acting like a lionfish, it arranges its arms to look like long spines. It can also mimic the banded sole, and possibly anemones and jellyfish. Every animal the mimic octopus models itself after has something in common—they're toxic, and by convincing predators that it's the real thing, the octopus avoids becoming dinner.
4. STAR-SUCKER PYGMY OCTOPUS
iStock/AndamanSE
The star-sucker pygmy octopus, or Octopus wolfi, is as cute as its name suggests. It lives in shallow waters in the Pacific ocean, but it's still easy to miss. It's the smallest of all the known octopus species, measuring just under an inch long and weighing less than a gram.
5. DUMBO OCTOPUS
Dumbo octopuses make up their own adorable genus: Grimpoteuthis. Instead of long, separate arms, their appendages are connected by an umbrella-like web, and they use two ear-like fins on either side of their heads to flap through the water—hence the nickname. They're typically found in deep ocean waters, which makes them difficult to study. Only recently did scientists learn that Dumbo octopuses are equipped with two flappable "wings" as soon as they hatch from their eggs.
6. COCONUT OCTOPUS
The coconut octopus uses a primitive method to hide in plain sight. After getting its suckers on coconut halves (or shells, as you can see in the video above), it will carry them around and close the makeshift shelter around its malleable body whenever it feels threatened. The tool has proven so valuable to the animal's survival that coconut octopuses will awkwardly walk across the seafloor in order to haul around husks that are bigger than their bodies, even though swimming would allow them to get around much faster.
7. BLUE-RINGED OCTOPUS
iStock/Subaqueosshutterbug
Like many things in nature, the blue-ringed octopus is as striking as it is dangerous. The electric-blue rings that mark its body are a warning of its venomous bite, and while all octopuses are toxic, the blue-ring octopus is the only one that's deadly to humans. Just one nip from its beak can trigger potentially fatal paralysis; there's enough tertodotoxin in its body to suffocate 10 men. Scientists believe that the toxins aren't actually produced by the octopus itself, but rather come from microbes taking up residence in its salivary glands.