5 Non-Lincoln Facts About Our American Cousin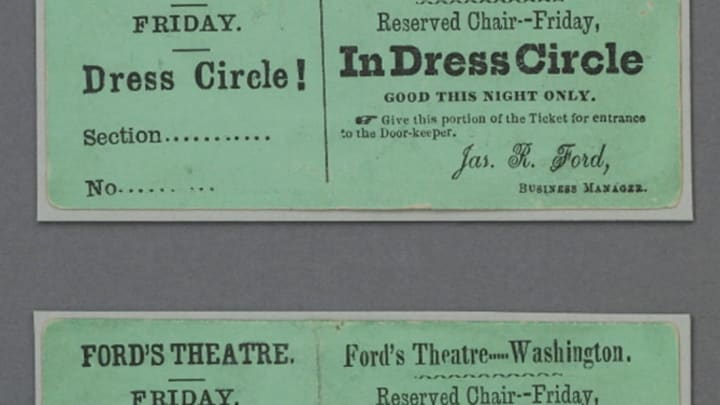 Getty Images / Getty Images
It's a show that lives in infamy. The once-beloved comedy Our American Cousin was suddenly transformed into the most notorious play ever written on April 14, 1865. That night, John Wilkes Booth didn't just assassinate Abraham Lincoln. He also permanently scarred one of the era's most successful stage productions. Let's take a brief behind-the-scenes look at Our American Cousin and its enduring legacy.
1. One of Its Characters Became a 19th-Century Meme.
Bumbling through Our American Cousin is lovable dolt Lord Dundreary. Though his lines are few, seasoned actor Edward Askew Sothern's strange hairdo and flair for physical comedy helped make the character wildly popular. Drundreary also had a tendency to get his proverbs mixed up—he'd often shout nonsensical adages like "Birds of a feather gather no moss." For several years afterwards, similarly-confused statements were colloquially known as "Drundrearyisms." 
2. It Inspired Numerous Sequels & Spin-Offs.
Playwright Tom Taylor penned Our American Cousin in 1858, but had no involvement in the barrage of sequels that hoped to cash in on its success. Our Female American Cousin, a hasty knock-off, was released by Charles Gayler the very next year. Also written were Our American Cousin at Home and Dundreary Married and Done For.
3. The Public Loved It Despite Mixed Reviews.
Getty Images
Our American Cousin wasn't exactly met with universal acclaim. Sothern's performance was singled out as "the funniest thing in the world" by a British newspaper critic, but the show itself was often accused of lacking substance, and lead actor Joseph Jefferson once damningly conceded that it had "little literary merit." Despite this, Our American Cousin struck a chord with everyday citizens. After running for a then-impressive five consecutive months in New York, the production enjoyed a lengthy stint abroad at London's Theatre Royal Haymarket. 
4. It Starred the First Great Female Stage Manager In U.S. History.
Before Laura Keene (1826-1873) came along, American show business was effectively a boy's club. An actress-turned-manager, Keene changed all that for good and became the first woman to achieve lasting success in the industry. She even had a theater named for her: Laura Keene's New Theatre was built in Manhattan in 1856. Her assorted duties included overseeing the facility, directing her actors, and editing scripts. It was here that Our American Cousin debuted two years later. Under Keene's leadership, the show became a smash hit.  
She even took the stage herself for several performances, assuming the prominent role of Florence Trenchard, a young aristocrat. Keene was on stage the night Lincoln was murdered at Ford's Theater in Washington D.C. Legend has it that, after the shooting, Keene rushed to his box and cradled the dying president's head in her lap (though this story remains unconfirmed). 
5. Our American Cousin Was Adapted Into an Opera in 2008.
Written by composer Eric Sawyer, this opera chronicles Lincoln's death as seen through the eyes of various onstage cast and crew members involved with the original play.
BONUS: It Was Used As the Punchline of a Cruel "Family Guy" Cutaway Gag.
In the season 5 episode "Whistle While Your Wife Works," Brian moans that breaking up with his new girlfriend is "gonna be tougher than the reviews for 'Our American Cousin.'" We then see the ensemble nonchalantly searching for any mention of their performances in one of Lincoln's obituaries.
The joke was a clear reference to the commonly used one-liner, "Apart from that, Mrs. Lincoln, how did you like the play?"