11 Pain-Relief Devices You Can Buy With Your FSA Money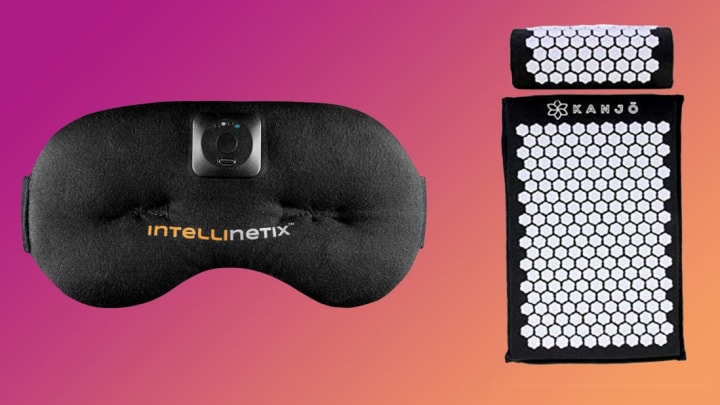 Intellinetix / Kanjo / Amazon / Intellinetix / Kanjo / Amazon
This article contains affiliate links to products selected by our editors. Mental Floss may receive a commission for purchases made through these links.
Pain—from stress, from staring at computer screens, from heavy lifting and repetitive motion—is ever-present in too many lives, whether it's in the form of knee pain, hip pain, back pain, or chronic headaches. It may feel like you're in constant battle with it, tamping it down temporarily, only for it to seep back into your muscles, joints, and nerves. Fortunately, there are a lot of tools available to help you win the war, and your flexible spending account (FSA) can help.
The FSA Store and the FSA section of Amazon take the guesswork out of what you can buy with your pre-tax FSA funds, only featuring FSA-eligible items. Among the products featured are plenty of devices and gadgets aimed specifically at relieving pain—most of them drug-free. And with the grace period for many 2019 plans coming up on March 15, 2020, now is the time to invest in some of the pain-relief devices you might not otherwise want to splurge on.
Here are 11 FSA-eligible products that can provide relief for your aches and pains.
1. Best Device for Chronic Pain: Caring Mill Wireless Tens Therapy Unit; $35
If you've ever hit your thumb with a hammer and then immediately shoved it in your mouth, you've unwittingly tested what scientists call the Gate Control Theory of pain perception. First proposed in the 1960s by Ronald Melzack and Patrick Wall, the hypothesis argues that the nervous system can only carry so much information to the brain at once, and non-painful stimulus, like pressure or vibration, can block the body's pain signals. When you suck your throbbing thumb, the non-painful nerve stimulation essentially "shuts the gate" on those pain signals, preventing them from flowing through your central nervous system to your brain.
That's the principle behind the transcutaneous electrical nerve stimulation (TENS) unit—a battery-powered, pulsing electrode device that you attach to whatever part of your body that's experiencing pain. The electric pulses from the TENS unit provide the gentle stimulation that helps close the gate, soothing tense and sore muscles. There are a number of TENS devices on the market, but the Caring Mill version is an excellent choice for all budgets. With 15 intensity levels and five pulse modes—massage, acupuncture, tapping, scraping, and combination—it can be used on the back, shoulders, waist, neck, arms, and legs. And it's portable, so you can take it anywhere.
Buy it: FSA Store
2. Best Device for Headaches And Sinus Pain: Intellinetix Vibrating Pain Relief Mask; $87
Doesn't your face deserve a massage? This wearable, rechargeable device ticks a lot of boxes for reducing pain. Designed for anyone with migraines, headaches, eye strain, or sinus pain, it blocks light to decrease sensitivity and vibrates to enhance blood circulation, while small beads inside the mask create a gentle massage effect around the eyes. And it's freezable, giving you cooling relief. The battery lasts about 45 minutes, which should be plenty of time to soothe your pain. Since you're reading this on a screen right now, there's a good chance you need this mask for your inevitable computer-related eye strain.
Buy it: Amazon
3. Best Device for Acupuncture Enthusiasts: Kanjo Memory Acupressure Mat Sat With Pillow; $80
Yes, it's a pillow and mat based on the principles of acupuncture, which studies have shown can reduce chronic pain. The raised nodes press against the body in a way that's similar to acupuncture needles (though they don't puncture your skin), targeting specific points on the body. While reviewers suggest it takes a little bit to get used to, the pillow relieves neck tension and headaches, while lying on the mat reduces shoulder and back pain. (The FSA Store also offers a version that's designed specifically for foot pain. ) As a bonus, the set is stylish enough that you won't feel the need to hide it in the back of your closet.
Buy it: Amazon
4. Best Device for General Pain: Happineck Comfort Bundle; $150
Happineck's Comfort Bundle is the perfect solution for an empty medicine cabinet. This cornucopia of must-haves is aimed at total body care, with solutions for muscle aches, tired feet, joint pain, neck pain, headaches, and stress. The starter kit features 10 items—including a corn/callous trimmer, a heating pad, an eye mask, a reusable cold compress, and an orthopedic neck support—it's a great way to make sure you already have the very thing you need when the pain strikes.
Buy it: FSA Store 
5. Best Device for Insect Bites: Therapik Mosquito Bite Pain Relief Device; $13
Ideal for anyone who plans on stepping outside anytime this spring or summer, this clever device uses heat to neutralize the pain and itching associated with mosquito bites (as well as those of 20,000 other bugs and stinging sea creatures). All you have to do is hold the tip of the pen-like gadget to the area of the skin where you were bitten. In a 2011 study on using heat to stop the itch, most saw their pain go down within a minute, and felt no pain after 10 minutes. That makes this the kind of device you wish you didn't need but will be glad you packed with your camping gear or beach bag.
Buy it: FSA Store
6. Best Device for Muscle Spasms, Arthritis, and Healing: Revive Light Therapy Pain System; $65
Light therapy isn't just a treatment for seasonal affective disorder. A number of pain relief devices—as well as acne treatments—use phototherapy, too. Though scientists haven't worked out the exact mechanism yet, infrared light therapy appears to stimulate the release of nitric oxide, dilating the blood vessels and improving circulation. Studies have found that infrared therapy can help relieve pain, stimulate healing, and reduce inflammation. This device uses 60 infrared and red LED lights to improve circulation and relieve muscle pain with handheld convenience. Just hold it over sore spots to feel relief.
Buy it: Amazon
7. Best Device for Hand Pain: Deep Penetrating Light Arthritis Pain Mitt; $116
Along the same wavelength, this other light therapy product envelops your entire hand to beat back pain from arthritis, carpal tunnel syndrome, and the aches associated with repetitive stress. Despite its looks, you can't play baseball or take cobbler out of the oven with it, but the mitt's infrared therapy boasts the same non-invasive, drug-free pain relief method as the other reVive light therapy kit above, with a design that won't slip off your hands.
Buy it: Amazon
8. Best Device for Kids in Pain: Thermal-Aid Zoo Animals; $20
Regular heating pads and ice packs have nothing on this friendly hippo, which can be microwaved or frozen to give your kiddo some relief. That goes for sprained ankles and flu aches alike—it's washable, so you don't have to stress about germs. It's stuffed with corn, which retains its temperature longer than other fillings but doesn't absorb odors. (Don't worry, it won't start popping when you heat it.) If hippos aren't your little one's fave, there are also koalas, bunnies, and more to choose from so they can get the cuddly pain relief they need.
Buy it: FSA Store
9. Best Device for Pain While Exercising or Sleeping: Quell Wearable Pain Relief Starter Kit; $220
Quell promises a TENS device five times stronger than the standard over-the-counter unit, using electronic pulses to get your brain to block out pain. No matter where your pain is, the device is designed to wear on the upper calf and can be worn while exercising, sleeping, or going about your day. It's sleek enough to wear under your clothes and comes with an app for tracking your therapy, daily steps, and even how long you spend in different sleeping positions. At least one reputable publication swears by it.
Buy it: Amazon
10. Best Device for Foot and Leg Pain: Ultimate Foot Circulator With Remote; $220
Do. Not. Neglect. Your. Feet. The Ultimate Foot Circulator is an electrical stimulator that targets feet with a moving platform. It sends electric pulses through the bottom of your feet and flexes your ankles for you. It also comes with extra TENS pads for your legs. With 15 presets, you can sit back and let it do its thing without lifting a toe. Keep this device by your couch and pack it in your suitcase for trips, because once you try it, you won't want to be without it.
Buy it: FSA Store
11. Best Device for Sore Feet: Theraband Foot Roller; $13
If you don't want to spend hundreds of dollars on a device for your sore feet, a massage roller is a great low-tech, low-budget alternative. Health experts don't know exactly why rolling out muscles helps ease pain, but research suggests that it can help increase muscle flexibility, reduce fatigue, and more. At under 15 bucks, this handy foot roller (sorry) is one of the cheapest ways to get a little pain relief in an area most of us neglect.
And if you're looking for relief from plantar fasciitis pain, the FSA Store also offers a roller just for that purpose.
With any roller, just realize that "Hurts So Good" is a song by John Mellencamp—not the sensation you're going for. If it hurts badly, you're probably rolling too hard.
Buy it: Amazon 
For even more ideas for how to spend down your healthcare account this year, check out our list of creative ways to use your FSA funds.
Mental Floss has affiliate relationships with certain retailers and may receive a small percentage of any sale. But we only get commission on items you buy and don't return, so we're only happy if you're happy. Thanks for helping us pay the bills!