How Seiichi Miyake and Tactile Paving Changed the World for Visually Impaired People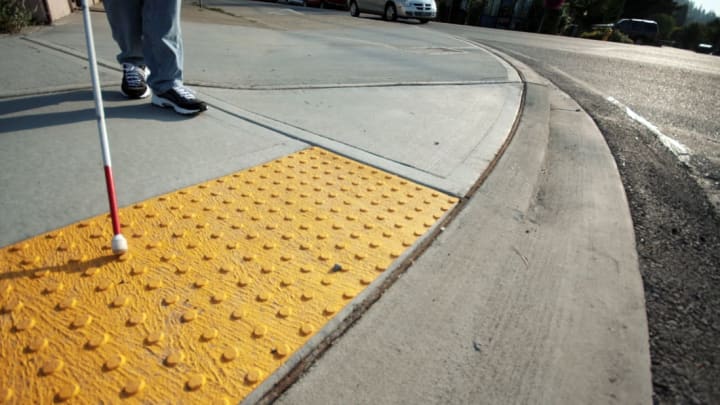 iStock.com/RonBailey / iStock.com/RonBailey
More than 140 years after Louis Braille invented the Braille reading system, Seiichi Miyake came up with a different system based on touch that allows visually impaired people to navigate public spaces. Today, tactile paving is used by major cities and transportation services around the world. Miyake was so influential that he's the subject of the Google Doodle for March 18, the 52nd anniversary of tactile paving's debut.
The Japanese inventor designed the influential system with a specific person in mind. His friend was losing his vision, so in 1965, Miyake used his own money to build special mats with raised shapes that lead blind and visually impaired people away from danger and toward safety. Pavement with round bumps was meant to signal nearby danger, such as a street crossing or the edge of a train platform, while a stretch of pavement with straight bars was meant to guide them to safe areas. The tactile design allowed pedestrians to detect the features with canes, guide dogs, or their feet.
Originally called Tenji blocks, the tactile pavement was first installed outside the Okayama School for the Blind in Okayama, Japan in 1967. They quickly spread to larger cities, like Tokyo and Osaka, and within a decade, Miyake's system was mandatory in all Japanese rail stations.
Seiichi Miyake died in 1982 at age 56, but the popularity of his invention has only grown since his death. In the 1990s, the U.S., the UK, and Canada embraced tactile pavement in their cities. Miyake's initial design has been built upon throughout the years; there are now pill-shaped bumps to indicate changes in direction and raised lines running perpendicular to foot traffic to signal upcoming steps. And even though they're often thought of as tools for blind people, the bright colors used in tactile pavement also make them more visible to pedestrians with visual impairments.