Ashley Wilkes's Mansion From Gone With the Wind Is For Sale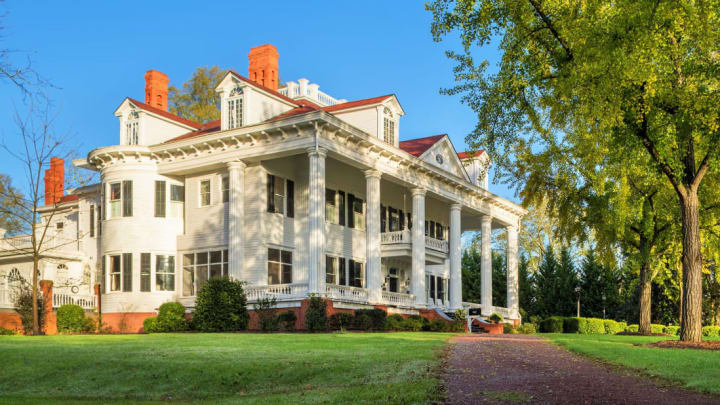 Target Auction / Target Auction
Though Margaret Mitchell mostly declined to be involved in the film adaptation of her classic novel Gone with the Wind, she did reach out to producer David O. Selznick's company for one very specific reason: to mail them a newspaper clipping of a certain Georgia mansion, suggesting that they use it for Ashley Wilkes's family home Twelve Oaks. They took her advice.
Now, almost 80 years after the film's release, the house is on the market, TopTenRealEstateDeals.com reports.
Target Auction
The current owners spent about $2 million to restore the 10,000-square-foot mansion in 2017, bringing it up to code with new electrical and HVAC modifications, as well as making major renovations to the bathrooms and kitchen. The home now also includes other modern technologies like remote-controlled chimneys (five of them) and fireplaces (an impressive 12), Tesla and Copper Creek charging stations for cars and golf carts, and an intercom system. Based on the photos, they managed to maintain the architectural and decorative spirit of the Antebellum era with dark hardwood floors, chandeliers, period lighting, and more.
Target Auction
The mansion boasts 12 bedrooms, 11.5 baths, a dining room that seats 40, three laundry rooms, a formal parlor, a four-car carriage house, a pool complete with a gazebo, and over 3 acres of gardens. And it's all only a three-block stroll from the historic town square of Covington, Georgia, a city known as the "Hollywood of the South" because so many movies and television shows have been filmed there (including 2014's Selma, 2002's Sweet Home Alabama, and 2000's Remember the Titans).
Target Auction
Judge John Harris built the house in 1836. Following the Civil War, a man named Robert Franklin Wright bought the home for the tidy sum of $1000. It's a little more expensive now, what with the restoration and inflation; bidding for the property started at $1 million.
If that's in your price range, you can register with Target Auction to place a bid from now until July 25.