11 Fun Facts About Anacondas
Let's wrap our heads around the stranger-than-fiction world of these heavyweight constrictors. (NOTE: Although there are four anaconda species, the formidable "green" variety Eunectes murinus is, by far, the largest and most famous—so we'll be focusing on this snake in today's article.)   
1. Anacondas Give Birth to Live Young.
Laying eggs is overrated. Several serpents—including anacondas and garter snakes—practice something called "ovoviviparity." Essentially, this means that these reptiles' offspring emerge from eggs before leaving their mothers' bodies. When the big day finally arrives, they wriggle out as fully-formed youngsters. A healthy anaconda mom can squeeze out over 30 babies per litter.
2. Anacondas can Remain Submerged for Up to Ten Minutes at a Time.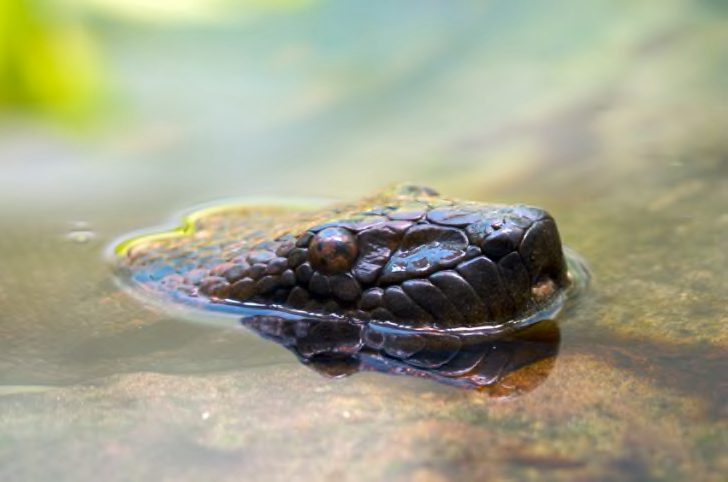 As an added bonus, anacondas—like crocodiles—also have eyes and nostrils designed to poke above a river's surface. No wonder the stealthy, semi-aquatic predators are occasionally called "water boas."
3. The Green Anaconda is the Heaviest Known Snake, but Not the Longest.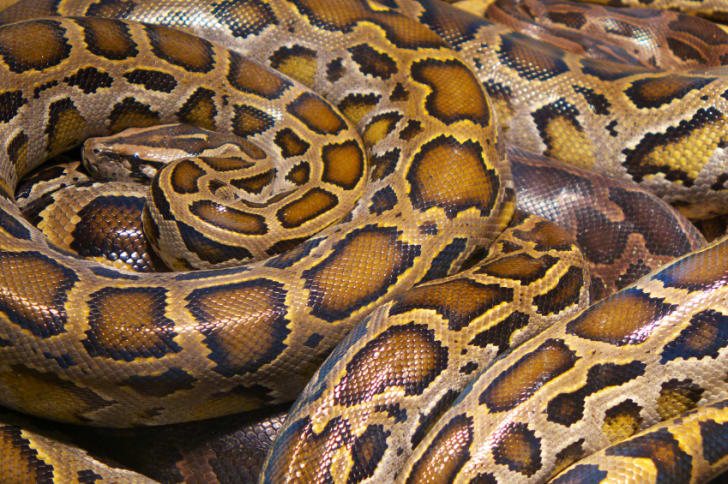 Thanks to their muscular physique, the green anaconda is earth's most massive serpent while Asia's slightly-longer reticulated python (Python reticulatus), though leaner, is the lengthiest. Unfortunately, when dealing with agitated constrictors, exact measurements can prove elusive. Nevertheless, large anacondas often tip the scales at over 200 pounds while the biggest "retics" are around 25 feet long [PDF].
4. They're Members of the Boa Family.
Diverse and fairly primitive, boids can be found in the Americas, Madagascar, the West Indies, and the southwest Pacific.
5. Appropriately, Anacondas Enjoy Dining on Earth's Biggest Rodent.
Capybaras frequently weigh upwards of 150 pounds and are a common sight in the green anaconda's Amazonian habitat.
6. …And the Occasional Crocodilian.
Caimans are alligator-like predators that frequent South American waterways. Anacondas are known to hunt these reptilian neighbors, but often sustain significant injuries while doing so.
7. Like Most Snakes, Anacondas have Four Rows of Teeth on Their Upper Jaws.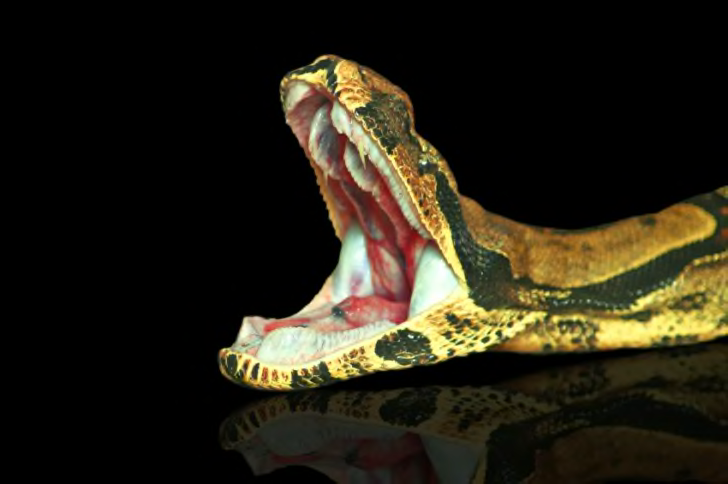 Four (mostly) parallel lines of backwards-pointing teeth help serpents grip their prey and swallow it whole. The lower jaw adds another two for extra assistance.  
8. They Practice Cannibalism.
Female green anacondas are this species' larger sex and have been spotted engulfing meeker males, usually during mating season (April through May).
9. Anacondas Form "Breeding Balls." 
Not even the threat of getting eaten alive can deter an amorous male. Up to 12 suitors will seek out one receptive female and (rather than taking turns) begin coiling around her simultaneously. The lucky fellow who manages to shove his competitors aside and actually mate embeds a wax-like "plug" inside his partner's cloaca, which prevents the other males from fertilizing her [PDF].
10. Anacondas will "Sidewind" Now and Then.
While getting around, snakes have several options, of which "sidewinding" is perhaps the most athletic. Unlike normal slithering, this exhausting technique involves a given reptile using large, J-shaped coils to hastily pull itself along. In general, smaller snakes are more likely to sidewind, although—as the above footage shows—their big cousins will sometimes follow suit.
11. Do Anacondas Eat People? Scientists Aren't Sure.
At present, there are no verified reports of a green anaconda ingesting a human being. Given the snake's frightful dimensions, there's little doubt that one could kill and eat an unsuspecting adult. Furthermore, these predators do consume white-tailed deer—which can weigh over 120 pounds—in the wild. But, until some conclusive documentation shows up, man-eating anacondas can be written off as nothing more than an academic hunch … unless you ask the Discovery Channel. Last week, animal rights activists were outraged after this trailer for a program called "Eaten Alive" went viral:
Allegedly, the network filmed naturalist Paul Rosolie getting swallowed whole by an anaconda. Rosolie—who was said to have been clad in a "snake-proof" suit which protected him from its digestive tract—claims that no harm befell the animal (or, obviously, himself). But zoologists aren't convinced. Reptile expert Frank Indiviglio has called the stunt impossible, while other critics point out that Discovery has repeatedly misled viewers with fake-footage "mockumentaries" before. Hopefully, we'll learn the truth soon enough.