14 Magical Gift Ideas for Harry Potter Fans of All Ages
From carol-singing suits of armor stationed around the castle to the warm, dry snow falling in the Great Hall, the depictions of holidays at Hogwarts truly take the Christmas spirit to new heights. Capture some of that magic for your own celebration this season with these holiday gift ideas that will surely enchant and delight Potterheads of all ages.
1. Christmas at Hogwarts Puzzle; $20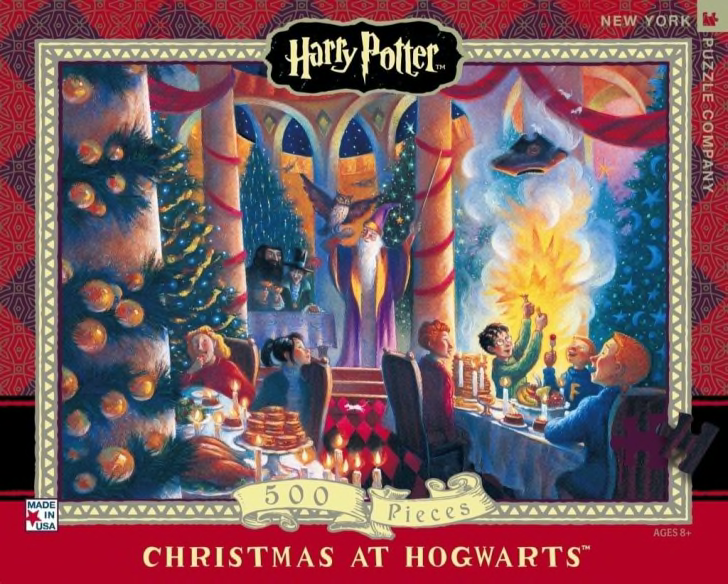 Your family may not be able to spend Christmas afternoon at Hogwarts, but you can spend it doing a 500-piece puzzle that encapsulates the holiday spirit in one wondrous illustration by Mary Grand-Pré. There's also a 1000-piece version for jigsaw masters and other puzzles that feature the Three Broomsticks, a Quidditch match, Diagon Alley, and more.
Buy It: Amazon
2. Alex and Ani Deathly Hallows Ring; $28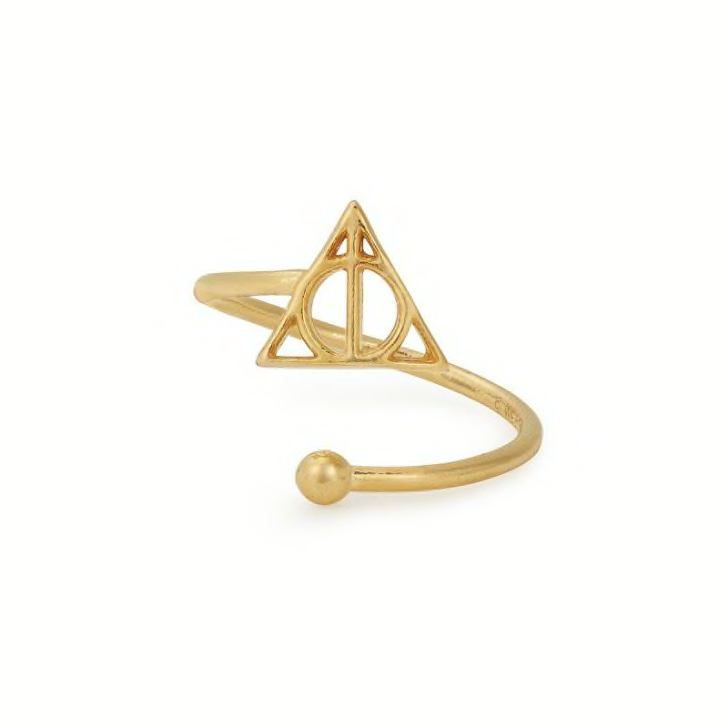 To anybody unfamiliar with the series, this will probably just look like a regular ring with a cool geometric design—Potterheads, of course, will recognize it as the Deathly Hallows symbol. It's a great way for fans to celebrate their magical passion in a subtle, stylish way.
Buy It: Amazon
3. Harry Potter and the Cursed Child: The Journey; $32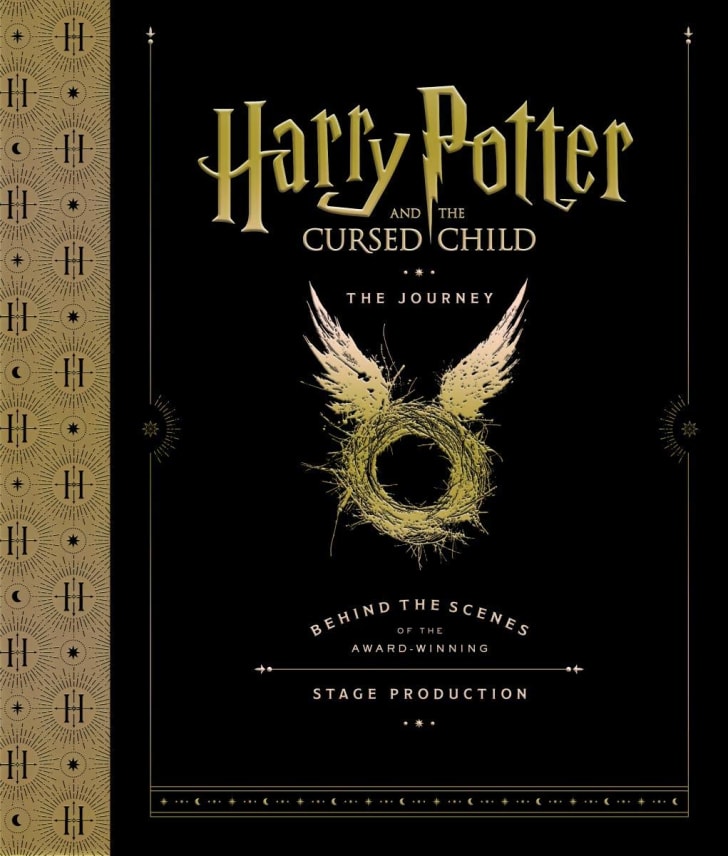 Knowing behind-the-scenes details about the Harry Potter books and films somehow makes them seem even more enchanting, and the two-part play Harry Potter and the Cursed Child is no exception. This artfully compiled volume gives fans access to interviews, sketches, backstage photos, notes, and more about the making of the captivating, record-breaking theater production.
Buy It: Amazon
4. Hogwarts House Throw Blanket; $26-$40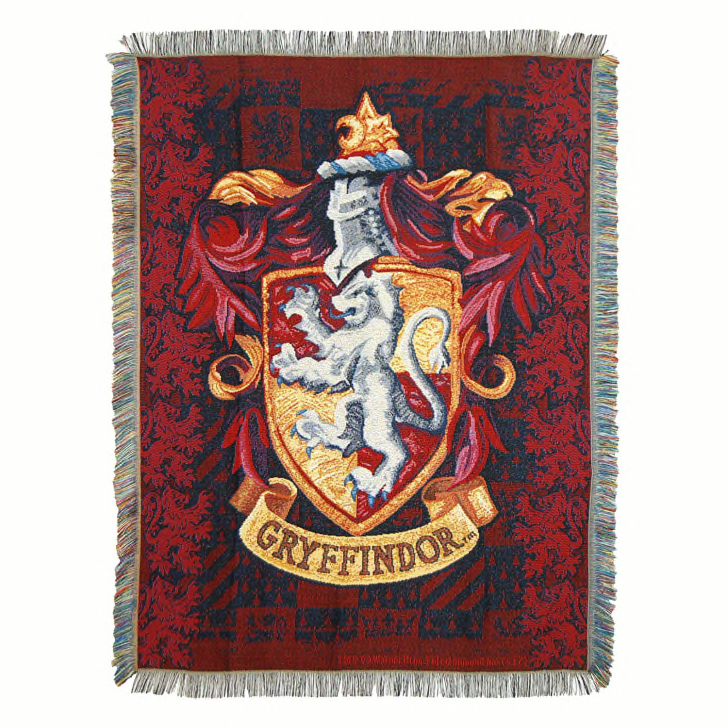 It'll be only too easy for someone to imagine themselves curled up beside a Hogwarts common room fire when wrapped in one of these cozy throw blankets. Not only do they come in each Hogwarts House, there's also one with the Hogwarts crest, a Marauder's Map version, and another design that incorporates all four Hogwarts Houses.
Buy It: Amazon
5. Wizard's Chess Set; $40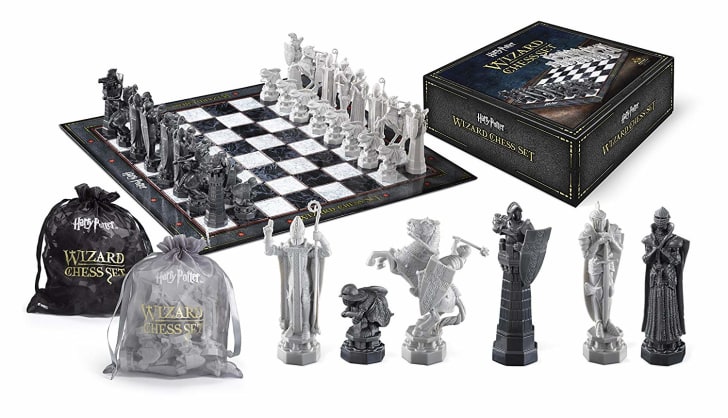 Though these chessmen and women won't barbarically battle each other on the board or offer their players questionable advice during the game, they're still an impressive replica of those seen in Harry Potter and the Sorcerer's Stone. And, since they correspond to the rooks, knights, and other pieces in a normal chess set, this gift can be enjoyed by both Harry Potter fans and regular chess fans, too.
Buy It: Amazon
6. The Unofficial Harry Potter Cookbook; $11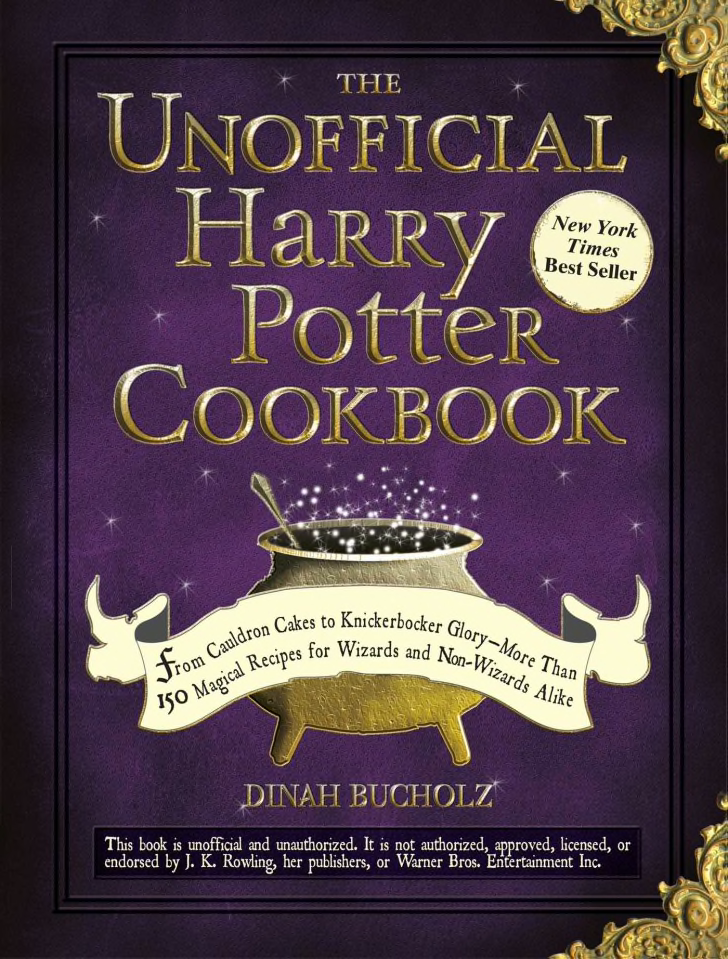 The mouthwatering written descriptions of feasts in the Great Hall and treats on the Hogwarts Express are rivaled only by the visual depictions in the films. From Harry's favorite treacle tart to a refreshing flagon of pumpkin juice, this deliciously comprehensive cookbook contains them all.
Buy It: Amazon
7. Customized Polyjuice Potion Flask; $15-$20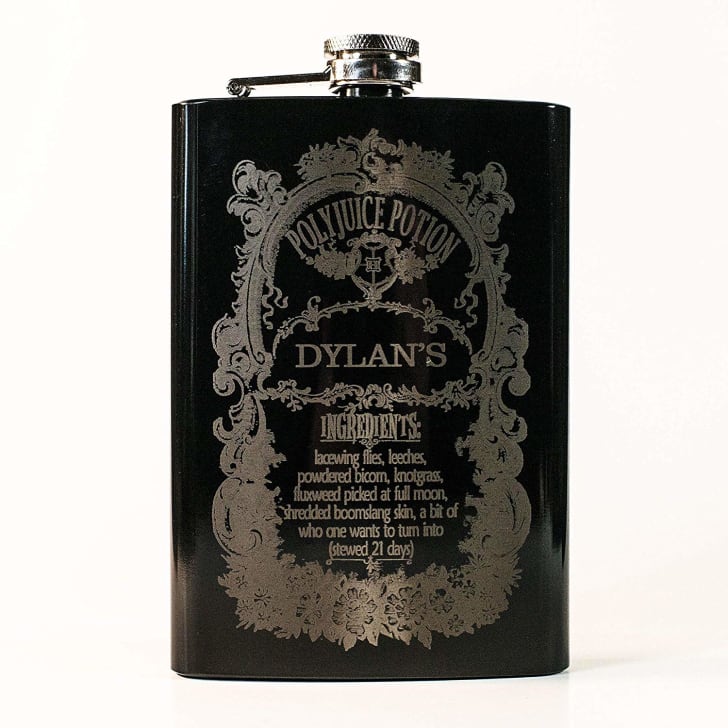 Whether this flask holds actual Polyjuice Potion or something more appetizing (Madam Rosmerta's finest oak-matured mead, perhaps?) is a mystery to all but the drinker, but it'll definitely be clear to whom the flask belongs—it comes in red, purple, or black, and you can customize it with the recipient's name.
Buy It: Amazon
8. LEGO Hogwarts Castle; $400
At $400 and with more than 6000 pieces, LEGO's Hogwarts castle is not for the faint of heart—but it's a dream come true for any LEGO-loving Potterhead. Complete with the Chamber of Secrets, the Whomping Willow, Hagrid's hut, and more than 30 Harry Potter characters, this epic set will stoke the imaginations of kids and adults alike. For another LEGO option that'll take up a little less space in the living room (and the budget), check out this Great Hall set.
Buy It: Amazon
9. Dobby Socks; $8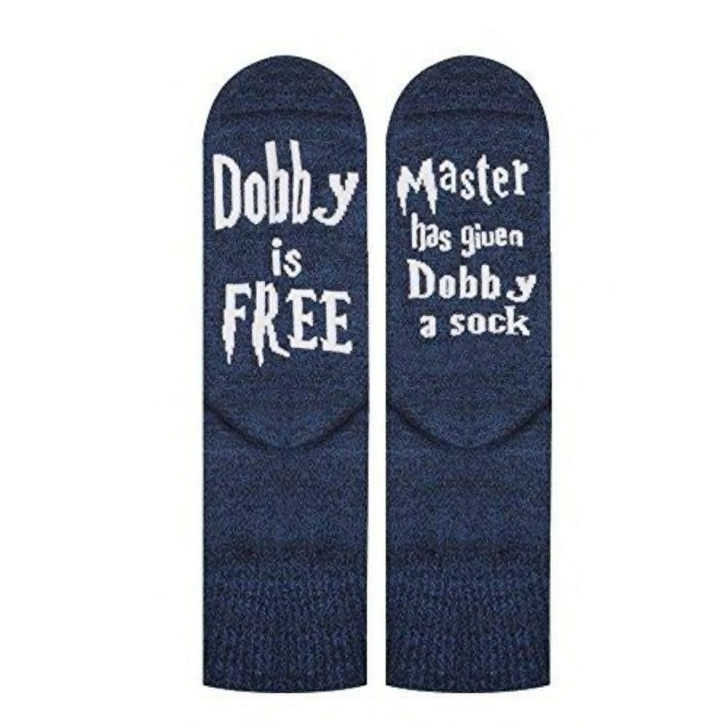 Fans can commemorate Dobby's dogged devotion with a pair of comfy socks. These are much cleaner than the one Harry used to free the endearing elf in Harry Potter and the Chamber of Secrets, and they're also appropriate for more formal events, since the text will be hidden by your shoes.
Buy It: Amazon
10. Golden Snitch Table Lamp; $25
Without a Lumos spell to light the night, we Muggles must rely on artificial means. Having said that, there are some pretty magical light fixtures on the market—this Golden Snitch-themed lamp is powered by a USB cable and turns on when you tap the top of the bell jar.
Buy It: Amazon
11. Hogwarts Stamp Sealing Wax Kit; $15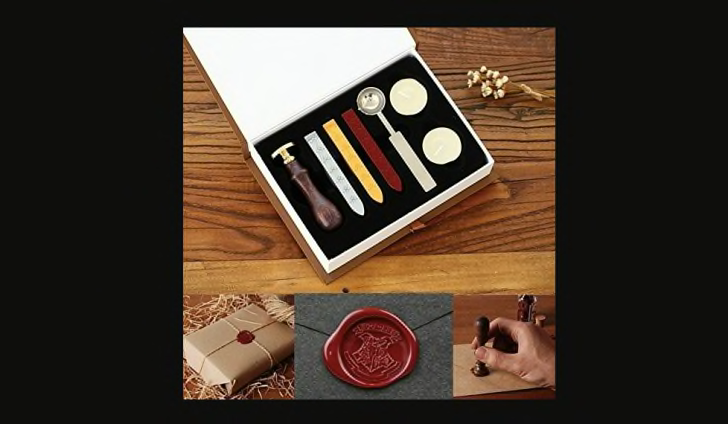 Part of Harry Potter's charm comes from the way it blends the magical with the medieval. Teleportation is totally possible, for example, yet students still write with quills and ink. Forget licking envelopes—seal them shut with this delightfully old-fashioned wax and stamp kit that features the Hogwarts crest.
Buy It: Amazon
12. Mirror of Erised; $25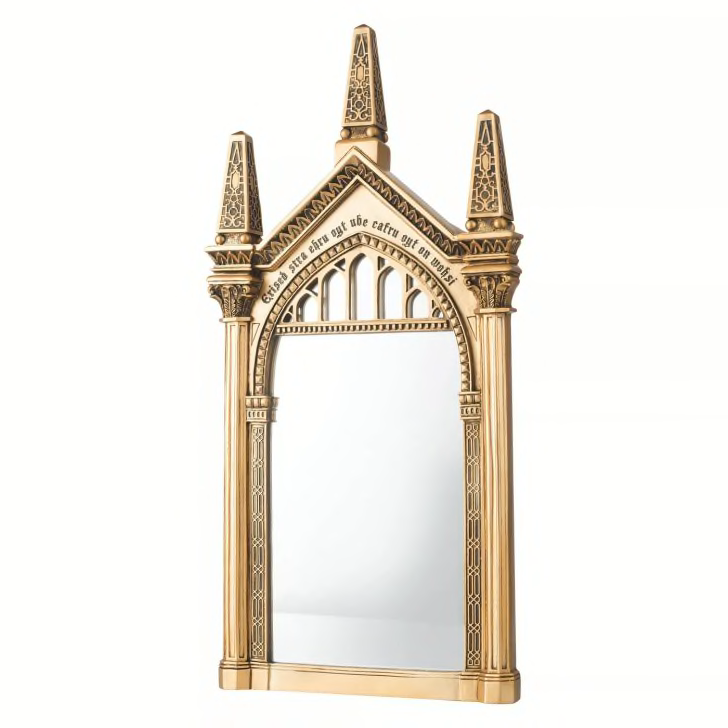 Just shy of 21 inches tall, this mirror won't hijack anyone's overall decorating scheme or take up too much wall space. Instead, the gold frame will provide the perfect magical touch to any given room, and the engraving (when read backwards, it's "I show not your face but your heart's desire") will help the owner remember what they really want in life (more Harry Potter-themed gifts, we assume).
Buy It: Target
13. The Marauder's Map Guide to Hogwarts; $8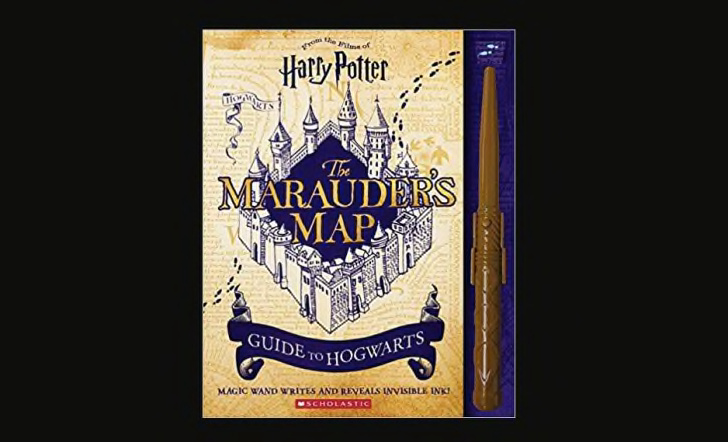 Much like Harry's lit wand tip illuminated easily overlooked details of the castle throughout the series, the wand included with this guide book doubles as an invisible ink pen and blacklight, which will reveal some of Hogwarts's secrets when hovered over parts of the Marauder's Map. Younger Potterheads will also have fun creating their own map (from invisible or real ink) with the special blank parchment paper in the back of the book.
Buy It: Amazon
14. Gringotts Bank; $24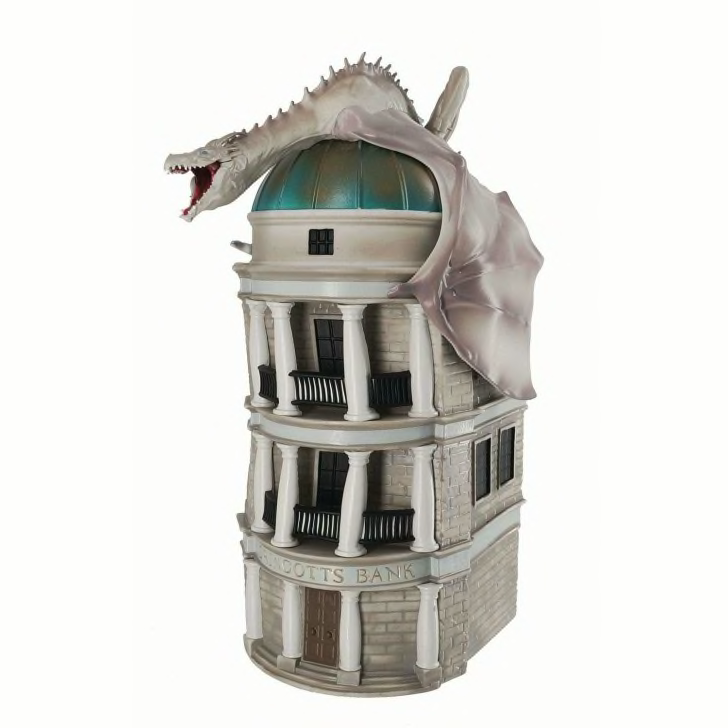 Because Gringotts is the safest place in the world for something you want to hide (besides the Room of Requirement, of course), here's a 9.5-inch-tall replica of the wizarding bank where fans can store coins, bills, and other pint-sized secrets through the slot in the back. It also has a hole in the bottom, plugged with a rubber stopper, so its contents can be easily emptied.
Buy It: Amazon
Mental Floss has affiliate relationships with certain retailers and may receive a small percentage of any sale. But we choose all products independently and only get commission on items you buy and don't return, so we're only happy if you're happy. Thanks for helping us pay the bills!