12 Facts About William Shakespeare's Romeo and Juliet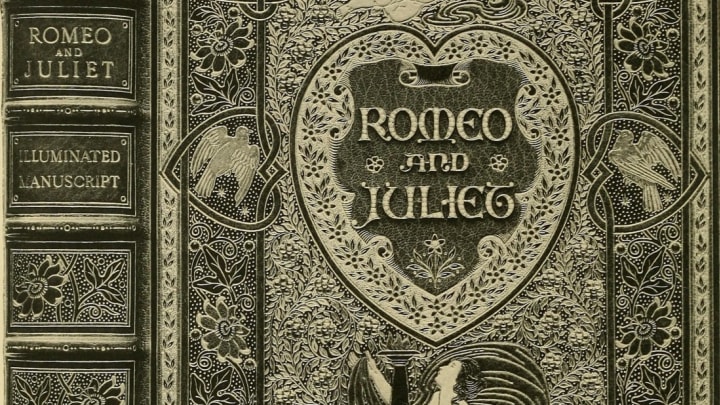 It's safe to say that there are few people on Earth who don't know the story of Romeo and Juliet. William Shakespeare's tragic story of two star-crossed lovers has been adapted hundreds—if not thousands—of times over the years, and not always exactly in the Bard's own words. There have been musical versions, opera renditions, and more than 100 film and TV versions of the play. While George Cukor's 1936 film, Franco Zeffirelli's 1968 movie, and Baz Luhrmann's modern (for 1996) adaptation are some of the best known big-screen interpretations of the rivalry between the Montagues and the Capulets, West Side Story is yet another take on the tale. What is it about this 16th-century play that has had such a lasting impression on readers and audiences? Read on to find out more about William Shakespeare's Romeo and Juliet .
1. William Shakespeare wasn't the first person to write about the Montagues and the Capulets.
The Montagues and the Capulets—the two families at the center of the family rivalry that makes Romeo and Juliet's love an impossible predicament—were kicking around long before William Shakespeare got a hold of them. In "Divine Comedy," the epic poem that took Dante more than 10 years to complete, he makes the following reference:
"Come and see, you who are negligent, / Montagues and Capulets, Monaldi and Filippeschi: / One lot already grieving, the other in fear. / Come, you who are cruel, come and see the distress / Of your noble families, and cleanse their rottenness."
Dante's "Divine Comedy" was written more than 250 years before Shakespeare was even born.
2. Romeo and Juliet is based on an Arthur Brooke poem.
Cribbing ideas from other writers was a totally normal thing to do back in Shakespeare's time, so it's hardly surprising that the story of Romeo and Juliet isn't exactly an original one. The Bard based his star-crossed lovers on the main characters in Arthur Brooke's 1562 poem "The Tragicall Historye of Romeus and Juliet."
Much like Shakespeare's tale, Brooke's poem is set in Verona, Italy. According to the British Library, "Brooke's poem describes the 'deadly' feud between two wealthy, noble families—Capulet and Montague. Against this backdrop of 'blacke hate,' he tells the 'unhappy' tale of a beautiful youth, Romeus Montague, whose heart is entrapped by the wise and graceful Juliet Capulet."
3. It wasn't always called Romeo and Juliet.
When it was first published, Romeo and Juliet went by a much more descriptive—and much longer—title : The Most Excellent and Lamentable Tragedy of Romeo and Juliet.
4. The first publication of Romeo and Juliet is thought to be an unauthorized version of the play.
Romeo and Juliet was originally published in 1597, in the First Quarto. But Shakespeare scholars have long argued that this version of the play was not only incomplete, but unauthorized. The 1599 version, published in the Second Quarto, is the version of Romeo and Juliet we all know and love today.
5. The ending of Romeo and Juliet was hardly a surprise.
Romeo and Juliet kicks off with a prologue that tells the reader exactly where the play is going:
Two households, both alike in dignity, In fair Verona, where we lay our scene, From ancient grudge break to new mutiny, Where civil blood makes civil hands unclean. From forth the fatal loins of these two foes A pair of star-cross'd lovers take their life; Whose misadventur'd piteous overthrows Doth with their death bury their parents' strife. The fearful passage of their death-mark'd love, And the continuance of their parents' rage, Which, but their children's end, nought could remove, Is now the two hours' traffic of our stage; The which if you with patient ears attend, What here shall miss, our toil shall strive to mend.
So much for suspense! What the prologue does do, however, is set the stage for the actors to fill in the details of the very broad strokes of the play's first lines.
6. Juliet is just 13 years old.
We know that Romeo and Juliet are a young couple in love—but it's easy to miss just how young Juliet is. In Act I, Scene III, Lady Capulet says that Juliet is "not [yet] fourteen." She is actually just about two weeks shy of her 14th birthday. Romeo's exact age is never given.
7. The couple's courtship was indeed a whirlwind.
Talk about a whirlwind romance! Given that we know Juliet is just 13 years old, her impetuousness might seem more understandable. But from the time they meet to the time they marry, Romeo and Juliet have known each other less than 24 hours.
8. There is no balcony in Romeo and Juliet 's "balcony scene."
One of Romeo and Juliet's most iconic moments is what has become known as "The Balcony Scene," which occurs in Act II, Scene 2. There's just one problem: The word balcony is never mentioned in Shakespeare's play. There's a good reason for that, too: according to Merriam-Webster, the earliest known usage of the term, originally spelled balcone, didn't occur until 1618—more than 20 years after Shakespeare wrote Romeo and Juliet. According to the play, the scene takes place at Capulet's Orchard when "Juliet appears above at a window."
9. It wasn't until 1662 that a woman played the role of Juliet.
As anyone who has seen Shakespeare in Love knows, back in the Bard's days and up until 1660, all stage roles were performed by men. But in 1662, actress Mary Saunderson stepped onto the stage as Juliet; she is believed to be the first woman to play the iconic role.
10. One writer dared to give Romeo and Juliet a happy ending.
Irish poet and lyricist Nahum Tate, who became England's poet laureate in 1692, had a penchant for messing around with Shakespeare's words. In addition to rewriting Shakespeare's King Lear as 1681's The History of King Lear—in which he tacked on a happy ending to the tragedy (Cordelia married Edgar)—he did the same with Romeo and Juliet. Unlike his version of King Lear, which became quite popular, his alternate ending for Romeo and Juliet didn't seem to stick.
11. One theater director eliminated Rosaline from the play altogether.
When we first meet Romeo, it is not Juliet but another woman, Rosaline, upon whom the young lothario has set his sights. But then he meets Juliet and all bets are off. When staging his own version of Romeo and Juliet in 1748, actor/playwright David Garrick opted to lose the Rosaline character altogether as he believed it lessened the impact of Romeo's love for Juliet and made him seem too "fickle."
12. Romeo has become shorthand for a male lover.
Romeo and Juliet has had a lasting effect on the English language, including its popularization of words like ladybird and phrases like wild goose chase. But Romeo, too, has his own dictionary entry: in addition to being defined as "the hero of Shakespeare's Romeo and Juliet who dies for love of Juliet" by Merriam-Webster, Romeo has also come to mean "a male lover."
Mental Floss is partnering with the Paper & Packaging – How Life Unfolds® "15 Pages A Day" reading initiative to make sure that everyone has the opportunity (and time) to take part in The Mental Floss Book Club. It's easy! Take the pledge at howlifeunfolds.com/15pages.