A 19th-Century Lighthouse With Prime Views of Key West Could Be Yours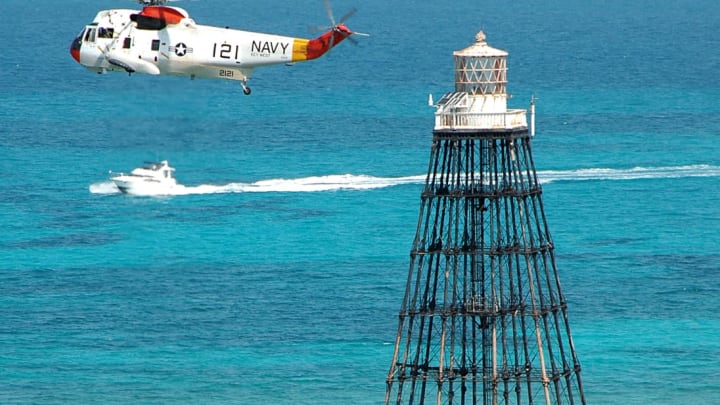 United States Navy, James Brooks, Wikimedia Commons // Public Domain / United States Navy, James Brooks, Wikimedia Commons // Public Domain
As GPS made their original purpose obsolete, many lighthouses took on new lives as vacation homes in the 21st century. Old lighthouses around the world are available to rent on a nightly basis, and if you're looking for a more permanent situation, it's not too difficult to find lighthouses for sale in the United States. As Atlas Obscura reports, one 19th-century structure currently being auctioned off by the U.S. government offers stunning views of Key West, Florida, and a level of isolation usually limited to private islands.
The Sand Key lighthouse doesn't look like most American's quintessential idea of a lighthouse. Instead of a brick pillar, its body consists of a lattice, iron legs propped up on piles screwed into the reef beneath it. The 132-foot tower stands in five feet of water and is located several miles from the seashore. The bare-bones design isn't the product of an unfinished blueprint: So-called "screw-pile" lighthouses were designed to weather the hurricanes that regularly batter southern Florida. Instead of toppling the structure over, fierce winds simply pass through the gaps in its skeleton.
Though it's no longer functional, the Sand Key lighthouse would make a spectacular secluded getaway for a lighthouse enthusiast with money to spend. The government opened it up for auction in March 2019 with a starting bid of $15,000. The closing date for the auction has not yet been specified, and the bid currently stands at $24,000. Anyone can anonymously participate online by putting down a $5000 deposit that will go towards their final offer.
The property isn't ready for the new owner to start living out their nautical hermit fantasies right away. The keepers' quarters were destroyed in a fire in 1989, and the spiral staircase is missing as well. Work will also need to be done to the deck and some iron columns before it's ready for human residents. The government states that it's selling the lighthouse "as is," so anyone who bids on it should take the additional refurbishment costs into consideration. If it's not used as an out-of-the-way vacation spot, the Sand Key lighthouse could also be transformed into a museum.
Defunct lighthouses on lakes and seashores around the country are constantly being auctioned off by the U.S. government. If you can't commit to buying one outright, some are even in need of caretakers.
[h/t Atlas Obscura]