10 Surprising Facts About Depeche Mode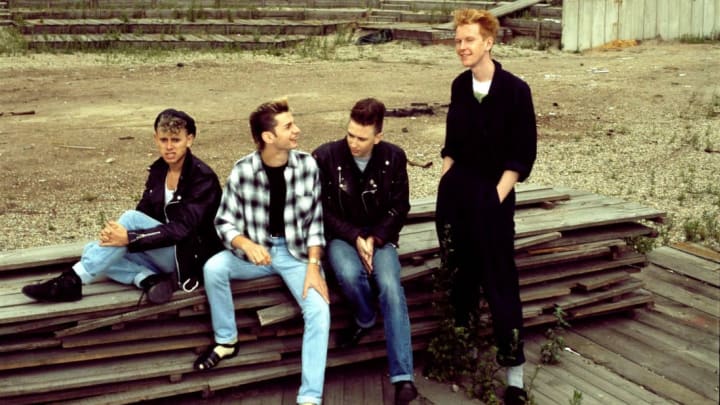 L to R: Depeche Mode members Martin Gore, Dave Gahan, Alan Wilder, and Andrew Fletcher in Berlin in July 1984. / Michael Putland/Getty Images
Few bands inspire faith and devotion like Depeche Mode. Over a career spanning four decades, the boys from Basildon, England, have redefined what electronic music can look and sound like. With albums like 1987's Music for the Masses and 1990's blockbuster Violator, Depeche Mode forged a dark, sexy, mature synth-pop sound that has rocked stadiums across the globe. The 2019 documentary Spirits in the Forest shows just how deep a mark the band has left on diehard fans. For relative newcomers, here are 10 things you might now know about Depeche Mode.
1. Depeche Mode got their name from a French fashion magazine.
The name Depeche Mode carries a mysterious air of artsy European sophistication. But it's not as exotic as you may think. Lead singer Dave Gahan cribbed the moniker from a French fashion magazine. Many fans believe Depeche Mode translates to "fast fashion," but it's apparently closer to "fashion news" or "fashion update."
2. Martin Gore got in the band because he owned the right gear.
Martin Gore of Depeche Mode photographed in West Berlin in July 1984. / Michael Putland/Getty Images
There was a simple reason Vince Clark tapped Martin Gore to join Composition of Sound, the group that would become Depeche Mode: Gore owned a Yamaha CS5 synthesizer. "That's why we got him in—because he had a synth, not for any other reason; certainly not for his outgoing personality!" Clarke said.
3. Depeche Mode underwent a major lineup change after their first album.
The original Depeche Mode lineup featured Dave Gahan, Martin Gore, Andy Fletcher, and Vince Clarke, the group's primary songwriter. Clarke penned nine of the 11 songs on 1981's Speak & Spell, the band's debut album, including the international hit "Just Can't Get Enough." Clarke quit that same year, leaving Gore to carry the songwriting burden.
4. Vince Clarke had a pretty good second (and third) act.
After leaving Depeche Mode in 1981, Clarke teamed up with powerhouse singer Alison Moyet to form Yazoo (or Yaz, as they were known in America). That soulful synth-pop duo released two albums and scored three top 5 hits in the UK including "Only You," a song Clarke reportedly offered to Depeche Mode. In 1985, Clarke linked up with Andy Bell to form Erasure, an electronic duo that has scored 35 top 40 hits in the UK as of 2019. In America, Erasure is best known for the late '80s hits "Chains of Love" and "A Little Respect."
5. It took America a long time to catch on to Depeche Mode.
Depeche Mode scored a number of U.S. dance hits in the early '80s, but it wasn't until 1985's "People Are People" that mainstream American audiences finally warmed to these leather-clad synth-popsters. The anthemic plea for tolerance reached #13 on the Billboard Hot 100 and remained the band's biggest American pop hit until "Personal Jesus" in 1989.
6. Everyone in Depeche Mode has a specific job—sort of.
L to R: Depeche Mode's Andy Fletcher, Martin Gore, David Gahan, and Alan Wilder backstage at Madison Square Garden in 1987. / Michel Delsol/Getty Images

In the 1989 documentary 101, keyboardist Andy Fletcher sums up the band like this: "Martin's the songwriter, Alan's the good musician, Dave's the vocalist, and I bum around." Fletcher may have been selling himself short—he apparently handles a lot of behind-the-scenes managerial duties—but from 1982 through 1995, that was the basic division of labor. Martin Gore wrote the songs, classically trained keyboardist Alan Wilder helped to shape them, and Dave Gahan sang them. Since Wilder's departure in 1995, Depeche Mode has essentially been a trio, and beginning with 2005's Playing the Angel, Gahan has co-written three songs per album.
7. Depeche Mode sold out the Rose Bowl before a lot of people knew who they were.
On June 18, 1988, Depeche Mode wrapped up their Music for the Masses Tour with sold-out performance at the Rose Bowl in Pasadena, California. Paid attendance was 60,453. It was a major moment in the band's career, especially since they'd only scored one Top 40 hit in America up to that point. Much of Depeche Mode's popularity in Southern California was due to KROQ, the pioneering L.A. radio station that championed alternative music in the '80s. Filmmaker D. A. Pennebaker, who famously documented Bob Dylan in the '60s, captured the concert for the 1989 documentary 101.
8. Depeche Mode's signature song was inspired by Elvis and his missus.
"Personal Jesus" isn't Depeche Mode's biggest American hit. That would be "Enjoy the Silence," also off the Violator album. But thanks to covers by Johnny Cash and Marilyn Manson, "Personal Jesus" is arguably their most famous. Gore's lyrics were inspired by Priscilla Presley's 1985 memoir Elvis and Me. "It's about how Elvis was her man and her mentor and how often that happens in love relationships; how everybody's heart is like a god in some way," Gore told SPIN. "We play these god-like parts for people but no one is perfect, and that's not a very balanced view of someone, is it?"
9. Dave Gahan nearly became a rock 'n' roll casualty.
In the mid-'90s, Dave Gahan became enamored of the burgeoning alternative rock scene in L.A. He grew his hair long and developed a serious drug problem that nearly claimed his life on more than one occasion. In 1995, he attempted suicide by slashing his wrists, and the following year, he overdosed on a speedball—cocaine and heroin—at the Sunset Marquis Hotel. His heart stopped for two minutes, and he felt his soul leave his body. Fortunately, the courts allowed him to pick drug treatment over jail, and he's been clean ever since.
10. Depeche Mode are huge in Eastern Europe.
Dave Gahan of Depeche Mode performs at Brooklyn's Barclays Center on June 6, 2018. / Taylor Hill/Getty Images

From their first shows in Hungary and Poland in 1985, Depeche Mode has enjoyed a special relationship with Eastern Europe. Before the collapse of the Soviet Union, when it was illegal to own Western music, fans behind the Iron Curtain somehow got their hands on Depeche Mode tapes and even copied the band's fashions. According to some, the appeal lies in the melancholic, industrial nature of Depeche Mode's music. The fact that it was banned made it all the more enticing to young people beginning to question authority. Eastern Europe's love affair with The Mode continues to this day: One of the six superfans profiled in 2019's Spirit In the Forest hails from Romania.