This Train Trip Hits Every Corner of America in a Week for Less Than $1000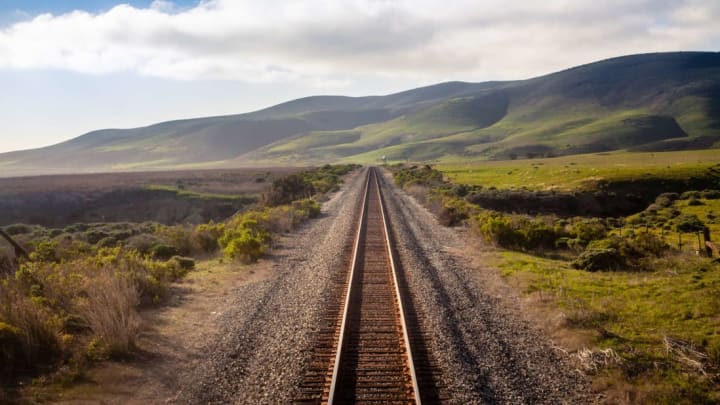 A railroad used by the Amtrak trains in Central California. / GaryKavanagh/iStock via Getty Images
If the thought of sitting in traffic or going through airport security stresses you out, consider taking a train for your next vacation. It isn't the fastest way to travel in 2020, but with rail routes winding through some of the most scenic parts of the country, it's one of the more relaxing options. And you don't have to choose a single destination for your next trip: This map makes a vacation out of the train ride itself by taking you on a full loop around the contiguous U.S., Travel + Leisure reports.
The route, devised by Wanderu, passes through seven states and only takes a week and less than $1000 to complete. The first leg of the journey starts in Boston and takes you through New England and the Mid-Atlantic to Washington, D.C. in about eight hours. From there, the rides get much longer. The Amtrak Crescent line travels from D.C. to New Orleans in 26 hours, and the Amtrak Sunset Limited goes from the Big Easy to Los Angeles in a little under 47 hours. The second half of the excursion includes rides to Seattle; Chicago; Cleveland; and Albany, New York, before landing back in Boston where the whole trip began.
Wanderu's train loop around the United States. / Wanderu
Riders can personalize the route and take extended stops to explore the cities that interest them, but if time is limited, the whole journey can be done in seven days, four hours, and 39 minutes. If you do choose to ride the route straight through, we recommend packing a seat cushion.
You can find a breakdown of each leg of the journey and their costs at Wanderu.com. And if you're still not sold on train travel, these perks may convince you otherwise.
[h/t Travel + Leisure]