The Long Branch of the Law: Inside the National Park Service's Criminal Investigations Unit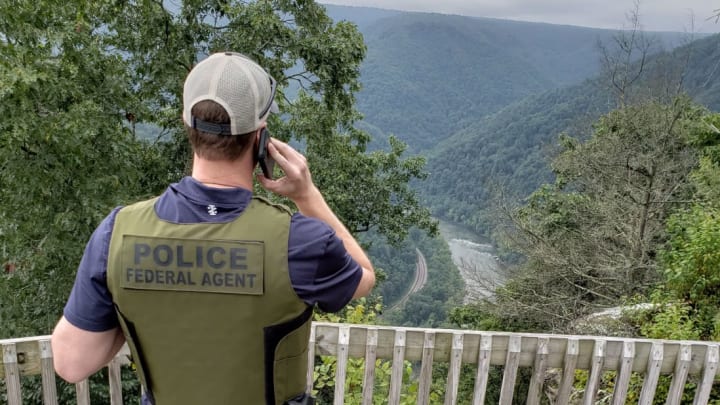 The National Park Service's Investigative Services Branch handles crime in the park system. / Courtesy of the National Park Service
Jeff Sullivan watched as the man dug up the grave. It was the mid-1990s, and Sullivan was undercover, posing as a hunter at Channel Islands National Park, a cluster of rugged islands off Ventura, California. Every month or two, Sullivan crossed the water to meet up with a group that escorted tourists looking to hunt sheep and pigs. But Sullivan knew they were really plundering the graves of Native Americans, excavating cultural artifacts as well as bones for resale.
For two years, he returned time and again, seemingly eager to pursue sheep. Finally, one of the guides who considered Sullivan a friend took Sullivan and other undercover agents to a grave that he proceeded to dig up.
The man cautioned them keep quiet. He said disturbing the bones was a "lock-up offense."
It was exactly the kind of demonstration Sullivan had been hoping for. As the man speared the shovel into the dirt, Sullivan, wearing an audio recorder, was gathering evidence. The man and his associates were eventually convicted of illegally disturbing archaeological sites and graves, a violation of the Native American Graves Protection and Repatriation Act.
Sullivan, who testified in court about the case, is still on active duty as an assistant special agent in charge. He is not an FBI agent or a member of any law enforcement agency. For over 35 years, he's worked for the Investigative Services Branch of the National Park Service, a division devoted to handling criminal activity committed on the staggeringly vast 85 million acres of federally owned land. The ISB routinely investigates animal poaching, missing persons, and homicides. And they do it with only a tiny fraction of the resources and manpower of the large law enforcement agencies.
"Most of us came into the agency thinking we'd just investigate poaching or resource crime, and we do," Sullivan tells Mental Floss. "But the vast majority are crimes against people. Rapes, homicides, and everything in between."
Inside the federal parks, he says, "People bring their problems with them."
When President Ulysses S. Grant signed the Yellowstone National Park Protection Act into law in 1872, he was officially establishing the country's first national park. Ever since, hundreds of parks, all owned and operated by the federal government, have fallen under the NPS umbrella. The job of the NPS is to preserve and protect irreplaceable environmental assets.
From the start, that's been a challenge. While the land that makes up Yellowstone was once occupied peacefully by Native tribes, its increasing occupation by the government led to more disruptive activity. In the late 1800s, Yellowstone was ravaged by poachers, squatters, and vandals who had no regard for the ineffectual authority of the park superintendents who doubled as police. In response, the government dispatched the U.S. Army in 1886, stationing soldiers throughout the park to patrol the grounds and deal with problems. When a bison poacher got away with little more than a wrist slap, the public was outraged, and lawmakers established the National Park Protection Act, or Lacey Act, of 1894 to provide more stringent punishment for troublemakers [PDF].
ISB Special Agents need to feel comfortable working in remote locations. / Courtesy of the National Park Service
While the Army was an effective deterrent against crime, soldiers were not exactly a wealth of park information for visitors. Hoping to create more uniformity in the growing park system, President Woodrow Wilson approved the National Park Service Organic Act in 1916, setting the stage for a fleet of park rangers who could both police and tend to visitors.
Eventually, even the rangers found themselves overwhelmed at times with activity in the park that required more specialized law enforcement attention. Following a riot at Stoneman Meadow in Yosemite in 1970, the Yosemite and Olympic national parks hired criminal investigation specialists to look into serious infractions on park land. Other parks followed suit.
Instead of parks hiring their own individual investigators, the NPS eventually opened the Investigative Services Branch, or ISB, which was given its formal name in 2003. But rangers like Sullivan had made the move years earlier. After starting in the Ozark National Scenic Riverways in the early 1990s, he became one of the first ISB special agents.
"I gradually worked my way into it," Sullivan says. "After six years on patrol, I became an investigator."
Yosemite National Park / Brandon_Nimon/iStock via Getty Images
If a serious crime happens on federal park land, the ISB typically has jurisdiction, though that can vary by location. (Some states have proprietary or concurrent rights to a crime scene, meaning they either take it over or work in tandem with the ISB or FBI. The latter two agencies can also work together.) That means a park official's first call is typically to the rangers, who then contact the ISB, as in the case of the Theodore Roosevelt revolver that was stolen from Sagamore Hill in 1990. (It was recovered 16 years later.)
The ISB, Sullivan says, is contacted when a crime exceeds the threshold for what rangers typically handle. That means calls to address violent crimes, significant acts of theft or poaching, and missing persons. In the Pacific Field Office headquartered at Yosemite [PDF], agents recently addressed a 2017 assault with a deadly weapon and strangulation at a campground in Haleakalā National Park; vandals who smashed Devil's Hole pupfish eggs, a species among the rarest on Earth, at Death Valley National Park in 2016; and a DUI vehicular assault at Olympic National Park in 2017.
Sullivan has seen no shortage of memorable cases—like his run-in with serial killer Cary Stayner, who committed multiple murders in and around Yosemite, including the beheading of park naturalist Joie Ruth Armstrong in 1999. Sullivan saw Stayner driving near the park at the estimated time of the murder. Stayner later confessed to four killings total.
According to Sullivan, what makes the ISB different from other investigative agencies is simple. They're not a law enforcement agency.
"We're an agency that does law enforcement," he says. "There's a big difference."
ISB Special Agents don't have the resources of major law enforcement agencies. / Courtesy of the National Park Service
Unlike the FBI, the National Park Service is not a multi-tiered agency devoted to criminal investigation. The NPS's main priority is protection of natural resources, meaning that the lone branch devoted to crime—the ISB—is a small part of the machine. There are just 33 special agents covering the entire country in four locations: the Pacific, North Central, Southwest, and Atlantic Field Offices. Each is responsible for multiple parks in multiple states. The Atlantic office alone covers 23 states.
"We expect [agents] to carry the bulk of the load and do the job," Sullivan says. As a senior officer tasked with hiring, Sullivan says he looks for people who can work well by themselves and don't mind the solitude that comes with operating in remote parts of the country.
Some agents come, stay for a bit, and realize it's not a fit. "We live and work at the end of the road," he says. "If you enjoy the social aspect, the nightlife, it's not for you."
Owing to the small staff, there's no ISB forensic department. Agents rely on state or federal labs, hopefully building a rapport with local forensic analysts in the process. Because the ISB has to share resources, agents might also find themselves coming to the office and then being asked to jump on a helicopter to assist in an investigation three states away.
Olympic National Park / dene398/iStock via Getty Images
Sullivan says that there's a kind of freedom in not having to deal with a lot of bureaucracy. Agents don't just make arrests and hand the perp off to another department. They often see a case through to the end and into the hands of a prosecuting U.S. attorney, as Special Agent Beth Shott did when she successfully investigated the 2012 death of Toni Henthorn in Rocky Mountain National Park. Henthorn died after falling from a steep cliff, and her husband Harold had claimed it was an accident. Shott discovered Harold had pushed her. 
The price for that kind of autonomy is being forced to be selective when tackling crimes. With so few agents and so much territory to cover, the ISB only accepts cases they stand a good chance of solving, using what Sullivan calls the "solvability matrix."
"We look at the level of crime," he says. "Is it a felony? What victims are involved? Is there a suspect? Is there physical evidence?" Violent crimes often get the ISB's full attention, though resource crimes—like the Native American grave-robbing case—can rise to the level of a top priority. The Pacific Field Office took on 49 new cases in 2018. Counting existing cases, the office worked a total of 117 incidents that year.
While there is no crime unique to national parks, there is one recurring type of case that all ISB agents have to cope with at some point: Missing persons, which often turn into cold cases.
Locating missing persons can prove challenging for the ISB. / Courtesy of the National Park Service
According to Sullivan, 30 people have disappeared from Yosemite since 1909 without ever being found. Across the whole park system, 23 people are currently listed on the NPS website as missing. It's an eerie statistic, and one that speaks to the vast and remote territory that makes up the landscape of the national parks.
"We deal with missing persons quite a bit," Sullivan says. "People who have just vanished into the wilderness, there is lots of that."
Some were last seen hiking. Others are believed to have died by suicide. Many leave a car behind, the only trace left of them.
All of Sullivan's agents have at least one cold case assigned to them. When there's downtime, they can pick up the thread and work on it. If tips come in from a call or the ISB's social media presence on outlets like Twitter, the case can warm up again, but they often have to take a back seat to cases meeting the solvability matrix.
Among the most prominent of the missing is Paul Fugate, a park ranger who disappeared from Chiricahua National Monument in Arizona on January 13, 1980. After walking away from his station to hike a park trail, he was never seen again. Investigators suspected foul play was involved, but the case has yet to be resolved.
Chiricahua National Monument / PatrickPoendl/iStock via Getty Images
Sometimes a body appears with no context. "Jane Doe," who was found in Yosemite's Summit Meadow in 1983, was a young woman believed to be the victim of serial killer Henry Lee Lucas, though that's never been proven. (Lucas, prone to falsely confessing to unsolved murders, died in 2001.)
Not all such cases come to unhappy ends. In January 2020, visitor Martin Edward O'Connor was located at Grand Canyon National Park after being missing for nearly two weeks.
Sullivan tries to resolve cases like this one as best he can. With a small staff and the same number of hours in the day as anyone else, it can be difficult. The ISB is often unheralded, with Sullivan hearing a repeated joke about agents "investigating pinecones." That could change if the ABC television network moves forward with a proposed series about the agency, set to be produced by Kevin Costner.
Regardless, agents will still be policing a serious expanse of public land. "Yosemite gets 5 million visitors a year," he says. "That's 15,000 to 20,000 people a day. We have the same problems as any population the same size. We're here to deal with it."