10 Pillow Fights That Caused Serious Trouble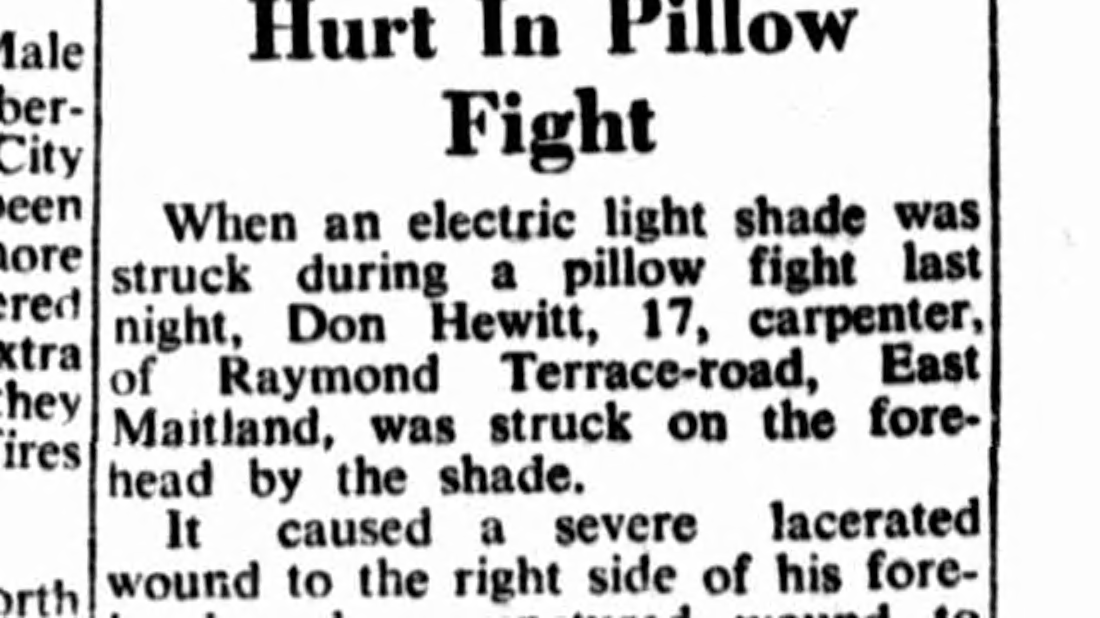 Happy International Pillow Fight Day! In honor of the occasion, grab the pillow off your bed and start whacking people! Just use caution: Pillow fights can lead to some serious trouble. Don't believe us? Here are some examples of times pillow fights took a turn for the worse, ripped straight from the headlines.  
1. "Fights Postponed" 
In 1896, a carnival prizefight between pugilistis named Fitzsimmons and Maher when "Maher came in here this morning with a badly inflamed eye," the New York Times reported. According to the paper, the El Paso bout had to be canceled due to an injury Maher sustained in a pillow fight. The fighter claimed the inflammation was a result of dirt from training, but the Fitzsimmons party insisted it was from a pillow fight. Regardless, Maher claimed he could not fight until the following Monday. 
2. "Boy, 4, as Good as New After Fall of 65 Feet: Tumbles Out Window During Pillow Fight, but Recovers and Asks for Ice Cream" 
In 1921, the New York Tribune reported that a small boy named Charles Hunton fell from his building after having a pillow fight with his brother Arthur. Although Charles was knocked unconscious, a hospital examination found no broken bones or internal injuries. When asked how he was feeling, the boy nonchalantly said he was "fine" and asked for some ice cream.
3. "6 on Montreal flight fined for pillow fight" 
According to the New York Tribune, six men were fined $25 for a pillow fight on a plane in 1960. The businessmen were flying from New York to Montreal for a religious meeting. Struck with a boyish good mood, the travelers engaged in a pillow flight that led to a disruption and earned them the option of paying the fine or spending a week in jail.
4. "Wealthy Boy Received His Injuries in a Pillow Fight" 
This brief 1905 story in the New York Times provides good news that a rich kid is recovering nicely after a kerfuffle with schoolmates—thank goodness!
5. "Police called to 'addicts' riot pillow fight" 
New York police responded to a hospital riot in 1953, but found something more unusual: The New York Herald reported that rival wings of a narcotics ward at Riverside Hospital erupted into an intense pillow fight. Seventy-two men engaged in the melee before armed police came to shut it down. The brawl started at around 10 p.m., but was quelled within 45 minutes. 
6. "Hurt in pillow fight"
According to the Newcastle Morning Herald and Miners' Advocate, a teenage boy was hurt during a pillow fight in 1948. Don Hewitt got a nasty cut on his forehead after being struck by a lightshade, which is clearly a violation of pillow-fight etiquette. 
7. "THE PARLIAMENTARY PILLOW FIGHT" 
The Gippsland Mercury reported a disorderly scene in the Australian House of Representatives in 1914.  The majority party had become peeved with what it saw as obstruction from the opposition, so it proposed an all-night session of parliament. Members of the majority were given blankets and pillows so they could doze off, but opposition members weren't so lucky. It quickly became apparent that the two sides were even worse at sharing linens than they were at building a consensus. According to the North Western Courier, the opposing sides were soon fighting over pillows and blankets. A wire report described the scene as "a battle royal, recalling nursery days ... soon almost the whole membership of the house was rolling on the floor, wrestling, hitting, and clawing." 
8. "Pillow fight fluffy a legal case"
A pillow-fight with 50 participants led to a court date in Vermont in 2009. The Burlington Free Press said the Facebook-scheduled event lasted about two minutes before a policeman strolled by and nabbed a single pillow pugilist. The fighter was given a citation for disorderly conduct, despite no property damage or injuries. 
9.  "DETROIT POLICE SHUT DOWN PLANNED PILLOW FIGHT"
Leave it to the police to ruin yet another good pillow fight. In 2009, a public pillow fight planned at Campus Martius Park was shut down before it even began. Detroit Free Press said police arrived at the scene and sent potential fighters home. "We don't have a problem with consenting adults hitting each other with pillows, but the issue becomes cleanup," Detroit Spokesperson James Tate said. 
10. "He's Convicted In Pillow Fight"
According to the Baltimore Sun, 37-year-old Thomas Ruby was convicted of assault in 1956—with a pillow. His brother John Ruby, who pressed the charges, said he was hit with a pillow and strangled at 2:30 a.m. Thomas Ruby was said to have piled up 50 to 60 charges for similar offenses.