9 Essential Products to Keep Your Teeth and Gums Healthy, According to a Dentist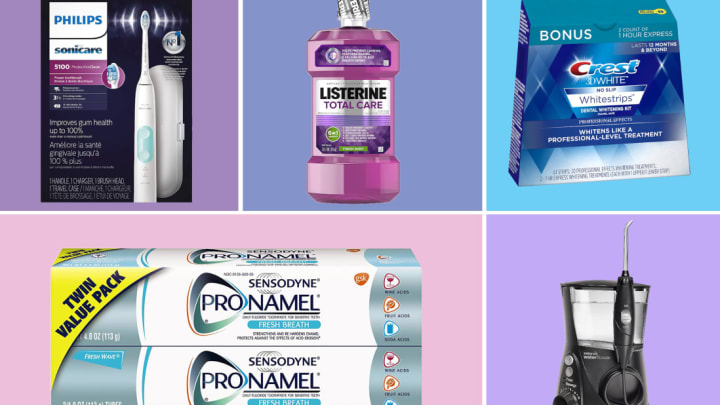 Philips/Listerine/Crest/Sensodyne/Waterpik/Amazon / Philips/Listerine/Crest/Sensodyne/Waterpik/Amazon
This article contains affiliate links to products selected by our editors. Mental Floss may receive a commission for purchases made through these links.
When you went into quarantine this spring, you probably had to cancel quite a few obligations—and if your regular visit to the dentist was one of them, your oral hygiene could be suffering right now. Plenty of issues can crop up without regular cleanings and preventative care, especially if you don't have the right dental health setup at home. And with different states facing different restrictions, it might be a while before you get an appointment (or even feel comfortable enough to go to an office). That's why Mental Floss reached out to Dr. Kyle Bogan, DDS, to find out about the essential products you need in your bathroom to take care of your teeth and gums while you wait to get back in the dreaded dentist's chair.
1. Dental Floss
Oral-B/Amazon
Yes, you probably hate doing it, but flossing is such an important step in your dental hygiene routine for healthy gums, tartar reduction, and removing plaque from teeth.
"There's a lot of stuff on the market right now to try to make flossing more palatable for people," Dr. Bogan says. But he cautions that, "[nothing] really replaces the good old-fashioned wrapping-around-your-fingers floss. Oral-B's Glide is pretty much the best on the market, in my opinion." You can find a two-pack for around $5 on Amazon.
As for floss picks, they're all the same, he says. "They don't do as good a job as manual floss, but they are perfectly fine and can be good for kids to use." Plackers Twin-Line Dental Floss Picks ($9 for a four-pack) has two lines of floss to help prevent breakage, and they come in packs of 150.
2. Water Flosser
Amazon/Waterpik
"If you're going to use a water flosser, I recommend the Waterpik brand for people with braces to clear debris and for those people that are very reluctant to floss," Dr. Bogan says. "They're better than not flossing, but despite the advertising, they're not as good as flossing." Waterpik's water flosser ($70) is touted as the only model on the market to have the American Dental Association's Seal of Acceptance.
For those who have gum disease, gum recession, or bridge work, Dr. Bogan suggests using a water flosser pre- or post-brushing to remove debris and get things out of hard-to-reach areas. Looking to save time? Waterpik has an electric toothbrush and water flosser combo ($151) that does it all.
3. and 4. Electric Toothbrushes and Manual Toothbrushes
Philips/Amazon
"I always recommend people use an electric brush," Dr. Bogan says. "It does so much of the work for you. It delivers [a] superior level of clean." He recommends Oral-B ($40) or Philips Sonicare ($70) brands, but says Oral-B uses smaller heads, which tend to be easier on smaller mouths.
"The surprising thing is no one should really ever be using a hard- or medium-bristle brush," Dr. Bogan says. "The problem is those bristles often cause more damage than good. It should either be soft or extra soft, so people [who] are sensitive should use extra soft."
If you plan on doing the work yourself with a manual brush, like these soft brushes from Colgate ($4 for six), take a look at your toothbrush's head to evaluate its condition. "You definitely want to look at bristles on your manual toothbrush, and if they're bent or warped or worn, it's time to replace the toothbrush or the head on the electric brush," he says. For electric toothbrushes, he suggests swapping in a new head every three to four months.
5. Toothpaste
Sensodyne/Amazon
"There's a lot of controversy out there about fluoride, but as far as preventing decay and keeping your teeth healthy, that's the main ingredient that matters," Dr. Bogan says. Some fluoride toothpaste options to consider are Colgate Cavity Protection with Fluoride ($8 for a six-pack) or Crest Toothpaste Gum Detoxify Deep Clean ($14 for three).
Just be wary of charcoal toothpaste, he warns. "It can be abrasive and damage teeth. I had a few patients where I actually had to dig charcoal out of their gums." If you have sensitive teeth, using toothpaste like Sensodyne Pronamel Fresh Breath ($10 for two) can help reduce sensitivity and pain.
6. Whitening Kits
Crest/Amazon
"The most effective way to whiten your teeth at home with an over-the-counter product is with Crest Whitening Strips," Dr. Bogan says. You just have to use the strips ($45 for 44 strips) once a day for 30 minutes to help remove years of teeth stains—and Crest claims you'll start seeing results in three days and full results in 20. Teeth may become more sensitive after using white strips, so consider switching to a toothpaste for sensitive teeth if this happens to you.
7. Orthodontic Wax
Orthomechanic/Amazon
Whether your kids have braces or you do, rubbing wires is one of the biggest irritations you'll face. Use orthodontic wax like Genuine Orthowax ($11 for a nine-pack) for a clear solution that can relieve irritation from brackets, springs, and wires in between orthodontist visits.
8. Temporary Dental Filling Materials
PRS/Amazon
"The best advice I can give to people that know they have either a broken filling or a broken tooth is to look for an over-the-counter filling material," Dr. Bogan says. "You kind of roll it up and push it down to where the crack is and wipe away the excess or just chew it away and it's generally pretty good for a temporary fix." This Zinc Oxide Eugenol Cement Dental Care Kit ($25) can help seal a cavity so no food or bacteria gets in, and it can also help with bridgework and other dental issues. If you simply have a cracked or broken filling, consider Refilit Maximum Strength Filling Material ($11) for a quick fix.
9. Mouthwash
Listerine/Amazon
Dr. Bogan advises using mouthwash in the morning and fluoride rinse at night to keep teeth and gums healthy. A complete mouthwash should be able to reduce bad breath, fight cavities, and strengthen teeth in 30 seconds of daily swishing, and for this he recommends Listerine Total Care Anticavity Fluoride Mouthwash ($7).
"Especially for kids and people in braces, I recommend a nighttime fluoride rinse," Dr. Bogan says. ACT Restoring Anticavity Fluoride Mouthwash ($6) is a popular dentist-recommended brand to help fight cavities.