The Brief, Bizarre Pro Wrestling Career of Andy Kaufman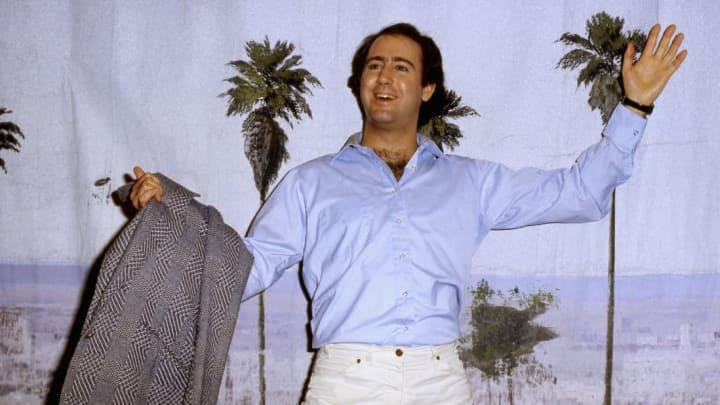 Andy Kaufman. / Joan Adlen Photography, Getty Images
For a period of time in the early 1980s, the most hated man in Memphis, Tennessee, was a comedian from Long Island.
Andy Kaufman had spent years as a stand-up comic perfecting his own peculiar brand of antagonistic performance art, inciting anger among audiences by reading verbatim from The Great Gatsby, pantomiming the theme song from Mighty Mouse, and taking naps onstage. Even as he enjoyed mainstream success with a prominent role as Latka Gravas on the popular sitcom Taxi, Kaufman still yearned to stir discontent. He was, in the vernacular of professional wrestling, a "heel"—someone who draws attention by riling up crowds.
In 1981, Kaufman decided to adopt a heel persona where it would be best served: in the ring. With little athletic ability, no experience, and relatively little money to be earned, he became a professional wrestler and one of the biggest attractions the Memphis area had ever seen.
He did this by challenging and wrestling women.
Kaufman had grown up on Long Island and perfected his craft in unpaid appearances in comedy clubs before garnering attention for his guest spots on Saturday Night Live. Taxi followed, as did a successful tour, where Kaufman would do anything from impersonate Elvis Presley to escort 2000 fans out for milk and cookies after performing at Carnegie Hall.
As a child, Kaufman had been a fan of professional wrestling and an admirer of "Nature Boy" Buddy Rogers. He once saw Rogers grapple with Bruno Sammartino at Madison Square Garden, with Rogers—the villain—drawing boos from the crowd. It was this memory that probably came calling back to Kaufman when, in 1977, he began issuing challenges to women in the audience. If they pinned him, he said, he would give them $1000.
Andy Kaufman's wrestling memorabilia on display at New York City's Maccarone gallery. / Jack Szwergold via Flickr // CC BY-NC 2.0
Estimates on how many times Kaufman wrestled with a woman range from 60 to more than 400. Though some matches may have been staged, Kaufman did appear to be engaged in real physical contests with many of the volunteers. While it had the expected result for his audience—they were alternately amused and confused—Kaufman wanted to do it on a larger stage. He made his proposal during an appearance on Saturday Night Live on October 20, 1979, wearing his now-familiar wrestling outfit of black trunks over white long johns. Kaufman explained that he wasn't interested in wrestling men because they might beat him, but he would take on any woman who dared.
A pregnant woman volunteered, but Kaufman refused to wrestle her. Instead, he faced Mimi Lambert, a dancer and Lacoste sportswear heiress, who was pinned after several minutes. For no apparent reason, a triumphant Kaufman then challenged Olympic swimmer Diana Nyad to a match, with $10,000 on the line if she won, before clucking like a chicken.
Andy Kaufman returned to Saturday Night Live several more times that year to continue his challenges, at one point even "threatening" host (and future Golden Girl) Bea Arthur.
Finally, Kaufman found an opponent in Diana Peckham, the daughter of Olympic wrestling coach James Peckham, and wrestled her on the December 22, 1979 episode of SNL. Though Kaufman had childhood hero Buddy Rogers in his corner, he was unable to beat Peckham and the bout was declared a draw.
Kaufman then began phoning wrestling promoters, including prominent New York promoter Vince McMahon Sr., and told them he had crowned himself the World Inter-Gender Wrestling Champion and was willing to defend his title against all comers. He was undefeated, save for one loss to six women at once at a Chippendales club in Los Angeles.
As usual, Kaufman was ahead of his time. This was in 1981, years before McMahon's son, Vince McMahon Jr., would elevate the business with spectacles like WrestleMania and celebrity appearances by Mr. T, Cyndi Lauper, and Liberace. In a short while, he likely would have been welcomed into the fold. But McMahon Sr., a wrestling traditionalist, wasn't interested.
Dismayed, Kaufman turned to friend and wrestling journalist Bill Apter, who recommended the comedian get in touch with Jerry Lawler, the most popular wrestler in Memphis. With partner Jerry Jarrett, Lawler ran the region's Continental Wrestling Association, or CWA. Lawler was intrigued by the proposal and suggested Kaufman come to Memphis. While he had no real in-ring ability, he was recognizable and his male chauvinist persona was likely to draw attention.
For months, Kaufman sent in tapes taunting the locals. On October 12, 1981, Kaufman finally appeared at Tennessee's Mid-South Coliseum and wrestled three women in a row. On November 23, he took on four women. The fourth, Foxy Brown, managed to wrestle Kaufman to a draw. Both Lawler and Kaufman knew a rematch with Brown—with Lawler in her corner—would be a success.
It was. Kaufman defeated Brown convincingly on November 30, 1981, which led to Lawler jumping into the ring to confront Kaufman for his unsportsmanlike conduct. It was at this point that Kaufman and Lawler realized they had something special. Lawler, the Memphis hero, was standing up to Kaufman, the Hollywood outsider who had no respect for women. The crowd's response was electrifying to Kaufman, who saw an opportunity to take his admiration of Buddy Rogers one step further and actually wrestle a man.
For months, viewers of local pro wrestling programming in Memphis watched as Kaufman sent in more videos heckling them. "I'm from Hollywood!" he said. He taught them how to use soap, a skill he insisted they lacked, and played into offensive Southern stereotypes. He insisted women "belonged in the kitchen" and that their time was best spent "scrubbing potatoes." If Kaufman were to ever walk down the streets of Memphis unescorted, it could have been a problem.
Finally, Kaufman and Lawler squared off on April 5, 1982. Roughly 11,200 fans showed up to the Mid-South Coliseum eager to see Lawler silence Kaufman, invested in the outcome even though a portion of them probably realized the two were playing roles. (They had even rehearsed moves at referee Jerry Calhoun's house two nights prior.) The bout lasted less than seven minutes, with Kaufman spending much of that time avoiding Lawler and offering little offense beyond a simple headlock. Finally, the wrestler got his hands on the comedian, sending him to the mat with consecutive piledrivers.
It was far from the end of the show. Kaufman spent 15 minutes in the ring, legs twitching, before insisting Lawler call for an ambulance. (Lawler told him it would cost $250 for the real thing to arrive. Kaufman promised he would pay for it.) He was hauled off on a stretcher and spent the next several days giving interviews from a hospital bed, insisting he had suffered real injuries in a legitimate contest. While Kaufman told Lawler the piledrivers had hurt him, it was unlikely the injuries were severe enough to require a three-day hospital stay.
Yet Kaufman's testimony was apparently enough to mislead The New York Times, which reported on his convalescence as being legitimate:
"[Lawler] insisted the bout be a real thing. It was, too … As a result, said George Shapiro, the comedian's manager, Mr. Kaufman suffered cuts on the top of his head, strained neck muscles, and a compressed space between the fourth and fifth vertebra. Hospital officials listed him in good condition yesterday."
In a 2012 piece for CNN, author Wayne Drash recalled being a kid in Memphis and going to school the day after the bout. A child who was convinced Kaufman was really hurt suggested the class pray for him. He was booed.
Though their rivalry had seemingly reached a conclusion, Kaufman and Lawler believed they could continue their feud on a larger stage. On July 28, 1982, the two were booked to appear on Late Night with David Letterman, which had only been on the air since February of that year. During the interview, Kaufman—sporting a neck brace—continued his vitriol against Lawler, which led to the wrestler slapping him across the face while a bewildered Letterman watched.
As with Kaufman's "injuries," the mainstream media was slow to recognize that the incident was orchestrated. Kaufman helped legitimize it by filing a $200 million lawsuit against NBC, insisting he would soon take it over and make it an all-wrestling network. The bouts with Lawler continued to draw crowds in Memphis as well as Indiana and Florida, which prompted Vince McMahon Jr. to later tell Lawler that he was jealous of the Memphis wrestling territory. It had master heel Andy Kaufman at its disposal.
Kaufman never lost his taste for wrestling. He appeared in 1983's My Breakfast with Blassie, a parody of the chatty 1981 character piece My Dinner with Andre, alongside famous wrestler "Classy" Freddie Blassie. He also played a ring referee in Teaneck Tanzi, a Broadway musical about a woman (Deborah Harry of Blondie fame) who wrestles the men in her life. It opened and closed in one night.
Kaufman succumbed to lung cancer at the age of 35 on May 16, 1984. Had he lived, he would likely have continued to climb between the ropes. Recalling their time together, Lawler once said that Kaufman expressed a wish. If only he could quit acting, he said, he wanted to wrestle full-time.
Additional Sources:
Lost in the Funhouse: The Life and Mind of Andy Kaufman.