Transport Your Living Room to a Galaxy Far, Far Away With These Star Wars Area Rugs From Ruggable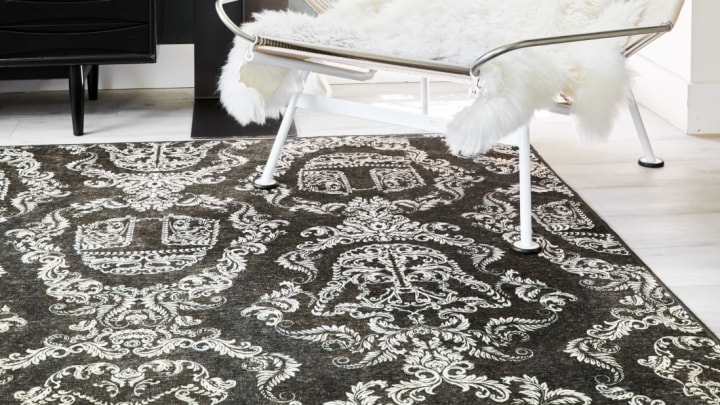 Add some villainy to your living space with this Star Wars area rug. / Ruggable
This article contains affiliate links to products selected by our editors. Mental Floss may receive a commission for purchases made through these links.
There may be no film property more exhaustively licensed than Star Wars. And it's more than just the typical toys, games, and LEGO sets. Since the original movie's release in 1977, it's been possible to fill your entire home with goods ranging from coffee machines and waffle makers to blankets and costumes for your dog.
Thanks to Ruggable, you can now add area rugs to the list. Ranging in price from $109 to $399, these fully washable Star Wars rugs can display your love of the Skywalker saga right under your feet.
Star Wars rugs work in any kind of room. / Ruggable
The designs encompass everything from Han Solo's Millennium Falcon to Darth Vader's visage to a toile (French fabric) rug depicting iconic scenes from the films.
If you prefer subtlety, you can also opt for graphic design rugs that reveal themselves as Star Wars-inspired only on close inspection, like this TIE Fighter rug.
TIE Fighters can streak through your dining room. / Ruggable
Prices range from $109 for a 3-foot-by-5-foot rug to $399 for an 8-foot-by-10-foot version. The rugs also come in 6-foot ($229) or 8-foot ($329) round varieties. You can find them on Ruggable.