Zozobra: The Quirky New Mexico Tradition That Promises to Take Your Gloom Away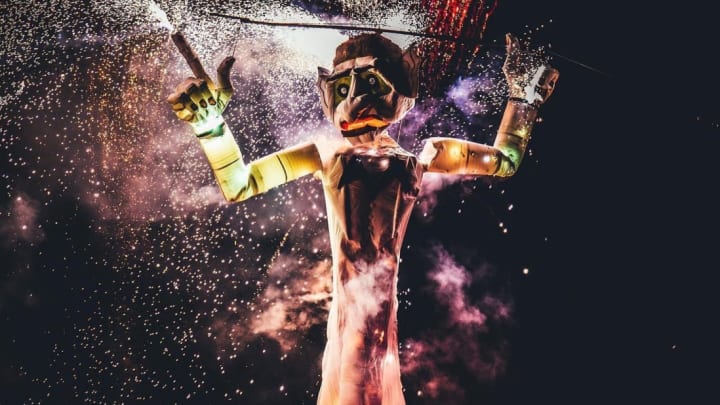 Put your worries in Zozobra, and watch them go up in smoke. / Courtesy of Kiwanis Club of Santa Fe
Every fall, cries of "Burn him! Burn him!" rise from the crowd at one of the United States's most unusual customs—but it's not as macabre as it sounds. At the annual burning of Zozobra in Santa Fe, New Mexico, a 50-foot-tall marionette is stuffed with parking tickets, divorce papers, calendars, and notes, and set aflame, taking people's worries with him as he goes up in smoke.
The cleansing ritual dates back to 1924, when Santa Fe artist Will Shuster and his cohorts, known as Los Cincos Pintores ("The Five Painters"), created a 6-foot-tall puppet and burned it at a backyard gathering with a few friends. According to Zozobra event chair Ray Sandoval, Shuster created the puppet as an act of rebellion against the Fiestas de Santa Fe, a hundreds-year-old festival that commemorates Don Diego de Vargas's 1692 reoccupation of Santa Fe after the Spanish government and settlers were expelled during the 1680 Pueblo Revolt. The long-running community festival is religious in nature and tied to a specific culture, though it doesn't formally exclude others from attending. "Zozobra was a protest against the lack of inclusivity in the fiestas," Sandoval tells Mental Floss. "Shuster so fundamentally understood human nature that Zozobra draws everybody in. It's not us burning a person. It's not racist, religious, or political."
Zozobra in 1936 / Courtesy of Kiwanis Club of Santa Fe
The Holy Week celebrations of Mexico's Yaqui Indians, who burn a firecracker-filled effigy of Judas, inspired Shuster's own fiery creation. Shuster and his friends named their figure "Zozobra," a.k.a. "Old Man Gloom," which in Spanish means anguish, anxiety, or distress. "The idea behind the ritual is that we can pause our lives and look inward and ask, 'What's causing me gloom? What am I holding on to? And what am I doing to cause other people gloom?" Sandoval says. "We can put these inside Zozobra, cleanse ourselves, and start fresh."
In 1926, the celebration went public. The Santa Fe New Mexican described that first public Zozobra as "a hideous effigy figure 20 feet high" that "stood in ghastly silence illuminated by weird green fires." A band played a funeral march and the city attorney pronounced Zozobra guilty; the figure was shot several times with a revolver and set aflame. "The green fires changed to red, the surrounding ring of bonfires was ignited, red fires blazed at the foot of the figure and shortly a match was applied to its base and leaped into a column of many colored flames." Finally, there was marching and dancing. The event, according to the newspaper, "brought out the biggest crowd of native merrymakers seen here for years."
In 1964, the Kiwanis Club of Santa Fe became the official sponsor of the citywide event that now benefits local children's charities. And in the ultimate turn of acceptance, Zozobra, which once protested Fiestas de Santa Fe, now unofficially kicks off that tradition.
According to the legend of Zozobra, the specter is reborn each year. He appears before the city hoping to invade the hearts of the spectators with fear. But the crowd calls forth the Fire Spirit, the embodiment of all that is good and Zozobra's foe. Armed with torches, the Fire Spirit—a human fire dancer—battles and torments Zozobra. Ultimately, the spirit sets him ablaze. Amid dazzling fireworks and flames, Zozobra burns. However, he doesn't go down easily. The spectacle continues as Zozobra groans and shakes his fists in anger.
Each year, the wood, wire, and cotton cloth creation looks slightly different. Part monster and part ghost, he usually dons a long white gown. He often dresses for his night in the spotlight in a bow tie and tuxedo shirt, and his look often takes cues from current events that are causing fear and anxiety. In 1943, for example, Zozobra was a mash-up of Axis leaders Hitler, Mussolini, and Hirohito named Hiroyhitlemous. To reflect the 2020 zeitgeist, the creators have fashioned silver and red hair that looks like a coronavirus and have given him gold murder hornet cuff links. "It's been a banner year for Zozobra," Sandoval says.
Zozobra going up in flames in 2013 / Courtesy of Kiwanis Club of Santa Fe
Typically, some 60,000 people would attend the ceremony to be freed from their woes, and it would only be on view to in-person attendees. However, 2020 calls for a novel approach. For the first time, organizers are inviting the public to submit their woes digitally for a fee (you can submit yours here). They will be printed out and stuffed in the marionette right up until the Labor Day weekend ceremony. Two weeks before the event, there were already 20,000 gloom submissions. The event will stream live on local news affiliate KOAT, so the public can tune in from anywhere to view the ceremony.