13 Facts About Halloweentown
For Disney Channel Original Movie fans, spooky season can only mean one thing: It's time to watch Halloweentown. The 1998 film about a teenager who discovers her grandmother is a witch who lives in another magnificently monstrous dimension is a spooky Disney movie classic. Here are 13 facts about the beloved four-movie franchise.
1. Halloweentown was one of the first Disney Channel Original Movies.
Originally, Halloweentown was going to be a darker Halloween-based film for NBC. Five years after the network passed on the project, Paul Bernbaum, the screenwriter, got a call saying the film was a go: but for a younger audience. When Halloweentown premiered on October 17, 1998, it was the fourth Disney Channel Original Movie, preceded only by Under Wraps (1997), You Lucky Dog (1998), and Brink! (1998).
2. Debbie Reynolds was the first actor cast in Halloweentown.
The film's most well-known star, Debbie Reynolds (Singin' in the Rain) was also its first to be cast. "Debbie had decided she wanted to open herself up to doing some television. When we saw the list, we took one look at her name and said, 'Oh my god, would she really do it?,'" Sheri Singer, the film's executive producer, said. "And she did. We never went to anyone else."
3. Halloweentown had a modest budget.
When Duwayne Dunham, Halloweentown's director, first began working on the film, his budget was somewhere between $20 to $30 million. However, that was later slashed to just $4 million. Rather than scrap the project, Dunham and the crew managed to make ends meet. They shot the whole film in just 24 days, and instead of hiring a whole menagerie of monsters, they had to reuse extras and cast them in various fantastical roles.
4. Benny the skeleton was a favorite Halloweentown prop.
Though the film's budget was small, the production team did spend money on a certain cab driver. A fair amount of effort went into creating the sassy skeleton. He was built specifically for the film, and one person had to move his mouth while another attended to his various other limbs. The robot was worth the effort, though: "Benny is one of my favorite characters," Dunham said. "He's just kind of high-wired, kind of crazy, like a New York cabbie."
5. Halloweentown was filmed in St. Helens, Oregon.
Halloweentown may not be real, but St. Helens, Oregon, is. Though the city was only briefly transformed into a literal ghost town during filming, it still holds onto its Hollywood ties. Every year, St. Helens hosts the Spirit of Halloweentown festival. The event is packed with a spectacular assortment of spooky, family-friendly fun like costume contests and haunted tours. In 2017, the main Halloweentown cast reunited at the festival for the first time in nearly a decade to honor Reynolds, who died in late 2016.
6. You can pretend you're in Halloweentown and stay at Grandma Aggie's house.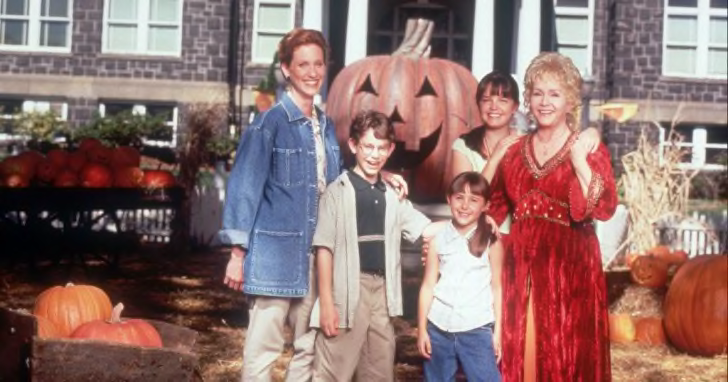 The Nob Hill Riverview Bed and Breakfast served as Grandma Aggie's house. You won't find any witchy kitsch or giant cauldrons inside the Queen Anne Victorian home, but you will be able to enjoy a romantic getaway, complete with cozy couches and freshly brewed coffee.
7. The actor who played Kalabar in Halloweentown had to learn a bit of magic.
You can't chalk all the magic in Halloweentown up to post-production wizardry. Robin Thomas, the actor who played Kalabar, had to learn a few basic tricks while filming. "That was not one of my skill sets," he told Bustle. "I had to practice with a cane, I practiced with an appearing cane and coin tricks where I pull a lollipop out of my ear and a coin out of [Sophie's] ear. That was fun."
8. The first spell Kal says in 2001's Halloweentown II: Kalabar's Revenge was actually a German song.
Daniel Kountz, the actor who played Kalabar's sinisterly suave warlock son in the Halloweentown II: Kalabar's Revenge, didn't realize he needed to come up with his own spell while opening the portal to Halloweentown. With just 15 minutes to conjure something up before filming started, he dipped into his memory bank and chose bits of a German song he'd learned in his high school choir.
9. The high school used in Halloweentown High (2004) will look familiar to Disney Channel Original Movie fans.
Halloweentown High sees a group of Halloweentown residents attending a normal high school as a sort of clandestine, interdimensional exchange program. The cast, too, spent time in a typical high school while filming the movie. The school scenes were shot at Juan Diego Catholic High School in Draper, Utah. Eagle-eyed Disney fans may feel a sense of déjà vu while watching the film. Turns out, Halloweentown High wasn't the first time a mythical character roamed the school's halls: The campus was also the setting for another holiday-related movie, The Luck of the Irish (2001).
10. Disney Channel Original Movie fans will also recognize some familiar faces in Halloweentown High.
Natalie the troll and Ethan the warlock may not have been the main characters in Halloweentown High, but that didn't stop their actors from going on to achieve Disney stardom. Olesya Rulin (Natalie) and Lucas Grabeel (Ethan) played Kelsi and Ryan in 2006's High School Musical.
11. Halloweentown fans weren't the only ones who were disappointed Marnie was recast in 2006's Return to Halloweentown.
Only Judith Hoag (Gwen Cromwell) and Joey Zimmerman (Dylan Cromwell) starred in all four films. Reynolds (Grandma Aggie) briefly appears in Return to Halloweentown, and Emily Roeske (Sophie) does not feature at all. And though Marnie is still a main character in the 2006 film, she's played by a different actress. It's unclear why Sara Paxton replaced Kimberly J. Brown—but regardless of the reasoning, fans weren't the only ones disappointed by the switch. "I was disappointed for the fans," Brown told Seventeen. "And I guess a little disappointed in general just because I love Marnie and love the series and just would always love to continue to play her."
12. The cast is open to another Halloweentown sequel.
Disney doesn't have any plans to open the portal to Halloweentown again at the moment, but that doesn't mean the gateway to the magical world has been sealed firmly shut. As the actors behind the Crowmwell clan told Bustle in 2018, they're keen to keep the beloved franchise going. "Let's absolutely do it again. I'll do it, we need everyone to get on board," Zimmerman said. "Yes, please, let's do it!"
13. You can buy Halloweentown merchandise created by Kimberly J. Brown on Etsy.
If you, like Grandma Aggie, believe "being normal is vastly overrated," you can sport your Halloweentown pride with some handcrafted goods, all created by the actress behind Marnie herself. Brown's Etsy shop is full of film-related merchandise, such as clothing and hand-painted signs.