The Quest for the North Pole: 39 Key Players You Should Know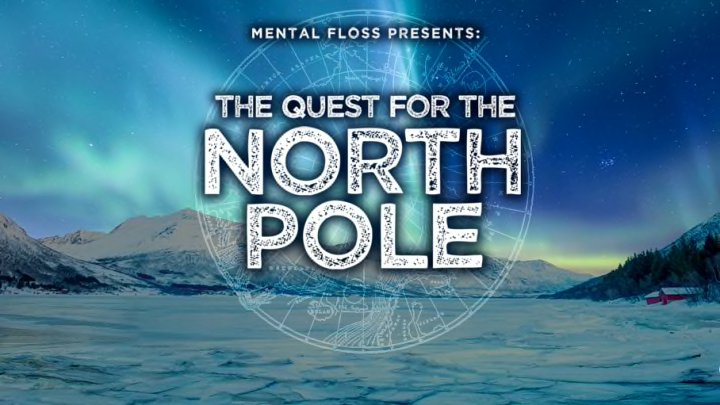 iHeart Radio/Mental Floss

Hundreds—perhaps thousands—of people took part in the international race to explore the Arctic and claim the North Pole. Here's a collection of some of the most important and influential figures discussed in Mental Floss's new podcast, The Quest for the North Pole. (Don't forget to subscribe here, or by clicking subscribe above!)
1. Arnaq // Inuit // ?-1577
Arnaq was the name assigned to an Inuit woman from Baffin Island in Nunavut, Canada, who was taken captive by Martin Frobisher in 1577, along with Kalicho and her infant son called Nutaaq. Arnaq means "woman" or "female" in Inuktitut.
2. William Baffin // English // c. 1584-1622
Baffin was a navigator and ship's pilot who searched for the elusive Northwest Passage. His namesakes are Baffin Island (now part of Nunavut, Canada) and Baffin Bay, which separates the island from Greenland. He found Lancaster Sound, the entrance to the Northwest Passage, but believed ice would always make it impassable. Baffin also sailed within 800 nautical miles of the geographic North Pole, the northernmost point then reached by a European in the Canadian Arctic—a record he held for more than two centuries.
3. Sir Joseph Banks // English // 1743-1820
An explorer, a naturalist, botanist, and patron of the natural sciences, Banks was the president of the Royal Society, Britain's leading scientific organization, from 1778 to 1820. In this role, he directed Britain's scientific priorities for more than 40 years. His imprimatur was required for proposed voyages of discovery, and he worked closely with Sir John Barrow on Admiralty-sponsored expeditions. Before becoming the society's president, Banks sailed on voyages to Newfoundland and Labrador in 1766, around the world with Captain James Cook in 1768–71, and to Iceland in 1772.
4. William Barents // Dutch // 1550-1597
Born Willem Barentsz, this navigator, cartographer, and Arctic explorer made three expeditions in search of a Northeast Passage. In his first two voyages, Barents sailed as far north as Novaya Zemlya (a.k.a. Nova Zembla), an archipelago in the Arctic Ocean in northern Russia. The Barents Sea is named after him. During his third expedition, he identified Spitsbergen and Bear Island, but was forced to overwinter on Novaya Zemlya and died on the journey home.
5. Sir John Barrow // English // 1764-1848
Barrow was the longtime second secretary of the Admiralty, the British government agency that ran the Royal Navy. Following the 1817 report from William Scoresby, Jr., of ice-free polar seas, Barrow organized a campaign of polar exploration that began in 1818 and lasted through the many search expeditions for Sir John Franklin in the 1850s. He collaborated with Sir Joseph Banks on the government's scientific priorities as well.
6. Robert Bartlett // Canadian // 1875-1946
Over the course of 50 years, Captain Robert Bartlett made over 40 northbound voyages. He was the captain of the Roosevelt for Robert Peary's final two attempts to reach the North Pole and was in the final relay party to turn back. Between 1913 and 1918, Bartlett was the captain of the Canadian Arctic Expedition's ship Karluk, which was crushed in ice north of Siberia (he survived). During his long career, Bartlett lived through two shipwrecks and contributed significantly to scientific and cartographic knowledge of the Arctic.
7. David Buchan // Scottish // 1780-1838
A Royal Navy officer who led a single Arctic expedition in 1818, Buchan was captain of HMS Dorothea which, along with the Trent, tried to find an ice-free passage at the North Pole. He intended to sail into the Pacific Ocean through the Bering Strait. Polar ice north of Spitsbergen barred their way and storms forced the two ships to return to England.
8. Frederick Cook // American // 1865-1940
Cook was an explorer, physician, and ethnographer who served as surgeon on Robert Peary's second Arctic expedition. Cook declared that he had reached the North Pole in 1908, a year before Peary, who would denounce his claim. (Both men's claims have been disputed.) Cook's Inughuit guides later stated that the expedition stopped hundreds of miles short of its goal and that Cook never reached the North Pole.
9. Leif Erikson // Icelandic // c. 970-c. 1020
A Viking explorer from Iceland, Leif Erikson was the first known European to have landed on the continent of North America. According to one legend, he was sailing to Greenland when he got blown off course and arrived at the shores of what is now Newfoundland, Canada. Erikson established a settlement called Vinland, which lasted less than two years due to tensions between settlers and Indigenous people.
10. Sir John Franklin // English // 1786-1847
A Royal Navy rear admiral and explorer, Franklin captained the Trent on the 1818 Arctic expedition with David Buchan. He later led two overland expeditions in Canada that mapped large areas of previously uncharted coastline. Franklin is best remembered for leading the 1845 expedition in search of the Northwest Passage, during which all crew members, including himself, died due to unknown circumstances. To this day, the lost Franklin Expedition is one of the most enduring mysteries of polar exploration.
11. Sir Martin Frobisher // English // c. 1535-1594
Frobisher was a sailor and privateer who embarked on three voyages to North America in the 1570s seeking the fabled Northwest Passage. On his first trip, Martin Frobisher sighted the coast of Labrador in modern-day Canada and sailed to Frobisher Bay near Baffin Island, Nunavut, believing it was Asia. Frobisher attempted to establish a gold mine and took four Inuit hostages—Kalicho, Arnaq, Nutaaq, and an unnamed man—back to England before his efforts went bust.
12. Adolphus Greely // American // 1844-1935
A polar explorer and U.S. Army officer, Greely led the ill-fated Lady Franklin Bay Expedition (1881-1884) to the Arctic Circle. He built Fort Conger, later used as a base camp by Robert Peary, on the bay on Canada's Ellesmere Island. After three years stranded in the Arctic without being resupplied, Greely and a few surviving crew members were finally rescued.
13. Charles Francis Hall // American // 1821-1871
An independent explorer, Hall made three Arctic voyages accompanied by the Inuit couple Taqulittuq and Ipirvik, the most important of which was the 1871 Polaris expedition to reach the North Pole. Hall is best known for living as the Inuit did during his expeditions and for his suspicious death while leading the Polaris voyage. Before he died, Hall claimed that crew members (specifically Emil Bessels, the expedition's lead scientist) had poisoned him. An exhumation of his body almost 100 years later confirmed that he had ingested arsenic.
14. Hans Hendrik // Inuit // 1832-1889
A native of southwestern Greenland, Hendrik participated in four major Arctic expeditions as an interpreter, hunter, and guide: with Elisha Kent Kane in 1853, with the American explorer Isaac Israel Hayes in 1860, with Charles Francis Hall's Polaris expedition in 1871, and with the Nares expedition in 1875. Hendrik was the first Inuit person to publish a memoir of his polar adventures.
15. Matthew Henson // American // 1866-1955
A polar explorer who accompanied Robert Peary as his assistant on seven Arctic expeditions, Henson designed and built sledges, mastered the art of driving a dogsled, and spoke Inuktitut fluently. Henson was part of Peary's 1909 expedition that claimed to have reached the geographic North Pole. As an African-American adventurer, Henson received little recognition for his achievements from the mainstream press or exploration societies.
16. Henry Hudson // English // c. 1565-1611
Hudson was an explorer and navigator who undertook four major sailing voyages in search of sea routes to Asia. In 1607 and 1608, English merchants sent Henry Hudson on two expeditions to locate a rumored Northeast Passage to present-day China. In 1609, as a commander for the Dutch East India Company, he sailed to North America, this time looking for a Northwest Passage. He explored the area surrounding what would become New York City. On his last voyage in 1610, he entered Hudson Bay in modern-day Canada. His crew mutinied in 1611. Cast adrift, Hudson was never seen again.
17. Iggianguaq (Egingwah) // Inughuit // ?
Iggianguaq (Egingwah) was a hunter, guide, and member of the 1909 North Pole party with Robert Peary and Matthew Henson. He was Odaq's (Ootah's) younger brother, and "of good report in his community," according to Henson. With Sigluk (Seegloo), he drove Peary's sledge on the North Pole journey.
18. Ipirvik (Ebierbing or Joe) // Inuit // c. 1837-1881
The husband of Taqulittuq, Ipirvik was a hunter and guide who assisted Charles Francis Hall and many other Arctic explorers in the 1860s and 1870s. With Hans Hendrik, Ipirvik hunted fresh meat and kept the stranded Polaris survivors alive. He and Taqulittuq traveled extensively in the United States and England.
19. Kalicho // Inuit // c. 1550-1577
Kalicho was an Inuit man from the Frobisher Bay area of Baffin Island in Nunavut, Canada. Along with Arnaq and Nutaaq, Kalicho was brought back as a hostage to England by Martin Frobisher in 1577. All three captives died within two months of arrival in England.
20. Elisha Kent Kane // American // 1820-1857
A U.S. Navy medical officer, Kane participated in unsuccessful rescue missions to find the lost Franklin Expedition in the 1950s. He set out in 1853 not only to search for Franklin but also to determine the existence of an open polar sea. He was forced to abandon his icebound ship and march to safety, the accounts of which became bestselling books.
21. George Francis Lyon // English // 1796-1832
An Arctic explorer, a Royal Navy officer, artist, and writer, Lyon is best remembered for his illustrated journal and pencil drawings of Inuit life. He drew the sketches while serving as second-in-command in Sir William Edward Parry's 1821 expedition in search of the Northwest Passage. In 1824, Lyon's journal was published to wide acclaim.
22. Donald Baxter MacMillan // American // 1874-1970
MacMillan was a sailor, scientist, and lecturer who made over 30 Arctic expeditions, one of which was Peary's 1908-1909 North Pole expedition. MacMillan studied Indigenous life and languages, compiled an Inuit-English dictionary, and founded a school for Inuit children in Labrador. In 1913, he led the Crocker Land Expedition and ended up stranded in the Arctic until he was rescued by Robert Bartlett in 1917. During World War II, he served as an Arctic consultant to the U.S. Navy. MacMillan was a close friend of Matthew Henson.
23. Sir Albert Hastings Markham // English // 1841-1918
An explorer, author, and officer in the Royal Navy, Markham became a naval commander in 1872 and, while on leave in 1873, sailed to Davis Strait and Baffin Bay. He also served on Sir George Strong Nares's Arctic expedition from 1875 to 1876. During that trip, his sledging party reached the farthest north of any known European, which remained a record for nearly 20 years.
24. Fridtjof Nansen // Norwegian // 1861-1930
An oceanographer, a diplomat, and Nobel Peace Prize laureate, Nansen was one of history's most innovative explorers. On cross-country skis, Fridtjof Nansen made the first crossing of Greenland's interior in 1888. During the mid-1890s, on his ship the Fram, Nansen and his assistant Hjalmar Johansen left the ship in the hands of Captain Otto Sverdrup and attempted to ski to the North Pole. Failing that, they wintered on Franz Josef Land until they were rescued by a British expedition. Nansen achieved international fame for his farthest north record, in addition to his innovations in polar equipment and ship design. Following his polar career, he helped refugees following World War I and coordinated relief during the Russian famine.
25. Sir George Strong Nares // English // 1831-1915
An Arctic explorer and a Royal Navy officer, Nares took part in one of the searches for Sir John Franklin's lost ships in the 1850s. Nares commanded both the Challenger Expedition of 1872-1876 and the British Arctic Expedition of 1875-1876. During the latter, Albert Hastings Markham reached a record northern latitude, but the expedition was cut short by scurvy. He is also credited with developing the field of oceanography through his expeditions. Nares Strait, between Ellesmere Island and Greenland, is named after him.
26. Nutaaq // Inuit // C. 1576-1577
Nutaaq was the name given to Arnaq's infant son, who was taken captive with his mother and an Inuit man named Kalicho during Martin Frobisher's second voyage. After Arnaq passed away in Bristol, England, Frobisher sent Nutaaq to London, but the baby died there shortly afterward. Nutaaq means "new" in Inuktitut.
27. Odaq (Ootah) // Inughuit // c. 1875-1955
Odaq (Ootah) was a prominent hunter in Etah and one of Robert Peary's most trusted Inughuit partners. He was one of the four Inughuit members of the 1909 North Pole team with Peary and Matthew Henson. "Ootah, of my party, was the oldest, a married man, of about 34 years, and regarded as the best all-around member of the tribe, a great hunter, a kind father, and a good provider," Henson wrote.
28. Sir William Edward Parry // English // 1790-1855
An explorer and naval officer, Parry served as John Ross's second-in-command on their 1818 expedition to locate the Northwest Passage. The following year Parry sailed westward through Lancaster Sound and Parry Channel in the Canadian Arctic farther than any explorer had before, earning a 5000-pound prize from the British government. Parry also led one of the first expeditions to the North Pole in 1827, setting a new farthest north record, but he failed to reach the Pole.
29. Robert Edwin Peary // American // 1856-1920
A polar explorer and naval engineer who embarked on multiple Arctic expeditions, Peary was the best-known American adventurer at the turn of the 20th century. With financial support from the philanthropists in the Peary Arctic Club, he became famous in 1909 for claiming to have reached the geographic North Pole, but that claim has been disputed ever since. His team for the North Pole attempt included Matthew Henson, Odaq, Sigluk, Ukkaujaaq, and Iggianguaq.
30. Constantine Phipps // English // 1744-1792
An explorer and an officer in the Royal Navy, Phipps sailed to Newfoundland and Labrador in 1766 along with botanist Joseph Banks. In 1773, Phipps undertook an expedition to the North Pole with two ships, the Racehorse and the Carcass (the latter captained by Commander Skeffington Lutwidge). During that voyage, he set a farthest north record that stood until William Scoresby, Jr. reached 81°30' North in 1806.
31. Ralph Plaisted // American // 1927-2008
An insurance salesman and amateur explorer from Minnesota, Plaisted made it to the North Pole with three companions on snowmobiles in 1968. On the journey, he received air drops of food, gasoline, and other supplies. His arrival at 90° North was recorded by navigators on an Air Force plane that was there to pick them up. Because previous claims had always been in doubt, Plaisted was credited with the first undisputed surface conquest of the geographic North Pole.
32. John Rae // Scottish // 1813-1893
A physician, surgeon, and an explorer of the Canadian Arctic, Rae was known for his resourcefulness and respect for Indigenous people and their skills. Between 1846 and 1854, John Rae embarked on four Arctic surveying expeditions on behalf of the Hudson's Bay Company. In 1854, Rae spoke with Inuit who revealed the events of the last days of the Franklin Expedition. Rae reported his findings to the Admiralty, including that Franklin's men resorted to cannibalism, and was shunned by Victorian society.
33. Sir John Ross // Scottish // 1777-1856
A polar explorer, distinguished Royal Navy officer, and diplomat, Ross set sail with Edward William Parry in 1818 to find the Northwest Passage between the Atlantic and Pacific oceans. He made another major polar expedition in 1829 in the Victory, in which ice forced the crew to abandon ship. They were eventually picked up by a whaler in 1833. Ross recorded several positive encounters with uncontacted Inuit communities in the Canadian Arctic and Greenland.
34. John Sacheuse (Sakeouse) // Inuit // c. 1797-1819
A whaler, artist, and Inuit interpreter, Sacheuse was a native of southern Greenland and joined John Ross on his 1818 expedition to look for the Northwest Passage. He was instrumental in communicating with an uncontacted community of Inughuit.
35. William Scoresby, Jr. // English // 1789-1857
A polar explorer, scientist, and whaling captain, Scoresby was a pioneer in the scientific study of the Arctic. In his father's whaling ship, he set a farthest north record in 1806. In 1817 his letter to Sir Joseph Banks, which revealed that the polar regions were largely free of ice, renewed Britain's search for the Northwest Passage. His 1820 book, Account of the Arctic Regions with a History and Description of the Northern Whale-Fishery, put forth his own findings in addition to those of earlier mariners. Scoresby's research also contributed significantly to knowledge of Earth's magnetism.
36. Sigluk (Seegloo) // Inughuit // ?
Sigluk (Seegloo), from Etah in northwestern Greenland, was a member of the 1909 North Pole team with Robert Peary, Matthew Henson, and three other Inughuit guides. Henson called him "the old campaigner," and wrote, "if there was ever any sentiment among the [Inuit] in regard to the success of the venture, Ootah and Seegloo by their unswerving loyalty and fidelity expressed it. They had been members of the 'Farthest North Party' in 1906, the party that was almost lost beyond and in the 'Big Lead,' and only reached the land again in a state of almost complete collapse. They were the ones who, on bidding Commander Peary farewell in 1906, when he was returning, a saddened and discouraged man, told him to be of good cheer and that when he came back again Ootah and Seegloo would go along, and stay until Commander Peary had succeeded, and they did."
37. Otto Sverdrup // Norwegian // 1854-1930
An Arctic explorer, sailor, and cartographer, Sverdrup was introduced to polar exploration by Fridtjof Nansen, who invited him in 1888 to trek across Greenland on skis. During the mid-1890s, Sverdrup commanded Nansen's ship Fram on its famous drift across the Arctic Ocean. He is best known for an 1898 expedition to Ellesmere Island (now part of Canada) and its surrounding islands, where he spent the next four years mapping vast areas of the Arctic.
38. Taqulittuq (Tookoolito or Hannah) // Inuit // c. 1838-1876
Takulittug was an Inuit interpreter and guide. She and her husband Ipirvik assisted Charles Francis Hall in the 1860s and joined him in the search for Franklin's lost expedition. Taqulittuq and Ipirvik also took part in the Polaris expedition of 1871–1873 to reach the North Pole, and survived the 2000-mile drift on an ice floe to safety after the ship abandoned part of its crew.
39. Ukkaujaaq (Ooqueeah) // Inughuit // C. 1890-?
Ukkaujaaq (Ooqueeah) was one of the four Inughuit guides who accompanied Robert Peary and Matthew Henson toward the North Pole in 1909. With Odaq (Ootah), he was part of Henson's party. Henson described him "very study and stocky of build, and with an open, honest countenance, a smile that was 'child-like and bland,' and a character that was 'child-like and bland.'"