When Bill Haley and His Comets Started A Rock 'n' Roll Revolution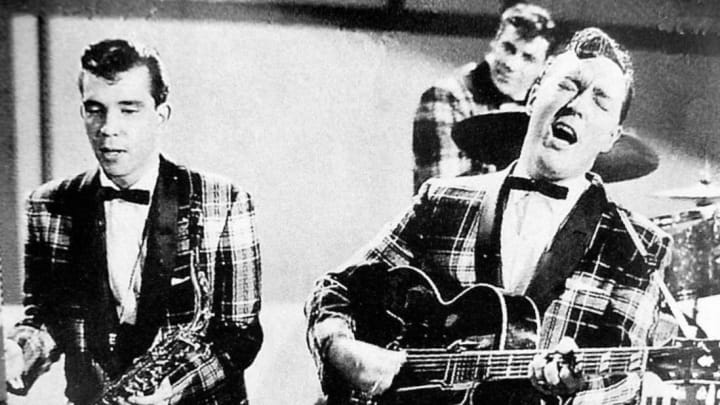 In 1954, Bill Haley and His Comets rocked around the clock—and changed the course of rock history. / Hydra Records // Wikimedia Commons
On May 20, 1954, Bill Haley & His Comets released "(We're Gonna) Rock Around The Clock," a song that would change the sound of American music. It might not have been the first rock 'n' roll song, but it's widely regarded as the song that brought rock to the mainstream.
But what was it about "Rock Around the Clock" that made it such a musical outlier at the time of its release? During the eight-week span of when Haley recorded the song in April 1954 and when it was released on May 20, Perry Como's crooner ballad "Wanted" was No. 1. Kitty Kallen's forlorn "Little Things Mean a Lot" was the song of the summer, topping the charts for nine weeks in June and July. And '50s boy band the Crew Cuts closed out the summer with their doo-wop hit "Sh-Boom."
Unfortunately, "Rock Around The Clock" was issued as a B-side to "Thirteen Women (And Only One Man In Town)" and didn't pick up much traction upon release. But the following year, the movie Blackboard Jungle (featuring a 28-year-old Sidney Poitier as a rebellious high school student) played the song over its opening credits, and the teenage audience went crazy for it. The song climbed the charts and hit No. 1 in July, taking over from the widely popular instrumental mambo "Cherry Pink (and Apple Blossom White)," by Pérez Prado and His Orchestra. Haley and the Comets had set the rock train in motion, and by the following year, Elvis Presley would cement the nation's obsession with the genre with his string of number 1 hits.