9 Bizarre Objects Owned by Henry VIII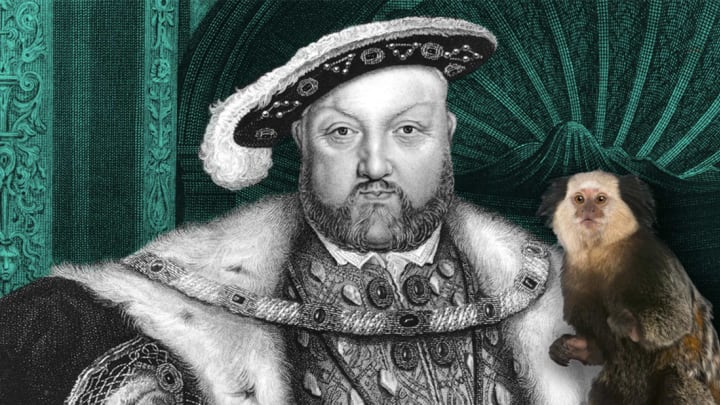 Hulton Archive/Getty Images (Henry VIII), iStock (Marmoset) / Hulton Archive/Getty Images (Henry VIII), iStock (Marmoset)
Six months after Henry VIII died in 1547, a full inventory of all of the possessions of Henry's crown was commissioned in London. Now housed in The British Library, the inventory took 18 months to complete and listed tens of thousands of individual items—from castles and ships to more than 3500 gold and silver trinkets, as well as Henry's enormous collection of 2000 tapestries.
Also making the list, however, were a handful of more bizarre objects, including an orchestra's worth of musical instruments [PDF], experimental weapons, and one of the largest suits of armor in British royal history. Add to that some of the incredible gifts Henry received from fellow rulers during his lifetime—as well as some of the surprising personal items he commissioned for his own use while on the throne—and arguably the most famous king in British history owned some very unusual curiosities indeed.
1. A SET OF PURPLE VELVET BAGPIPES
Although he probably didn't write "Greensleeves," Henry was nevertheless a talented musician and composer, and was able to play the organ, the lute, the flute, and the virginal, an early form of harpsichord. Most of Henry's personal collection of musical instruments was housed at Westminster Palace in London, where they were maintained by a Flemish-born composer named Philip van Wilder, who was given the title of "Keeper of the King's Instruments." Henry's 1547 inventory lists more than 20 recorders, 19 viols, two clavichords, and four sets of bagpipes—including one made of purple velvet, with ivory pipework.
2. A BOWLING ALLEY
Shortly after the birth of his son Edward (later the short-lived King Edward VI) in 1537, Henry had a bowling alley built at Hampton Court Palace on the outskirts of London. At almost 200 feet long, it was more than three times the length of a modern 10-pin bowling alley. Bowling was a hugely popular pastime in Tudor England—at least until Henry's daughter, Queen Mary I, outlawed the "keeping of any bowling-alleys, dicing houses, or other unlawful games" in 1555.
3. A "SCAVENGER'S DAUGHTER"
The "scavenger's daughter" was a gruesome and brutal instrument of torture invented sometime during Henry VIII's reign by Sir Leonard Skevington, the Lieutenant of the Tower of London. The device consisted of an A-shaped iron brace, inside of which a victim would be made to sit in a crouched position, with their head almost touching their knees, and their wrists, ankles, and neck shackled in place. An iron bar passed through the top of the A-frame would then be tightened like a vice, crushing the victim with excruciating force—apparently, until the eyes, nose, and even ears began to bleed. The "scavenger's daughter" was intended to be an alternative to the rack, which stretched its victims rather than compacting them, but unlike the rack, it mercifully seems to have only been used occasionally.
4. A MARMOSET
By all accounts, Henry VIII loved animals. He kept ferrets, hawks, falcons, and numerous other birds (the windows at Hampton Court were surrounded by cages containing canaries and nightingales), and owned dozens of dogs during his lifetime; after his death, more than 60 dog leashes were found in his wardrobe. By far Henry's most unusual pet, however, was a marmoset he received as a Christmas present in the late 1530s. Coincidentally, his first wife, Catherine (sometimes Katherine) of Aragon, also had a pet marmoset, and was even painted with it earlier that decade. But are these the strangest royal pets on record? Oddly enough, they aren't—in 1252, King Henry III was given a polar bear by the Norwegian king, Haakon IV, which was housed at the Tower of London and kept on an enormous leash long enough to allow it to swim in the river Thames.
5. A CODPIECE LARGE ENOUGH TO CONCEAL A WEAPON
Henry VIII is credited with popularizing the peculiar Tudor fashion for enormous, exaggerated codpieces, which during his reign established themselves as symbols of a man's virility and masculinity. The king, of course, had to have the biggest codpiece of all—and toward the end of his life, Henry's codpieces had become roomy enough for him to use them as glorified pockets, in which he could keep jewels and other valuables, and even small weapons. He even had them built into his armor.
6. A MACE PISTOL
This monstrous-looking device is called a mace pistol, although in Henry's day it was nicknamed the "holy water sprinkler," or "the king's walking staff." Now housed in the Royal Armouries in Leeds, England, the weapon was comprised of a pronged mace concealing three gun barrels in its spiked head. Henry apparently had a habit of wandering the streets of London at night brandishing his "walking staff" in order to check that his constables were doing their work properly. However, one night he was arrested for carrying a weapon by one of his men who failed to recognize him, and ended up spending a night in a prison cell. When the constable recognized his error the following day, he presumed the king would have him immediately executed—but instead, Henry granted him a handsome raise, and supplied all the prisoners with whom he had spent the night a supply of coal and bread.
7. A PAIR OF FOOTBALL BOOTS
Records show that in 1526, Henry VIII commissioned a pair of leather football boots at a cost of 4 shillings (around £90, or $130 today); 14 years later, in 1540, he banned football on the grounds that it incited riots.
8. A SUIT OF ARMOR (WITH A 51-INCH WAIST)
A suit of armor made for Henry, five years into his reign in 1514, shows that the 23-year-old king was 6-foot-1, and had an athletic 32-inch waist and a 39-inch chest. Twenty-five years of a king's diet later, a suit of armor Henry had made for a May Day tournament in 1540 when he was 49 years old shows that he now required a 51 inch waist, and a 54.5 inch chest.
9. A HORNED HELMET
This bespectacled, demon-faced "Horned Helmet" was presented to Henry VIII by the Holy Roman Emperor Maximilian I in 1514 (along, tragically, with the rest of a now-lost suit of armor). After Henry's death in 1547, his court jester, Will Somers, apparently took possession of it and most likely incorporated it in his act.