20 Behind-the-Scenes Facts About MTV's The Challenge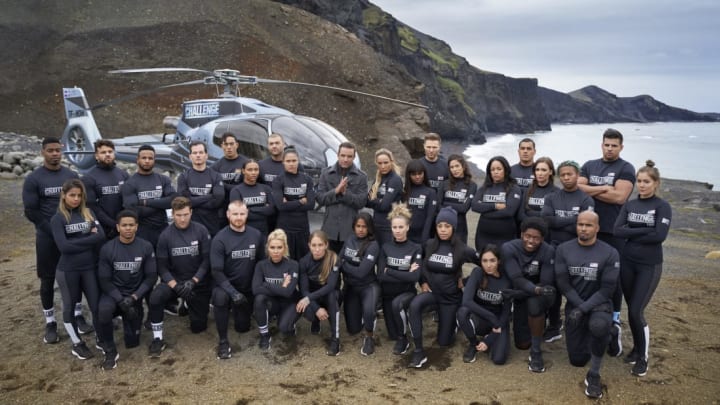 The cast of 'The Challenge: All Stars' (2021) are ready to compete. / MTV Entertainment Group
After 36 seasons, MTV's The Challenge is a reality television institution: No TV show has pitted more former, current, and future reality stars against one another—often at the same time. Looking back, it's remarkable to witness the prescience, and sometimes good fortune, of the people who created the show, then turned it into one of the longest-running reality series of all time.
What began with one happenstance choice to gather cast members in an RV became a rolling feast for reality television stars and scenarios. Over the years, The Challenge has pitted lovers, friends, and enemies against one another, creating rivalries and forming new relationships both on-screen and with viewers as they absorbed the concentric circles of MTV's smorgasbord of reality shows.
To commemorate the show's almost unimaginable success, and its 23-year endurance, Mental Floss revisited the complex and colorful history of the show, with the help of Emer Harkin, a longtime producer-turned-co-executive producer on The Challenge and executive producer/showrunner of season 36's The Challenge: Double Agents.
1. The Challenge premiered in 1998, but under a different title.
A scene from The Challenge: All Stars (2021). / MTV Entertainment Group
Originally titled Road Rules: All Stars, the show premiered on June 1, 1998, as both a spinoff and combination of Road Rules (which first premiered in 1995) and The Real World—the unofficial catalyst for all reality TV programming for the last three decades. (The idea for Road Rules developed after three participants in The Real World's second season took a recreational vehicle across the country to get to their Los Angeles house.)
2. The idea for The Challenge originated in a Real World-Road Rules crossover episode.
The first iteration of the show came when the casts of The Real World: Boston and Road Rules: Islands met while the Real World cast vacationed in Puerto Rico. Producers set up a competition between the two for cash prizes, and the broadcast generated high ratings for MTV. After a second competition between The Real World: Seattle and Road Rules: Down Under casts produced similar ratings, MTV greenlit the format as a series with Bunim/Murray, the production company behind both reality series.
3. The Challenge was originally a vehicle for Real World roommates only.
The original premise focused exclusively on The Real World alumni as they, like their Road Rules counterparts, would complete assigned missions in order to receive "a handsome reward," and had all of their cash and credit cards confiscated. Challenges included both creative tasks like "Prove Existence of Ghosts" and "Record a Song" as well as more straightforward assignments like working a full day at Hot Dog on a Stick. At the end of the series, each cast member won a trip for two to Costa Rica, the only time in the show's history when a cash prize wasn't awarded.
4. In The Challenge's early days, the cash prizes were delivered via a wind machine.
In season 2, the show's title was changed to Real World/Road Rules Challenge. (It would be further abridged to its current title, The Challenge, in season 19.) Appropriately, the second season formally pitted The Real World and Road Rules cast members against one another to win time in a "money machine"—a wind chamber containing $50,000. Teams also competed over possession of a teddy bear as an additional challenge.
5. The Challenge didn't always have a host.
MTV Entertainment Group
Although the show originally had no official host, cast members who were kicked off of their respective series were brought in to deliver messages and provide assignments for the competitors, beginning with David "Puck" Rainey from The Real World: San Francisco. After a stint with The Real World alum Eric Nies as co-host, the show started using outside hosts like skier Jonny Moseley, and in one episode of season 3 (Challenge 2000), Verne Troyer filled the role. T. J. Lavin became the regular host in season 11.
6. The Real World alumni pranked their Road Rules counterparts during Challenge 2000.
While in Miami during Challenge 2000, The Real World team organized a fake mission to trick their Road Rules opponents. After convincing them to complete a scavenger hunt involving painting an old man's toes and getting buried in the sand, the Real Worlders partied on South Beach, eventually revealing their ruse and presenting the Road Rulers with a prize—a box of suckers.
7. The Challenge has featured some celebrity judges—and a racy competition that only aired once.
Upright Citizens Brigade members, including Amy Poehler, served as "mayors," and Tina Fey was a guest judge in season 4, Extreme Challenge, when teams had to perform improv in front of a live audience. Another episode, "Couple Fashion Show," featuring a dress-up competition at a fetish club, never aired again after its original broadcast.
8. Only one stunt was ever deemed too dangerous on The Challenge.
Season 4 marked the first and only time a mission got scrapped because it proved too dangerous. The "human catapult" was shut down after one tester broke their leg and another broke an arm.
9. Injuries are as much a part of The Challenge as alliances, rivalries, and hook-ups.
Injuries became commonplace across the various seasons, sometimes because of the challenges themselves, though also because of adverse locations or preexisting conditions. These injuries were often folded into the show to create drama—when a contestant was hurt during a challenge, it made them vulnerable to elimination.
10. The Challenge's producers take a number of special precautions to prevent injuries from happening.
A still from The Challenge: All Stars (2021). / MTV Entertainment Group
The Challenge's producers follow strict guidelines to make sure the cast members are safe, taking special precautions in order to reduce injuries and keep competitors out of harm's way. "I would say that the completion of a successful challenge is particularly exhilarating," Double Agents executive producer and showrunner Emer Harkin tells Mental Floss. "Whether that's filming inside a volcano or an elaborate stunt out of an airplane or an underwater challenge in freezing temperatures."
11. Johnny "Bananas" Devenanzio is The Challenge's most successful contestant.
Prizes in season 2 amounted to a few thousand dollars per contestant, which was a tiny sum considering how much money contestants could earn just a few years later. Johnny Devenanzio, a.k.a. Johnny Bananas, has won the most money throughout the history of the series, with almost $1.2 million in earnings.
12. Playing with the personal dynamics of The Challenge's competitors can make for some great television.
Very quickly, themes emerged from one season to the next, setting competitors apart by gender, the longevity of their appearances on their original shows or on The Challenge, romantic entanglements, or other conflicts like "Heroes vs. Villains." Harkin says she always enjoyed watching these dynamics play out: "Exes is always pretty fun and amazing," she says. "Rivals, free agents, and exes always do great. Battle of the Seasons was less of a ratings smash hit, but was one of my favorite seasons visually."
13. The Challenge maintains a zero tolerance policy toward physical violence.
Battle of the Sexes 2 marked the second time that a competitor was ejected from the show, after Steven Hill slapped Shane Landrum. Steven apologized immediately and Shane indicated he didn't want him to go, but the rules on The Challenge are clear: no physical violence. That season, which aired between 2004 and 2005, also marked Nies's final appearance, after which he retired from the show. (Though he did just appear on Paramount+'s The Real World Homecoming: New York.)
14. Johnny Devenanzio holds the record for most seasons on The Challenge.
As of 2021, Devenanzio—who originally appeared on The Real World: Key West in 2006—has made the most appearances on The Challenge, with 20. The Real World: Paris's Chris "CT" Tamburello is close behind with 18.
While Harkin says she's reluctant to pick a favorite cast member, she has developed attachments over her years of working on the show. "I've got a unique relationship with each of them," she says. "Aneesa [Ferreira] was on my very first season, so that's cool, we go way back and are both still here today. I've known [Tamburello], [Nany González], [Devenanzio], Leroy [Garrett], Laurel [Stucky], Darrell [Taylor], and Wes [Bergmann] for over 10 years now, and we've been through so much together, so there's a special place in my heart for each of them. There's so much brilliant talent out there that I'd love to bring into The Challenge fold, it's impossible to limit to a name or show, or even country."
15. The Challenge has kept one step ahead of its reality show competitors by always changing the rules.
A scene from The Challenge: All Stars (2021). / MTV Entertainment Group
Throughout the evolution of the series, the producers responded to the expanded landscape of reality TV and reality competition programming by changing the rules from one season to the next, implementing new challenges and choosing new settings.
16. In 2014, The Challenge tragically lost one of its longtime—and most beloved—competitors.
While the conflicts on the show may sometimes seem petty, the challenges sometimes bring out more serious revelations. During season 12, Fresh Meat, Diem Brown revealed to her partner Derrick Kosinski that she had been diagnosed with ovarian cancer. The revelation led MTV to donate $5000 to her charity organization during the reunion special. After a second diagnosis in 2012, Brown competed in The Challenge: Rivals II, but while competing the next year for Battle of the Exes II, she collapsed on set. It was later revealed that she was diagnosed a third time and had kept it hidden from the producers. She passed away on November 14, 2014.
17. More recent seasons of The Challenge have seen stars of other reality TV series come in to compete.
In 2015, Battle of the Exes II also marked the first season in which competitors were culled from MTV's Are You The One?, a show not produced by Bunim/Murray. In season 31, Vendettas, casting was expanded to include cast members and contestants from the U.S. version of Big Brother and the UK television series Ex on the Beach and Geordie Shore. The following season, Final Reckoning, featured cast members from Bad Girls Club and Vanderpump Rules as well, leading to an ever-expanding cast of participants going forward.
18. Several Challenge alums have appeared on other reality shows.
A number of The Challenge competitors went on to appear on other reality series: Laurel Stucky and Aneesa Ferreira were teamed up on Fear Factor in 2017, and Stucky later appeared on season 4 of Ex on the Beach with former girlfriend Nicole Zanatta from Real World: Skeletons. In 2018, Cara Maria Sorbello also appeared on Fear Factor (with Tamburello) and in the same year appeared on How Far Is Tattoo Far?
19. Due to the COVID-19 pandemic, The Challenge: Double Agents was filmed in a bubble.
Filming for season 36 of The Challenge, Double Agents, took place in Iceland during the COVID-19 pandemic. As such, extensive precautions were implemented to ensure the safety of the cast and production staff. Cast and crew were tested every three days, and international crew occupied a hotel while locals were sent home to protect the production "bubble," which was maintained through use of a tiered system designated by colored bands. During the nine weeks of filming for the season, not one of the 3000 COVID-19 tests given came back positive. "Wrapping on a season finale is a very sweet moment," Harkin says. "Especially the Double Agents finale, when we managed to get it done against all odds in the middle of a hurricane!"
20. The Challenge's producers have never come up with a mission they couldn't pull off.
A still from The Challenge: All Stars (2021). / MTV Entertainment Group
Harkin says there's nothing that hasn't been tried on the show with regard to challenges too tough, scary, or thrilling for television. "Holy grail challenges are those that feel almost impossible to begin with, but we don't give up until we figure them out," she says. "It could be an extreme location that poses a lot of difficulty logistically—shooting over the edge of a waterfall or on top of 100-story buildings—or with dangerous stunt components, with race cars, helicopters, or airplanes. There's literally never been a challenge that we've created that we haven't pulled off."
The most recent season, The Challenge: All Stars, premiered on April 1, 2021 on Paramount+ and went back to basics by featuring only members of The Real World and Road Rules casts. It remains to be seen whether the show will remain an all-MTV event or go back to the format of the last few seasons and feature participants from across the reality television universe.
But given the popularity of The Real World: Homecoming, it seems fairly certain that The Challenge will not only endure, but flourish for many years to come.