The 10 Most Stressed Out States in America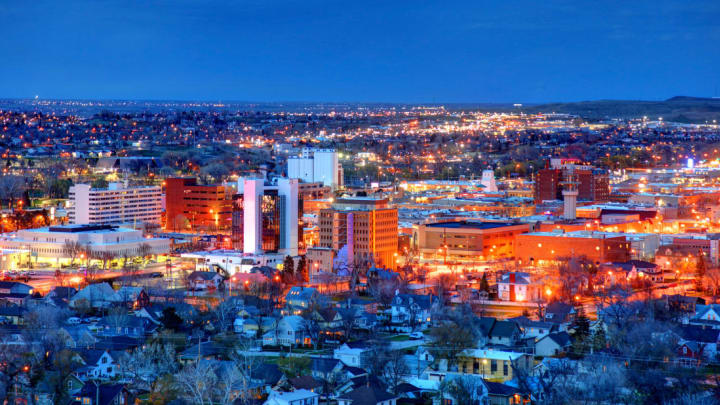 Rapid City, South Dakota, at night. / DenisTangneyJr/iStock via Getty Images
Serenity may be a state of mind, but your physical location still plays a big role in your mental wellbeing. Factors that vary by region—like housing, weather, and the job market—can make the difference between a well-adjusted person and someone about to reach their breaking point. If you're feeling on edge, see if you live in one of the most stressed-out states in the U.S. listed below.
Vaped.com used the word analysis tool TensiStrength to gauge the stress levels of roughly 5 million tweets. They categorized the tweets by state to determine the parts of the country where residents are most high-strung.
South Dakota was named the "least chill" state, with only 2.94 percent of tweets from users there conveying a relaxed mindset. The South and East Coast dominated the list, with South Carolina, West Virginia, Rhode Island, and New York rounding out the top five.
Vaped.com employed the same methodology to look at America's most chill states. Missouri, Idaho, and California are the places where people are most likely to be easygoing, according to tweets from the states.
You can check out the full list of the 10 most stressed out states in the country below. If you're more interested in looking for places to unwind, these are the states that have the most fun.
South Dakota
South Carolina
West Virginia
Rhode Island
New York
New Mexico
Maryland
North Dakota
Washington
Florida