Hundreds of Franz Kafka's Private Letters, Sketches, and Other Papers Have Been Digitized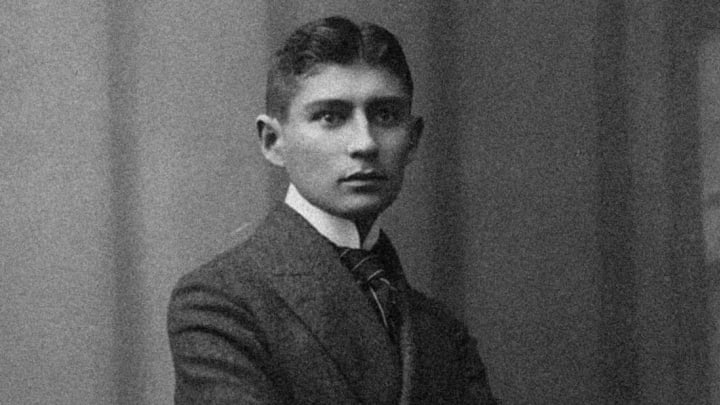 Franz Kafka thinking about burning all his works. / Fine Art Images/Heritage Images/Getty Images
When Franz Kafka realized his health was deteriorating in the early 1920s, he asked his friend and literary executor Max Brod to destroy all of his personal documents after his death.
"My last request," Kafka wrote. "Everything I leave behind me … in the way of diaries, manuscripts, letters (my own and others'), sketches and so on, to be burned unread."
This wasn't exactly surprising. Kafka had already burned an overwhelming majority of his work, and he hadn't ever really been keen on sharing his completed compositions, either. Brod was the driving force behind their publication, and he continued in that role after The Metamorphosis author died of tuberculosis in 1924. Instead of abiding by his friend's final wish, Brod saved everything.
A page from Kafka's novel The Castle. / Max Brod Archive/The National Library of Israel
Kafka's novels—The Trial, The Castle, and Amerika—were published over the next few years, and Brod gave a large collection of documents to Kafka's sister's children in 1962. Most of those ended up in Oxford's Bodleian Library.
Brod hung onto the rest of Kafka's papers, which went to his secretary Esther Hoffe after he died in 1968. Instead of donating them to a public institution, as Brod had instructed in his will, Hoffe sold some documents and tried to pass the rest down to her daughters upon her death in 2007. At this point, The National Library of Israel initiated a legal battle to claim them, per Brod's original request. In 2015, the library obtained the cache at last.
Kafka's 1906 drawing "A Beggar and a Generous Man." / Max Brod Archive/The National Library of Israel
Now, as Smithsonian reports, that collection is freshly digitized and ready for your online perusal. There's a travel journal from a 1911 trip through Europe; letters to his parents, fiancée Felice Bauer, Brod, and other friends; an early version of a 1907 short story called "Wedding Preparations in the Country"; and other handwritten papers.
There are also about 120 eclectic illustrations that range from a light pencil sketch of his bespectacled mother to a stark ink drawing of an angry man hunched over a glass of wine at a bar.
Kafka's "Drinker." / Max Brod Archive/The National Library of Israel
You can explore the archive here.
[h/t Smithsonian]