In Amsterdam, You Can Now Stroll Across a 3D-Printed Bridge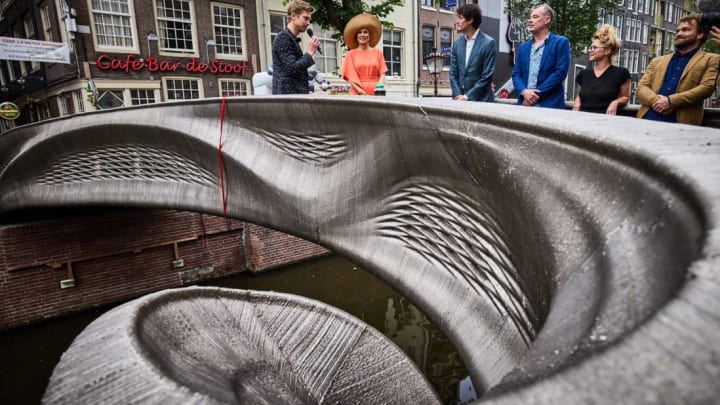 Dutch Queen Máxima attends the opening of a 3D bridge crafted by MX3D. / Jande Groen/MX3D
It wasn't long ago that people were marveling at 3D printers that could spit out small, tabletop objects. Now this technology is graduating to something more impressive. In 2019, a concrete bridge was printed in Shanghai, China. Now, in Amsterdam, the Netherlands, pedestrians can walk across a 3D-printed bridge made out of stainless steel.
The nearly 40-foot walkway made by MX3D in collaboration with Joris Laarman Lab opened on July 15, and while it's designed as a temporary measure while a permanent bridge is being repaired, it's fully functional. Crossing the Oudezijds Achterburgwal canal in Amsterdam's vice-heavy Red Light District, the bridge weighs 9900 pounds and took six months to construct by robotic arms with welding capability. Once completed offsite, it was craned into place.
The 3D bridge spans nearly 40 feet. / Thea van den Huevel/MX3D
Because the bridge used fewer resources than typical building projects, it's believed to be a proof-of-concept for more sustainable construction.
"When we started with the concept the bridge was more than 100 times bigger than any part ever 3D printed in metal, and now it's finished I still have good reasons to believe the bridge will remain the largest metal printed object for years to come," Gijs van der Velden, CEO and co-founder of MX3D, said in a press release. "This robotic technology finally allows larger optimized designs to be 3D printed in metal. This causes significant weight reduction and reduced impact for parts manufactured in the tooling, oil and gas, and construction industries."
It's not only practical, but ornamental. Latticework lines the sides of the bridge, and undulating curves take the shape of the route across the canal. The bridge has also been outfitted with sensors that Imperial College London will use to monitor foot traffic, corrosion, and load changes.
"If you want to have a really highly decorated bridge or really aesthetic bridge, suddenly it becomes a good option to print it," MX3D co-founder Tim Geurtjens told the Associated Press. "Because it's not just about making things cheaper and more efficient for us, it's about giving architects and designers a new tool—a new very cool tool—in which they can rethink the design of their architecture and their designs."
The bridge is equipped with sensors to monitor activity. / Adriaande Groot/MX3D
It's hoped the novelty of the bridge may increase more innocuous activity in the district, which is a known den of inequity in the city.
It's already garnered one high-profile visitor: Dutch Queen Máxima was at the opening of the bridge. She didn't cut the ribbon, though. Fittingly, that was left to a robot.
[h/t Simplemost]