Make Your Home Smell Like Swedish Meatballs With IKEA's New HUVUDROLL Candle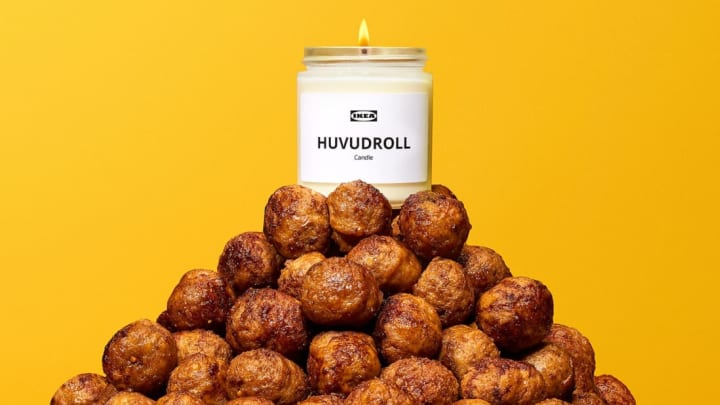 IKEA / IKEA
IKEA is officially a home goods brand, but some customers go to the store just to eat their famous meatballs. Now, you can fill your home with the aroma you would usually only smell after a long day of furniture shopping. As People reports, the scent of IKEA's Swedish meatballs is now available in candle form.
IKEA is giving away hundreds of its limited-edition HUVUDROLL candles for the 10th anniversary of its free loyalty program. From August 6 to the 22nd, members of the chain's Family program can enter for a chance to win a "Store in a Box." The gift box is meant to recreate the experience of shopping at IKEA at home, down to the smell of the store's cafeteria.
IKEA will distribute its packages to 986 winners, but that's not the only way to get your hands on a candle. An additional 1925 runners-up will receive the novelty item as a standalone prize. If you can't afford to completely update your home with IKEA furniture, the scent of meat and lingonberry jam may be enough to transport you to the store. You can try rearranging your house to be intentionally confusing to complete the effect.
Sign up for IKEA Family and enter their anniversary contest by visiting the program's website. In case you want your home to smell like meatballs you can actually eat, IKEA released their official meatball recipe last year. You can find it here.
[h/t People]