The 9/11 Memorial & Museum Is Sharing More Than 1000 Firsthand Accounts of September 11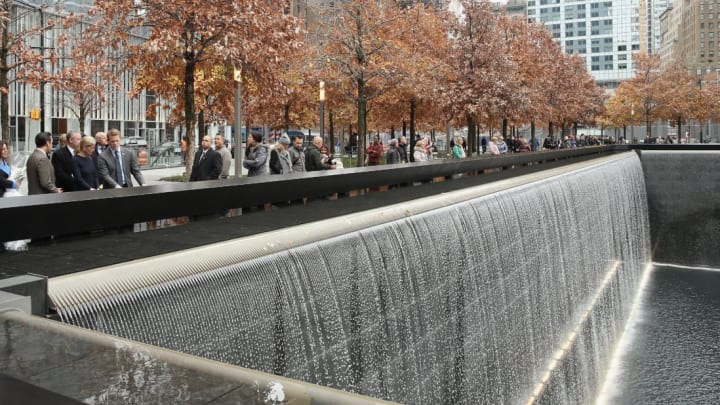 The 9/11 Memorial & Museum is preserving the recollections of over 1000 survivors and family members of victims. / Neilson Barnard/Getty Images
With the 20th anniversary of the terrorist attacks of September 11, 2001, on the horizon, millions of people will be turning their thoughts to one of the country's biggest tragedies, which wound up claiming 2977 lives.
To help ensure the events of the day will never fade with time, New York City's 9/11 Memorial & Museum embarked on a massive oral history project. The organization has compiled more than 1000 firsthand accounts of the attacks on the World Trade Center, the Pentagon, and the crash near Shanksville, Pennsylvania, as well as the 1993 World Trade Center Bombing.
The recollections come from survivors, first responders, and family members of those killed. Visitors to the site can hear audio or read transcripts of interviews, making it an invaluable resource for those looking for detailed testimony of an event that shaped American history.
In one such interview [PDF], Rita Calvo, who was attending high school on the Upper West Side, recalled the sensation of hearing the surreal news in the classroom, as her parents were near the World Trade Center.
"And every single person in my class turned to look at me, because I was the only person in there that lived downtown. I finally—I called my house and it kept ringing and ringing and ringing, but my dad was there and everything was okay. It didn't fall on our house, didn't fall on our apartment building. And I just hear him go, 'Oh my God, Rita. We're sending Aunt DD to come get you. They're not gonna let you down here if you're not here soon.' I remember we came down to Greenwich Village, and that was the first time I saw the smoke. And I couldn't believe how big and dark the cloud was, and the sky was so blue behind it. I just went upstairs to my house. I wanted to see what it was gonna look like off the terrace. Having seen the World Trade Center outside my window for sixteen years of my life, you know—I went upstairs and my dad just told me, he's like, 'They're both gone.'"
The 9/11 Memorial, which has the names of those lost etched around two waterfalls, opened to the public on September 11, 2011, with the Museum opening on May 21, 2014. The memorial is open daily from 10 a.m. to 5 p.m., and the museum is open Thursdays through Mondays from 10 a.m. to 5 p.m. The memorial will be open from 3 p.m. to midnight on September 11.