Our 40 Favorite Stories of 2021
Each year, Mental Floss publishes thousands of stories, from short news posts to long-form features. And each year, there are dozens—if not hundreds—of those stories that remain unforgettable to our staff. In some instances, it's a story that began with an offhand remark during an editorial meeting or a joke on Slack that turned into a full-blown idea. In other cases, it's a matter of finally getting around to writing or assigning an idea that's been bouncing around in a person's head for months. Sometimes, we hear a story so unbelievably fascinating that we know we need to write about it. Other times, it's a simple fact that seems worth sharing—like how marathon runners often poop themselves.
As we've done in previous years, the Mental Floss team is sharing of our personal favorite published stories from 2021—just in case you missed any of them.
The tenure of Universal Studios' Jaws ride had more ups and downs than any rollercoaster, and Michele Debczak covers it all, from the robot whose mouth was filled with actual shark teeth to explosions that wouldn't fire to the guy who was unfortunate enough to fall in the water and find himself in the robot's path. —Erin McCarthy, Editor-in-Chief
Movie and TV tropes have become so ingrained in the public consciousness that we don't really often stop enough to wonder, "Wait, what?!" The idea of the Average Passenger playing the role of pilot during an in-flight emergency in order to successfully fly—and safely land—a plane is something we've seen played out countless times on both the big and small screen. So, Mike Rampton rang up some pilots to find out what the chances of this happening in real life would be. —Jennifer M. Wood, Managing Editor
The entire MF team contributed to the second season of the Mental Floss podcast, The Quest for the North Pole, an exciting look at the history of our desire to reach the top of the world. From Elizabethan explorers to today's climate scientists, people have sought the Pole for personal fame, riches, and knowledge. Over 13 episodes, we examined centuries of history and even visited Greenland for a first-hand look at the future of the Arctic. —Kat Long, Science Editor
The last time someone asked me what kind of content we write at Mental Floss, I mentioned this story. The article answers a question non-runners would never think to ask (and runners would be too embarrassed to ask) while striking the perfect balance between being informative and entertaining. It also gave me another reason never to run a marathon. —Michele Debczak, Senior Staff Writer
Not since Jaws has a bloody shark tale proved as compelling as Michele Debczak's account of what happened when a tiger shark regurgitated a human arm in Sydney, Australia back in 1935. That might not sound so unusual—until you realize the shark was housed in an aquarium. Where the story goes from there is best left to discovery, but rest assured that just because the shark swallowed the arm doesn't necessarily mean it was the one to sever it. —Jake Rossen, Senior Staff Writer
It's a sad fact that African American English (and African American Language in general) often isn't given the respect it deserves, even as it's appropriated and absorbed into mainstream culture. This list by linguist Renée Blake, Associate Professor of Linguistics And Social & Cultural Analysis at NYU, and Ph.D. student Kimberley Baxter, lays out the facts and tackles common misconceptions about AAL. —EMC
The cochineal insect is a tiny critter, fairly unremarkable—except for its unique ability to create the "perfect red." This story by Simone Scully shows how a little bug had an enormous effect on the world. It has everything: art history, royal political struggles, and even bug-smuggling pirates. —Kerry Wolfe, Staff Editor
Turns out, Walter Sickert wasn't the only notable public figure in Victorian England suspected of being Jack the Ripper. This fun read by Ellen Gutoskey explores the possibility that Queen Victoria's grandson might have been the Whitechapel killer after all, and as conspiracy theories go, it's definitely worth diving into. —Shayna Murphy, Associate Editor
The 2021 Netflix film The Dig presented the perfect opportunity to dig (ahem) into the Sutton Hoo Ship Burial Treasure, one of the most dazzling and important archaeological discoveries in British history. Claire Cock-Starkey describes how the cache of Anglo-Saxon gold and jeweled objects was unearthed by amateur archaeologists in Suffolk, England, in 1939, and how the artifacts shed light on life in the 7th century CE. —KL
Jake Rossen's engaging story of MAD magazine features a cameo from J. Edgar Hoover and discusses the disputed origins of Alfred E. Neuman. Still, I didn't fully understand the cultural impact of MAD until the comments started pouring in on the video as fans celebrated the magazine's artists and called out favorite pieces from half a century ago. —Jon Mayer, Video Editor/Producer
April Snellings is a writer whose work—particularly in the horror movie realm—I have been reading and enjoying for years. So I was thrilled when she reached out to us with a pitch earlier this year, which has since turned into a very fruitful collaboration with a ton of amazing stories. What's particularly great about her work is her vast knowledge of the horror genre, and ability to introduce readers to movies they might not have previously ever known about. Her piece on the best zombie movies is a perfect example of that. As I told her when she first sent it over: She had me at Night of the Comet—a 1984 movie I absolutely adored growing up, and still holds a special place in my heart today. —JMW
Ellen Gutoskey's tale of Americana and livestock has surprises in virtually every sentence, from the fact that the Mets once decided a mule would be better for fan morale than a costumed mascot to management mulling the idea of sending out relievers straddling the animal. (A mule's errand?) —JR
When it comes to UFOs, the truth is out there ... and sometimes, that truth is that what you thought was an unidentified flying object is actually Venus. Or frozen pee. Or any number of other things on Michele's entertaining list of things that have been mistaken for UFOs. —EMC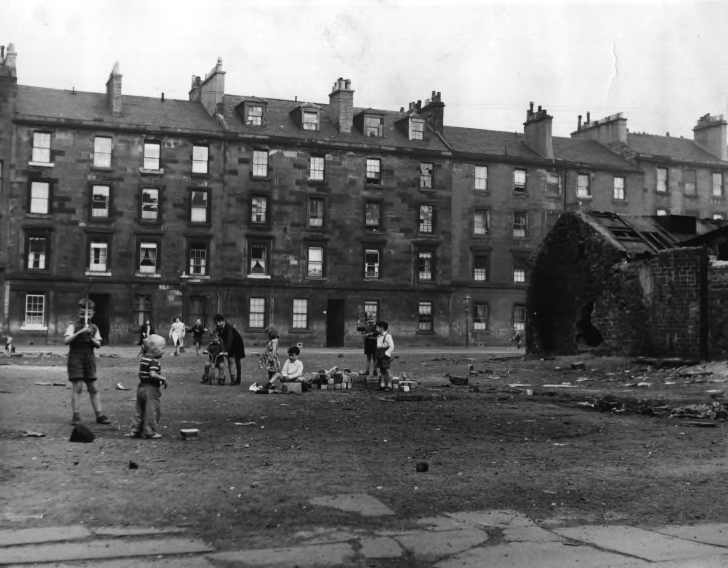 You've heard of ghost hunters, but have you heard of the vampire hunting children that once swarmed a cemetery? April Snellings' story is more than just a retelling of a quirky episode in Scottish history; it puts the Gorbals Vampire incident into a wider context, touching upon how it relates to the comic book fears plaguing adults at the time. —KW
Any story with the word bog in the title gets an immediate click from me. This list demonstrates why the wetlands are so fascinating. Their unique chemical properties make them great at preserving organic material, and archaeologists have pulled some of their most impressive discoveries out of bogs. It's hard to pick a favorite find from this list, but the 4000-year-old butter and the horoscope made of human entrails are both up there. —MD
If you hear the words "murder ship" and don't immediately want to know more, well ... you're definitely not me. As soon as science editor Kat Long alerted me to this story (which features her 4x great-uncle, William Scoresby, Jr.), I knew we had to have it. Crafted with expert suspense and incredible detail by Ellen Gutoskey and edited by Kat, this one is a must for any true crime obsessive. —EMC
As a word nerd, I delighted in learning that nightlife was coined by Herman Melville and that the English language made do without a word for orange for almost a thousand years (Chaucer, for example, described a fox as "yellow-red"). But this video has a special place in my heart as the first one in over a year that we shot together in the Mental Floss studio, and not remotely in our homes. (Not-so-coincidentally, the first word Erin discusses is vaccination, and its cow-filled history is a great one.) —JM
18. Operation Underworld: When the U.S. Government Teamed Up with the Mafia to Fight Fascists During World War II
From the very first sentence, this story just pulls you in. Operation Underworld—wherein the U.S. government tapped Mafia informants to help fight the rising tide of fascism in the 1940s—is so bizarre on paper that it almost seems like a work of fiction, but thanks to Ellen Gutoskey's incredible reporting, all the important details come together in a way that's clear, concise, and thoroughly compelling. —SM
Betty and Barney Hill were an ordinary, middle-class couple in 1961, but their world—and ours—changed on a September night in 1961. As they drove along a lonely stretch of road in New Hampshire's White Mountains, the Hills claimed they were abducted by aliens. In this fascinating history, Shannon Leigh O'Neil investigated how the ensuing media coverage led to beliefs around alien abductions that persist in pop culture today. —KL
I am no poetry expert, but I'd like to think that I can tell a good poem from a bad one, and a bad poem from a terrible poem. William McGonagall—who Ellen Gutoskey describes as "so dreadful ... that audience members routinely pelted him with eggs and rotten fruit; and authorities in his hometown of Dundee went so far as to forbid him from performing there"—was clearly the Ed Wood of poets, as this piece makes painfully clear. —JMW
Fancy animals were celebrities long before the age of Instagram-famous pets. For Masterpiece—the most famous dog in the world during the 1950s—that fame came with a grave cost. In this historical feature, Jackie Mead regales the enduring mystery of the poodle's disappearance. —KW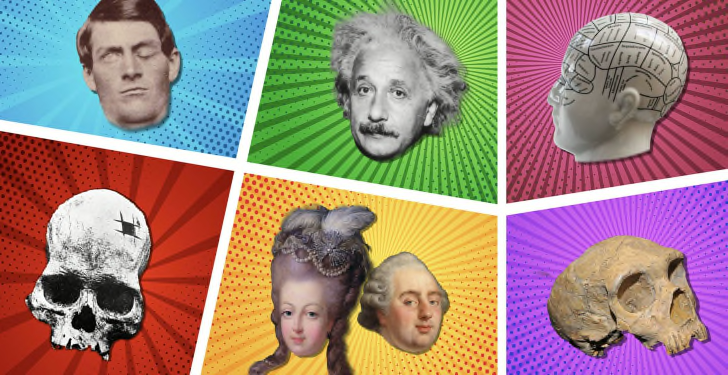 Editor-in-chief Erin McCarthy is one of those people who, in the course of a random conversation, will suddenly come up with a story idea that is equal parts bizarre and compelling. See: 20 Heads That Changed History. I don't remember the exact details surrounding what led to this idea, but the execution of it (no pun intended, Marie Antoinette and Louis XVI) is the very definition of what Mental Floss is all about. —JMW
As someone who grew up on "The Number of the Beast" and has seen Iron Maiden perform live, I was instantly sucked into Jake Rossen's story about their 1993 London concert and the shenanigans that ensued. It was fascinating to learn how the "party in hell" concept came together, and the fact that Bruce Dickinson's "severed head" is still floating around somewhere is hilarious to think about. —SM
Editor Jay Serafino served up an end-of-the-year story on some of the most embarrassing public gaffes that actually made me laugh (and cringe) out loud. Hearing Dan Quayle's own words on how the infamous "potatoe" incident marred a political career he spent decades building is actually kind of heartbreaking, and listening to Howard Dean whoop it up after rattling off every state he could think to conquer makes me want to hide under the covers. The videos of each of these incident, with each tale retold in Jay's deadpan style, had me truly laughing out loud. —JMW
25. Fowl Play: The Mystery Surrounding Fabio's Fatal Goose-to-Face Collision
Jake Rossen's piece on Fabio's infamous dead goose-to-the-face-on-a-rollercoaster incident is, to me, investigative journalism at its finest. But it was this line in particular that took me out: "a 10-pound goose suddenly materialized in front of Fabio's face, bloodying him and then expiring as a result of the midair collision." RIP goose. —Angela Trotti, Social Media Editor
While I have very distinct memories of The Day After, the made-for-TV nuclear holocaust miniseries that had all of America talking, and terrified, back in the day, I had never heard of Threads—a similarly themed BBC TV movie that scared the hell out of England one year later. Jake Rossen's story changed all that, and led me to discover that this huge piece of pop culture history had been streaming right under my nose for years. —JMW
27. Cone of Silence: The Glasgow Ice Cream Wars of the 1980s
"Joe Steele wanted to proclaim his innocence any way he could. For him, that meant Supergluing himself to the gates of Buckingham Palace." It's impossible to read those first two sentences without committing yourself to reading the rest of the article. Who is Joe Steele? What was he accused of? What happens if you Superglue yourself to the gates of Buckingham Palace? What does any of this have to do with ice cream? —EG
Each year, Alaska's Katmai National Park and Reserve holds an online contest in which the internet checks out the chonky, pre-hibernation bods of some of the park's biggest bears and declares one lucky ursine the year's Fattest Bear. It may not sound like an honor, but it definitely is—and one that millions of people (including MF staffers) eagerly await each year. Michele Debczak spoke with the folks who created and have continued to promote Fat Bear Week, in this delightful history of the yearly spectacle. —JMW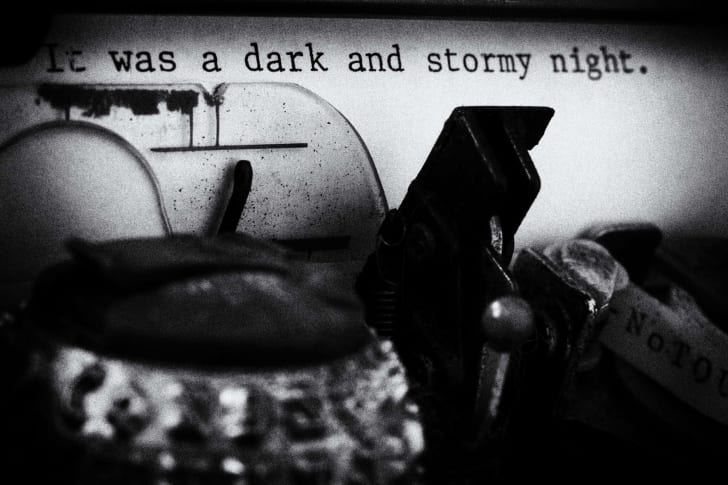 These days, we think of "it was a dark and stormy night" as the worst sentence in all of English literature (according to some, anyway). But April Snellings' fascinating deep dive into the background of "it was a dark and stormy night," and the man who wrote it, shows that there's a lot more going on with this tired cliché. —EMC
Todd Gilchrist and I have a shared affinity for '80s and '90s music. So when we decided to count down some of the best songs that featured in, or were written specifically for, '90s movies, I knew there was no one more qualified to write this story. The final product does not disappoint. —JMW
To me, this video pretty much perfectly sums up Mental Floss: It's weird, but also incredibly interesting, and it gives you all the fodder you could possibly need to start—or shut down—a conversation at a cocktail party. Although why anyone wouldn't want to know what supposedly happened to Napoleon's penis is beyond me. —EMC
In 1999, TIME Magazine declared "Strange Fruit" the song of the century. While the tune was most famously recorded by Billie Holiday in 1939, its painful origins go back a decade earlier, to Lawrence Beitler's famous photo of the 1930 lynching of Thomas Shipp and Abram Smith. While most people know the song, Ken Partridge's exploration of its brutal inspirations and the unique way in which Holiday would perform it, so that audiences could not help but be confronted by its devastating message, is a history lesson as much as it is a unique perspective on one of pop culture's most iconic songs. —JMW
While reading, I came across a single sentence about the Curies investigating a psychic medium named Eusapia Palladino. Science editor Kat Long and writer Brigit Katz took that kernel of an idea and created this excellent, moving feature about why the celebrated scientists felt her feats should be investigated—and what they concluded. —EMC
I love working with Matthew Jackson on any "best" movie list, as he puts as much time, care, and energy into choosing the movies he features as he does writing about them. There's always a rather spirited back-and-forth between us about movies that we both think do or do not deserve to be included, and a friendly disagreement here or there. What made this list of great rom-coms so interesting is that I would never have declared myself a big rom-com fan, and let Matthew know that. He quickly set me straight on how our perception of the genre is the reason why so many people think that—and in his intro he promised "plenty of offerings for the 'I hate rom-coms' team" (read: me). Lo and behold, there were some of my all-time favorite movies (The Philadelphia Story, His Girl Friday, The Apartment, Defending Your Life, etc.) —JMW
Sometimes we're so busy enjoying watching a magician saw a woman in half that we don't stop to ask ourselves the obvious question: Why, in the name of Harry Houdini and all that is good in the world, is this a thing? Fortunately, April Snellings dared to ask and answer it for us all. —EG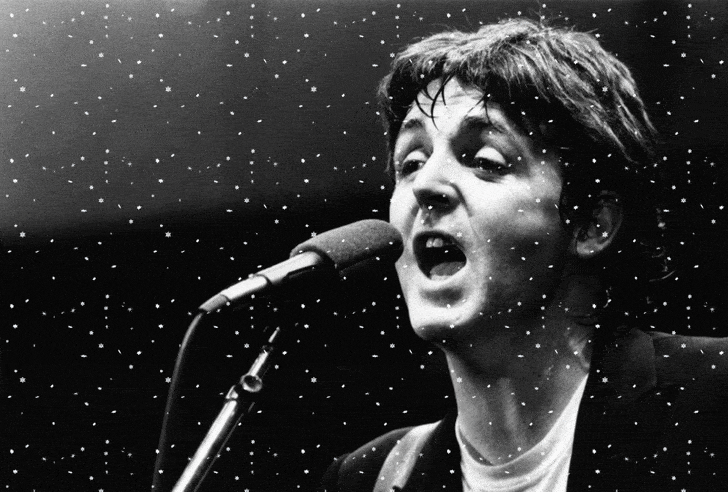 I am pro-"Wonderful Christmastime" and don't care who knows it. So, too, is Ken Partridge and musicologist and Switched on Pop podcast host Nate Sloan, who broke down the (in)famous Paul McCartney tune to explain why—acoustically—it is so polarizing. —JMW
There's probably a temptation to think that the anti-vaccine movement is a new phenomenon, but in reality, anti-vaxxers are as old as vaccines themselves, as this piece by Patty Hamrick demonstrates. And if you think the conspiracy theories about COVID-19 vaccines are wild, buckle in for the (mistaken) belief that the smallpox vaccine caused people to grow cow hair. —EMC
In his recurring feature "The Bad Old Days," A.J. Jacobs disabuses readers of all their misguided and overly rose-colored assumptions about the quaintness of eras past. Going to the beach? Labor-intensive and unenjoyable. Amusement parks? Possibly deadly and also a human rights nightmare. Christmases? Fire-hazardous games, belligerent carolers, and a fully fanned-out peacock tail on your dinner table. —EG
39. Bone Collector: How Home Depot's 12-Foot Skeleton Became the Hottest Thing for Halloween
I walked away from Jake's feature on Home Depot's 12-foot-tall skeletons, a.k.a. Skelleys—and the delightful Facebook community devoted to them—desperately wanting one myself. —EMC
While I like to think that many of my interests fall squarely into the high-brow quadrant of life, I am admittedly a sucker for any pitch that involves the word poop. So the conversation leading up to, and surrounding, this idea from Mike Rampton had me laughing from the get-go, particularly because of the many criteria he had decided would need to be taken into account (i.e. radioactivity) in order to determine whether Godzilla or King Kong would leave the bigger mess behind. Needless to say, the answer did not disappoint. —JMW