Agent 355: The American Revolution's Most Mysterious Female Spy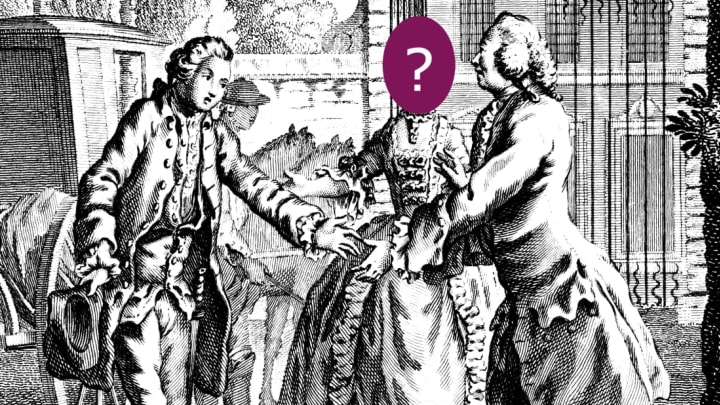 This isn't her. / whitemay/iStock via Getty Images
During the denouement of the women-driven spy thriller The 355 (2022), Jessica Chastain's character, Mason, finally explains the significance of the number 355: It's a nod to the codename of a female spy who served George Washington throughout the American Revolution. According to Mason, she wasn't called "Agent 355" because nobody knew her name, as people assume, but rather, because "they just didn't want the world to know it."
But the story behind this anonymous agent is a little more tenuous—and even more mysterious—than Mason suggests.
The Code of the Culper Spy Ring
A 1790 portrait of Benjamin Tallmadge and his son, William, painted by Ralph Earl. / Athenaeum.org, Wikimedia Commons // Public Domain
In November 1778, more than three years into the Revolutionary War, George Washington tasked Major Benjamin Tallmadge with forming a secret service that could spy on British operations in New York City. Tallmadge was from Setauket, a small village on Long Island, and it was there that he established his Culper Spy Ring. (Culper was a truncation of Culpeper, a Virginia county where a teenaged Washington had once worked.)
Many of Tallmadge's recruits were friends and acquaintances from Setauket, including his boyhood pal Abraham Woodhull, sailor Caleb Brewster, and tavern owner Austin Roe. Robert Townsend, a merchant from Oyster Bay, was another major player. Certain Culper spies took regular trips to Manhattan to glean intel, while others ferried their letters to Tallmadge in Fairfield, Connecticut, where they'd get forwarded to Washington himself.
Most of the operatives had aliases: Tallmadge was John Bolton; Woodhull was Samuel Culper; and Townsend was Samuel Culper, Jr. Tallmadge also devised an extensive code that substituted numbers for certain words—763 in total, along with a jumbled alphabet key so the spies could spell out terms that weren't already given a number.
On August 15, 1779, Woodhull penned a letter to Tallmadge explaining that the British were opening all the mail that entered New York and seemed to know about the Culper Ring's courier route. And then he said this: "I intend to visit 727 before long and think by the assistance of a 355 of my acquaintance, shall be able to outwit them all."
727 was code for New York, and 355 was lady. In other words, Woodhull was heading to the city, where a female confidante would help the ring evade enemy surveillance. That mention of 355—the only time the number was used in surviving correspondence—birthed the legend of "Agent 355."
More Than One 355
The Culper spies' aliases were attached to code numbers—John Bolton, for instance, was 721; and Samuel Culper was 722. So it's not surprising that people have jumped to the conclusion that 355 was also a specific agent. But based on the codebook—supported by Woodhull's use of "a 355," rather than "355"—it seems clear that she wasn't.
That's not to say we can't infer anything from these linguistic tidbits. The codebook has a separate number for the word woman (701), which some historians have taken to mean that our elusive 355 was a "lady" in the societal sense. If she did hail from high society, she would've been in a prime position to hobnob with well-connected British leaders—like John André, the charming major who loved a good party and greatly enjoyed the company of women. Much of the Culper Ring's most useful intelligence—including the tip-off about Benedict Arnold's betrayal, which André helped facilitate—was gathered during periods when André was in town.
The portrait of Woodhull's 355 as a scheming socialite who lent an ear to André is one of several theories about her identity. Many scholars believe she was Anna Smith Strong, a Setauket-based friend (and cousin by marriage) of Woodhull. As the story goes, Strong sent signals to other Culper spies by hanging certain laundry on her clothesline. If Brewster saw a black petticoat, he'd know Woodhull had a message for him to take to Fairfield. To know which cove to meet at, they'd count how many white handkerchiefs she'd pinned to the line. Though historians disagree on whether this story is apocryphal, they do generally agree that Strong was likely a member of the Culper Spy Ring in some way or another.
Strong's revolutionary history may explain how another 355 theory came to be. According to this one, 355 was Townsend's common-law wife, who was imprisoned on the British prison ship HMS Jersey, where she died (and possibly gave birth to Townsend's son beforehand). There's a lack of evidence to support this tale. Strong, however, was believed to have visited the Jersey. In January 1778, British forces incarcerated her husband, Selah, for corresponding with the Patriots. According to family accounts, he ended up on the Jersey, where his wife was permitted to deliver food to him.
It's also been posited that 355 was Townsend's teenaged sister, Sally Townsend, who reportedly spied for the Culper Spy Ring. Or, it could've been Woodhull's own sister, Mary Underhill: Woodhull stayed at her Manhattan boarding house whenever he visited the city to spy.
Though we may never know the identity of Woodhull's 355, we can reasonably conclude that women were a part of the Culper Spy Ring's espionage efforts. So you could argue that the moral of this mystery parallels the point made in The 355: It's really about women, not a woman.