See What It's Like to Climb South Korea's 230-Foot-Tall Walkable Rollercoaster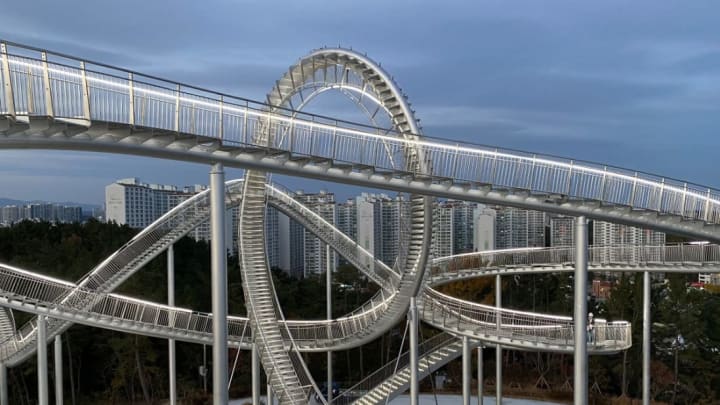 Heike Mutter & Ulrich Genth via Phaenomedia / Heike Mutter & Ulrich Genth via Phaenomedia
If you've ever wished you could ride a rollercoaster at your own pace, a new attraction called SpaceWalk in South Korea may appeal to you. Up close, the "tracks" of this massive steel structure are revealed to be stairs, which allow visitors to experience twists, curves, and drops through the air without strapping into a car first.
Located in Pohang, the walkable rollercoaster is South Korea's largest contemporary public artwork, according to Colossal. German artists Heike Mutter and Ulrich Genth designed the 1090-foot-long path through the sky for the city's Hwanho Park. Upon entering, guests have their choice of two routes: a gentler, scenic walkway and a more intense summit that takes walkers through a helix. The only part of the staircase that's off-limits to people is the innermost circuit that curves into a loop-de-loop.
Heike Mutter & Ulrich Genth via Phaenomedia
As long as you're not afraid of heights, SpaceWalk could be a relaxing way to enjoy the sights of Pohang. Yeongil Bay, the Pohang steel mill, Young Bay, and Youngildae Beach are visible from the elevated path, which peaks at 230 feet tall. At night, LED lights illuminate the sculpture and further emphasize the amusement park feel.
Though it resembles a roller coaster, the artists were aiming to recreate the experience of walking through space on Earth (hence the name SpaceWalk). But if visitors to Hwanho Park can't stomach a trip to the top, the walkable coaster is designed to be equally breathtaking when viewed from ground level. You can also experience the installation from the comfort of home by watching the video below.
[h/t Colossal]