15 Women of Cinema History You Should Know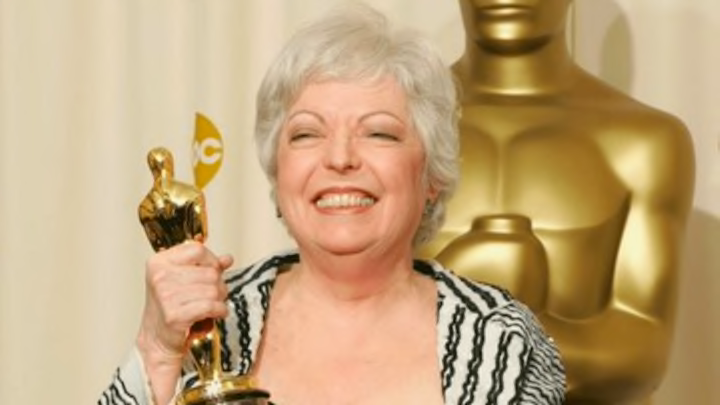 Getty Images / Getty Images
You know Spielberg, Scorsese, Lucas, and Hitchcock. But did you know that the success of each of these iconic directors depended on a lesser-known woman behind the scenes? Dig into the hidden history of film and discover the women who shaped cinema into what it is today.
1. Margaret Booth // The first film editor
stayforthecredits // Tumblr
Because of the hands-on nature of film editing, early Hollywood considered it women's work, like sewing. "Cutters" were often working-class women willing to take low pay to be a part of filmmaking. But despite the sexism surrounding them, this position allowed these female film lovers a unique place to make critical choices about a film's final cut. Booth was not only one of the earliest pioneers of the craft, but also the one for whom the term "film editor" was coined.
Right out of high school in 1915, the Los Angeles native got a $10 a week job working under Birth of a Nation director D.W. Griffith as a patcher, eventually making her way up to negative cutter. By the time the controversial filmmaker moved to the East Coast, Booth was in complete charge of print production, managing everything from inspection to cutting to shipping the prints out. Booth would then get a job at the newly formed MGM, where her expertise was quickly recognized by the studio's head of production, Irving Thalberg. Together the pair would watch and discuss dailies, and Booth's insightful contributions inspired Thalberg to call her a "film editor," a move that would forever leave the common term "cutter" behind.
She went on to cut a long list of films, including 1935's Mutiny on the Bounty, which earned her only Oscar nomination. In 1978, the Academy of Motion Pictures Arts and Sciences awarded Booth an honorary Oscar for "her exceptional contribution to the art of film editing in the motion picture industry."
2. Verna Fields // Mother Cutter
The Missouri-born Fields was introduced to moviemaking when her father, Sam Hellman, moved the family to Hollywood to pursue his passion for screenwriting. She started out as a sound editor, but by 1960 had begun to edit feature films. She went on to be a major influence on several major filmmakers, cutting such career-defining films as George Lucas's American Graffiti, Peter Bogdanovich's Paper Moon, and Steven Spielberg's Jaws.
Many filmmakers remember Fields fondly for her gentle direction and warm support through the stressful business of filming and post-production. For his part, Spielberg credits the impeccable restraint of the use of his movie monster to "Mother Cutter," as Fields was affectionately called. The young director was so eager to get the robotic shark, Bruce, on camera that he repeatedly pushed for shots to linger. But Fields knew just when to cut away to keep this Great White from going from fearsome to fake. Fittingly, Jaws became the film that's best defined her legacy. It not only won Fields her only Oscar (see below), it was also the final film she cut. She went on to become a high-ranking studio exec, and the VP of feature production at Universal.
3. Melissa Mathison // Mother of E.T.
Getty Images
This Los Angeles native might be best known for being the wife of Harrison Ford from 1983-2004, but Melissa Mathison's greatest contribution to cinema is actually crafting the screenplay for one of the most beloved sci-fi movies of all time, E.T.: The Extra-Terrestrial.
Mathison was with Ford on the set of Raiders of the Lost Ark in 1980, when its director, Steven Spielberg, shared a seed for a new movie he wanted to make. Mathison had just seen success with her screenplay for 1979's The Black Stallion, and both she and Spielberg felt her flair for capturing child-like wonder was a great fit for his premise of a boy befriending an extraterrestrial. From this rough sketch of the story, Mathison created Elliott, wounded from his father walking out, annoyed by his pesky little sister Gertie, and inspired by an unexpected friendship. E.T. not only became a massive hit and cultural phenomenon, but also earned Mathison an Academy Award nomination for Best Original Screenplay. She'd later reteam with Spielberg on Twilight Zone: The Movie and 2016's The BFG. Mathison passed away in 2015, at the age of 65.
4. Leigh Brackett // Queen of The Space Opera
Wikimedia Commons // Public Domain
As a young woman, she got her start writing science fiction and pulp crime fiction, both genres of literature that were looked down on as lowbrow. But Brackett didn't care about perception, nor mind that some thought her nickname "The Queen of The Space Opera" was a slam. Instead, she stood up for the genre she adored, declaring, "These stories served to stretch our little minds, to draw us out beyond our narrow skies into the vast glooms of interstellar space."
Embracing the freedom she felt writing about out-of-this-world outlaws, she became a mentor to Ray Bradbury and an inspiration to George Lucas. After making Star Wars, the celebrated director was handed a copy of one of Brackett's books and told, "Here is someone who did the Cantina scene better than you did." He apparently agreed, hiring Brackett to pen the first draft of Star Wars: The Empire Strikes Back.
Sadly, she passed away before the sci-fi smash was finished. But this film built on a cinema legacy that she'd already begun, having previously scripted such classics as The Big Sleep (1946) and Rio Bravo (1959).
5. Thelma Schoonmaker // Scorsese's Not-So-Secret Weapon
Getty Images
Though she is arguably the most famous film editor working, Schoonmaker originally intended to work in politics. But having grown frustrated when her anti-apartheid opinions ruffled feathers in job interviews with the U.S. government, she answered a newspaper ad that offered on-the-job training as an assistant film editor. While taking a film course at New York University, she volunteered to help a student whose negatives had been damaged; that student happened to be Martin Scorsese. So began a collaboration that has stretched across nearly five decades and counting.
This soft-spoken woman has cut such testosterone-driven dramas as Raging Bull, Goodfellas, Cape Fear, The Departed, and The Wolf of Wall Street, just to name a few. She still does the most menial aspects of editing, including screening and cataloguing every take, and overseeing subtitle translation, and her precision has scored her seven Oscar nods, and three wins. Her final cuts have won praise from Robert De Niro, Joe Pesci, Juliette Lewis, Leonardo DiCaprio, and many more. But most importantly, through all this her work has influenced and inspired an untold number of filmmakers, editors and artists.
6. Dorothy Arzner // Inventor of the Boom Mic
Getty Images
She got her foot in the door as a typist for Paramount Pictures in 1919. And by 1927, Arzner had made her first of 20 films with Fashions for Women. She was one of a handful of women directing films in the 1920s and 1930s, as well as the first woman to join the Director's Guild of America. While others struggled with the medium's transition from silent film to sound, Arzner thrived and innovated. So as not to distract skittish film star Clara Bow with the new challenge sound brought, Arzner dangled a microphone from a fishing rod, pioneering the first boom mic.
She went on teach Francis Ford Coppola, and earn a star on the Walk of Fame. But she is best remembered for creating films by women and about women, including the Katharine Hepburn-fronted Christopher Strong, Joan Crawford's The Bride Wore Red, and her most famous feature, Dance, Girl, Dance, which starred Lucille Ball and Maureen O'Hara. In this drama, Arzner made history by having her heroine—a ballerina turned burlesque performer—spin on her audience and break the fourth wall, scolding both those in the movie and in the theater for objectifying her "the way your wives won't let you." You can watch this groundbreaking scene below:
7. Edith Head // Film Fashion Pioneer
Getty Images
Her fashion sense defined decades of American cinema, but before she was draping starlets in the most elegant dresses to hit the silver screen, this step-daughter of a mining engineer earned her Master of Arts degree in romance languages and worked as a school teacher. She began taking art classes, and decided to apply for a job as a sketch artist—despite not being able to draw people. To get around this, she got her entire art class to contribute costume design sketches. As she would later say, "When you get a class of 40 to give you sketches, you get a nice selection." Despite lacking any relevant experience, Head scored her first movie gig, working as a sketch artist at the future Paramount Studios. By 1938, she was the studio's chief designer. There she laid the groundwork for becoming Hollywood's most heralded costume designer.
In a career that spanned nearly 60 years, she worked on hundreds of films, including such iconic offerings as All About Eve, Rear Window, Sabrina, The Sting, and Roman Holiday. Head thrilled with fashion whether working in black and white or in color. Between 1949 and 1978, she earned a record-setting 35 Academy Award nominations, winning eight Oscars. Directors sought her for their films as fiercely as they would Hollywood's hottest leading ladies. And she became a household name between offering patterns for fashion magazines and making regular appearances on Art Linkletter's daytime television show in the 1950s, where she'd offer fashion advice for the common woman.
8. Alice Guy // The world's first female director
Wikimedia Commons // Public Domain
Before American filmmakers like D.W. Griffith had even touched a motion picture camera, this Paris-born pioneer was laying the groundwork for narrative film's visual language, and inspiring future auteur Alfred Hitchcock. After witnessing the Lumière brothers' demonstration of their cinematograph, Guy implored her boss, Léon Gaumont, to let her use his shop's cameras to make a movie of her own.
In 1896, she helmed La Fée aux Choux (The Cabbage Fairy), one of the first narrative films ever made and the first of 750 films she made for the Gaumont Film Company. She was one of the first to employ groundbreaking techniques like the split screen, double exposure, and film tied to sound. She's also been credited with inventing the close-up (an honor popularly but mistakenly bestowed to Griffith). And after moving to New York, she started her own company, Solax, the biggest pre-Hollywood studio in America.
Yet despite her prolific output and artistic innovations, her contribution to the emerging medium was largely ignored because of Gaumont's ego. In 1930—after Guy had left his employ following 10 years of bringing his business grand attention and acclaim—Gaumont published a book detailing the history of his company and its innovations. He none too subtly left Guy's contribution out completely. He later assured her this grievous omission would be amended in future printings. It was not. Still, 350 of her films survive today, allowing for her work to be rediscovered, along with its influence on modern cinema.
9. Lois Weber // Political provocateur
Wikimedia Commons // Public Domain
A protégé of Alice Guy's, this Pennsylvania-born filmmaker became the first American woman to helm a full-length feature film with 1914's The Merchant of Venice, though she co-helmed it with her husband W. Phillips Smalley. But Weber soon earned a racier historical marker, becoming quite possibly the first non-pornographic American director to display full-frontal female nudity in her allegorical offering Hypocrites (a.k.a. The Naked Truth), which was banned in Ohio and so incensed the mayor of Boston that plans were made to give the character a classical gown.
Weber never shied away from controversial content. Buoyed by the success of Hypocrites, she went on to make movies that addressed issues of poverty, worker's rights, capital punishment and even the importance of birth control. Film scholar Shelley Stamp has called Weber's Hand That Rocks The Cradle (1917) "one of the most forceful films ever made in support of legalizing birth control."
In 23 years, Weber made more than 130 films, became the only female member of the Motion Pictures Directors Association, and earned the honorary post of mayor of Universal City. And she did it all while writing, directing and making her own creative calls. Film historian Anthony Slide declared, "Few men before or since have retained such absolute control over the films they have directed—and certainly no women directors have achieved the all-embracing, powerful status once held by Lois Weber."
10. Alma Reville // Lady Hitchcock
Getty Images
You know Alfred Hitchcock. Even his silhouette has become iconic. But few know how much his work and persona were shaped by his wife. Reville got her start in movies serving tea to the studio elite of England's production scene. But through the 1920s and '30s, this diligent and observant film lover worked her way up to director's assistant, screenwriter and editor. She met Hitch on the job, and he hired her to cut Woman to Woman in 1923—a job offer she initially walked away from, telling Hitchcock the salary was "inadequate." He came back with a better offer, and she accepted. The pair later wed and moved to Hollywood, where they would make the movies that would make him a legend.
The cult of Hitchcock is so intense that Reville's role in his success has long been ignored. Though credited in 19 of his films—including as screenwriter on Shadow of a Doubt and Suspicion—it's on 1960's Psycho where she had the most important impact, despite not being credited at all.
When cutting that crucial shower scene, it was Reville's eagle eye that spotted a few errant frames that needed to be slashed, lest audiences see actress Janet Leigh inhale. Beyond that, Hitchcock was adamant that there be no music played over it. He refused even to listen to Bernard Herrmann's suggested score for the scene. But Reville convinced her stubborn husband to watch the cut with the music, and so one of the most famous scenes in Hollywood history was cemented.
When accepting a Lifetime Achievement Award from the American Film Institute in 1979, Hitchcock himself recognized Reville's influence on his work and life, saying, "I ask permission to mention by name only four people who have given me the most affection, appreciation, and encouragement, and constant collaboration. The first of the four is a film editor. The second is a scriptwriter. The third is the mother of my daughter, Pat. And the fourth is as fine a cook as ever performed miracles in a domestic kitchen. And their names are Alma Reville."
11. Marion E. Wong // Chinese-American Trailblazer
Wikimedia Commons // Public Domain
In a time where Hollywood was anything but diverse, this San Francisco-born Chinese-American paved her own way. In 1916, the 21-year-old Wong founded her Mandarin Film Company so she could create her first (and regrettably only) silent film, The Curse of Quon Gwon: When Far East Mingles With The West. Wong was determined to authentically present her culture to an American public that was only seeing Chinese people presented as cartoonish or cruel stereotypes.
She made this short film with an all-Chinese cast and all-Chinese company, while writing, directing, producing, casting, costume designing and starring herself. Little wonder the American press was fascinated by Wong, calling her "energy personified" with "imagination, executive ability, wit and beauty." Unfortunately, even with such great buzz, Wong could not convince distributors or theater owners to take a chance on her film. Failing to secure a release, it seems Wong abandoned her Hollywood aspirations. For decades the film was thought lost. But in 2005, documentarian Arthur Dong uncovered two of its reels in the basement of the Chinese American Historical Society in San Francisco. The following year, the Academy Film Archive restored these reels, and The National Film Registry included The Curse of Quon Gwon for its importance in the history of representation in American cinema.
12. Esfir Shub // The Mother of Compilation Film
Wikimedia Commons // CC BY-SA 3.0
After a stint in constructivist theater, this Russian twentysomething got into movie making re-cutting Hollywood films so they'd be suitable to screen in her homeland. This experience, plus working with Soviet Russian filmmaker and theorist Sergei Eisenstein, proved formative for Shub.
In 1927, she became a pioneer of documentary filmmaking with The Fall of the Romanov Dynasty, the first compilation documentary ever made. As historian Betsy A. McLane explained, "Nothing like Shub's films had existed before them, and her work remains among the finest examples of the compilation technique." Previous editors, like Dziga Vertov, were making films more like montages and would freely manipulate footage to get across their vision, but Shub was more interested in the history rather than poetry.
Shub detailed the history of her nation from 1912 to 1917, relying heavily on archival footage. This was a near Herculean task that demanded she spend two months looking through 60,000 meters of film—much of which was damaged—to cull together the first visual record of the Russian Revolution.
13. Fatma Begum // India's first female director
Her career began on the stage, and then transferred to the silver screen as silent films overtook India. She not only became one of India's biggest silent film stars, but was also the mother to three more: Zubeida, Sultana and Shehzadi. As many actresses would do after her, Begum used her pull and prestige to start a movie production company of her own, Fatma Films.
In 1926, Begum became the first female director in Indian cinema with Bulbul-e-Paristan. The film was a family affair, with both of her daughters, Zubeida and Sultana, starring. Sadly, it is lost to history, but traces left behind tell us that Begum was more than ambitious and groundbreaking; she was also a genre film pioneer. Bulbul-e-Paristan was a big-budget fantasy epic that touted special effects and was set in fairyland, one of the first of its kind.
14. & 15. Tressie Souders and Madame E. Touissant Welcome // The first female African-American directors
Women's contribution to the history of film has long been hidden, ignored or lost. And this shameful tradition has clouded the conclusion of which filmmaker deserves the title of "first female African-American film director." But it can be narrowed down to two contenders. The first is Kansas City, Missouri's Tressie Souders, who wrote and directed A Woman's Error in 1922. The film was declared by the Black press outlet The Billboard "the first of its kind to be produced by a young woman of our race" and was praised for its veracity to the black experience. Regrettably, the only traces of the film or Souders' career can be found in press clippings that are nearly 100 years old.
The other contender is the elegantly named Madame E. Touissant Welcome, who was born Jennie Louise Van Der Zee, sister of celebrated African-American photographer James Van Der Zee. It seems the love of the lens was in her blood, as she too took to film to make a movie about the black soldiers of World War I. However, no prints survived and film historians have had to guess at a release date, positing it between 1919 and 1922. The conjecture of this date has led to a lot of debate. But more important than who was first is how both of these women used the new medium to speak for their communities and experience in an era where both were too often ignored.
This post originally appeared in 2015.