The Architects Behind 6 of America's Most Famous Buildings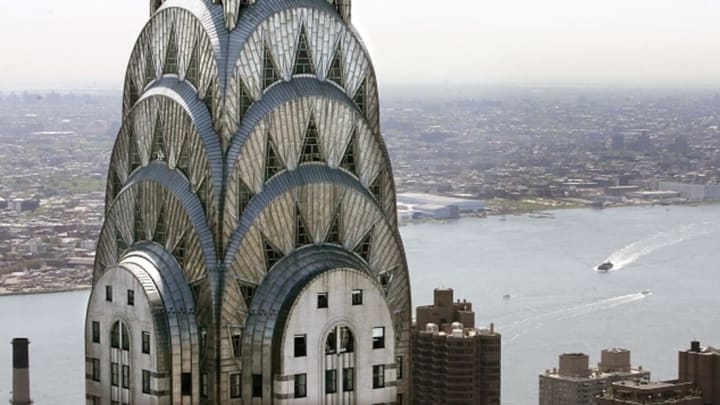 Getty Images / Getty Images
Philip Johnson, the American architect responsible for several museums, gardens, and buildings across the country once said, "I hate vacations. If you can build buildings, why sit on the beach?" It seems like most of America's greatest architects felt the same way as Johnson, devoting much of their time to building and preserving legendary pieces of art made of steel and concrete. While we generally know a great deal about their most famous buildings, most people don't know much about these 6 men behind the blueprints.
1. William Van Alen // Chrysler Building
Getty Images
Chrysler Building, 1935. Getty Images.
From 1930 to 1931, the Chrysler Building in New York City was the world's tallest building, and its architect, William Van Alen, was praised for his Art Deco design. While Van Alen's career looked to be on the rise after the completion of the now-famous skyscraper, it totally stalled after a billing dispute with his powerful client—William P. Chrysler. The two had neglected to create a contract for the building's construction, and when Van Alen requested the standard 6% fee (of the $14 million construction budget), Chrysler balked and refused to pay. Van Alen sued and won, but his career was derailed by the lawsuit and the Great Depression.
2. William F. Lamb // Empire State Building
Empire State Building, 1932. Getty Images.
Lamb's most notable project, the Empire State Building, is one of the greatest architectural landmarks in American history. Commissioned by John Jakob Raskob of General Motors, the building overshadowed its rival, the Chrysler Building, by more than 200-feet and was the world's tallest building from 1931 until 1972. After designing such a prominent portion of America's commercial history, Lamb dedicated himself to civil service, aiding New York City's less fortunate by reforming low-income housing. President Franklin D. Roosevelt eventually appointed him to the Federal Commission for Fine Arts.
3. Bruce Graham // Willis (Sears) Tower
Sears Tower, 1974. William C. Brubaker, William C. Brubaker Collection (University of Illinois at Chicago)
Bruce Graham transformed the skyline of Chicago with his design of the 100-story Hancock Center in 1970, but even more so with the completion of the 110-story Sears Tower, completed in 1974. Graham was responsible for designing five buildings in Chicago's skyline and for transforming the Navy Pier into a recreational area. Graham died in 2010.
4. Frank Lloyd Wright // Guggenheim Museum
Guggenheim Museum, 1959. Getty Images.
Wright has been lauded as the greatest American architect of all-time by the American Institute of Architects, and for good reason—not only did he design the Guggenheim, which Paul Goldberger called a "catalyst for change" and "intensely personal," he also had 532 other plans come to fruition.
Wright designed everything from museums to gas stations to family homes. He wrote 20 books and had a very colorful personal life. At one point, Wright abandoned his family for his mistress and a year-long stay in Europe. Upon his return to the United States, Wright began work on a new home for himself, Tailesin. In 1914 one of Wright's servants working in the home set fire to the living quarters in Tailesin and murdered seven people with an ax. Wright rebuilt the house and went on to design the Imperial Hotel in Tokyo, Falling Water in Pennsylvania and the Price Tower in Bartlesville, Oklahoma. Wright died in 1959, 6 months before the Guggenheim Museum opening.
5. Frank Gehry // Walt Disney Concert Hall
Walt Disney Concert Hall, 2003. Wikimedia Commons, jjron.
Although Disney Hall is a mere 12 years old, the building was an architectural feat from the very beginning and its identity is all Gehry. The world renowned architect first gained attention with a few furniture pieces built from industrial corrugated cardboard, but Gehry really found his creative outlet and passion while rebuilding his own home in Santa Monica. The architect used expressive, flamboyant elements throughout the project and later incorporated these themes into his plans. After the completion of the Walt Disney Concert Hall, Gehry completed several ambitious projects outside of the United States, as well as the Barclays Center in Brooklyn and the New World Symphony in Miami Beach.
6. Daniel Burnham // Union Station (Washington, DC)
Union Station, 1913. Getty Images.
When Burnham was hired on as the designer for the historic terminal, he already had already served as the chief coordinating architect for 1893 World Columbian Exposition in Chicago, and completed the Flatiron Building in New York City and the Art Institute of Chicago. Burnham designed the station, which opened in 1907, and implored everyone involved with the project to treat it in a monumental manner, "as [the station and its surroundings] will become the vestibule of the city of Washington, and as they will be in close proximity to the Capitol itself."
Burnham is credited for creating the first comprehensive urban plan for a city (Chicago) and served on planning committees for San Francisco, Detroit, and Cleveland.
Although Burnham is credited with rebuilding Chicago after the Chicago Fire in 1871, he failed entrance exams to Harvard and Yale. His only training and education came from being a draftsman for the civil engineer and architect William Le Baron Jenney. Before his death both Harvard and Yale awarded him honorary degrees.